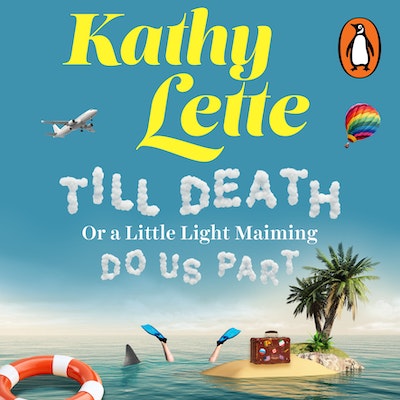 Published:

29 March 2022

ISBN:

9780143777090

Imprint:

Penguin Random House Australia Audio

Format:

Audio Download

RRP:

$29.99
Till Death, or a Little Light Maiming, Do Us Part
---
---
---
When Jason Riley is missing, feared killed by a shark, his family - make that families - are informed he is presumed dead.
History teacher Gwen is driving to school when she hears a news report about a man on his regular morning swim, taken by a Great White. She races to the beach but all that remains of Jason is his swimming cap, a flipper with a bite taken out of it and a bit of torn, blood stained wet suit found floating on the other side of the island.
Her private heartbreak is interrupted by a woman screeching to a stop on a motor bike. A frantic Tish screams for information, convinced it's her husband who's been taken by the man-eater. Gwen tries to reassure her that it's Jason who's been killed. "Yes and Jason's my husband!" Tish sobs, producing photos of them together.
Needless to say, Gwen's grief is somewhat blighted by the accusation that she's married a bigamist.
At the coroner's court, Tish brandishes her five year old wedding certificate. Gwen, who's been married to Jason for ten years, is now not only lamenting her husband's death but also his betrayal.
Tish and Gwen's animosity is momentarily assuaged when they learn that neither of them will inherit anything; Jason recently sent all his money to some mysterious "business partner" in Egypt – a 40 year old English geologist named Skye.
They confront Skye, convinced she's in cahoots.…Only to discover that not only has Jason married her in the last year, but she's just detected that he's stolen all her savings too, including Gwen and Tish's money which he'd hidden in one of her accounts.
What all three wives find hardest to face up to is the reason they were so vulnerable to Jason's charms - loneliness.
Till Death, or a Little Light Maiming Do Us Part is a revenge caper which propels our protagonists on the trail of truth and financial retribution, oh, and possibly the testicles of their traitorous husband.
Published:

29 March 2022

ISBN:

9780143777090

Imprint:

Penguin Random House Australia Audio

Format:

Audio Download

RRP:

$29.99
Praise for Till Death, or a Little Light Maiming, Do Us Part
A terrific, raunchy romp with heart! Just what we need right now.

Magda Szubanski
Fabulous, fast-paced, funny & unapologetically female. Nobody does it better.

Deborah Frances-White, The Guilty Feminist