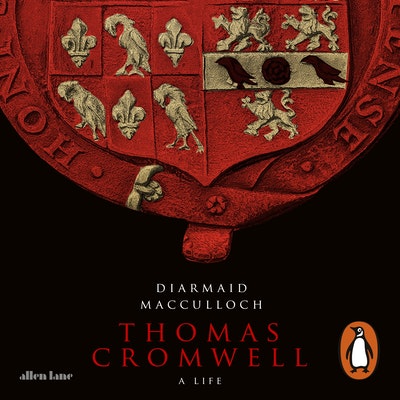 Published:

27 September 2018

ISBN:

9780141989457

Imprint:

Penguin Audio

Format:

Audio Download

RRP:

$27.99
Thomas Cromwell
A Life
---
---
---
'This is the biography we have been awaiting for 400 years' - Hilary Mantel
Penguin presents the audiobook edition of Thomas Cromwell by Diarmaid MacCulloch, read by David Rintoul.
Thomas Cromwell is one of the most famous - or notorious - figures in English history. Born in obscurity in Putney, he became a fixer for Cardinal Wolsey in the 1520s. After Wolsey's fall, Henry VIII promoted him to a series of ever greater offices, such that in the 1530s he was effectively running the country for the King. That decade was one of the most momentous in English history: it saw a religious break with the Pope, unprecedented use of parliament, the dissolution of all monasteries, and the coming of the Protestantism. Cromwell was central to all this, but establishing his role with precision has been notoriously difficult.
Diarmaid MacCulloch's biography is the most complete life ever written of this elusive figure, making connections not previously seen and revealing the channels through which power in early Tudor England flowed. It overturns many received interpretations, for example that Cromwell and Anne Boleyn were allies because of their common religious sympathies, showing how he in fact destroyed her. It introduces the many different personalities contributing to these foundational years, all worrying about the 'terrifyingly unpredictable' Henry VIII, and allows readers to feel that all this is going on around them. For a time, the self-made 'ruffian', as he described himself - ruthless, adept in the exercise of power, quietly determined in religious revolution - was master of events. MacCulloch's biography for the first time reveals his true place in the making of modern England and Ireland, for good and ill.
Published:

27 September 2018

ISBN:

9780141989457

Imprint:

Penguin Audio

Format:

Audio Download

RRP:

$27.99
Praise for Thomas Cromwell
Sir Diarmaid MacCulloch is one of finest historians in the English-speaking world and preeminent in the area of the English Reformation. He has combined his expertise in 16th-century history with a compelling literary style in his latest book ... the definitive work on Henry VIII's great minister and an extraordinary insight into the politics and religion of the age, and of any age for that matter. Thomas Cromwell's somewhat dark reputation was given a new and bright shine by Hilary Mantel in the Wolf Hall trilogy and this life takes us from the fictional into the authentic; its triumph is that it is just as thrilling and equally stimulating and challenging. A profoundly important book.

Rev. Michael Coren, Spectator