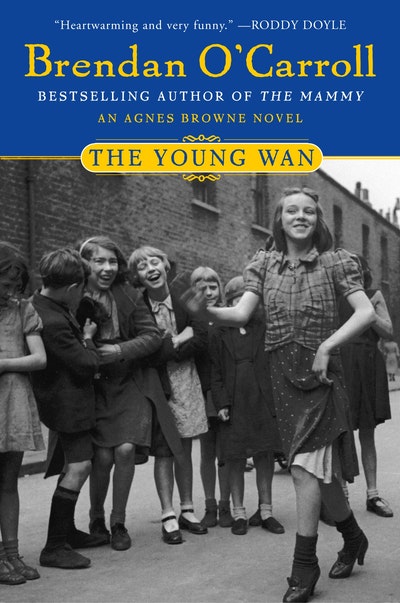 Published:

27 January 2004

ISBN:

9780452284845

Imprint:

Plume

Format:

Paperback

Pages:

224

RRP:

$23.99
The Young Wan
---
---
Before she was a Mammy, before she had Chisellers, and before they made her a Granny, Agnes Browne was Agnes Reddin, a young girl-or a Young Wan- growing up in the Jarro in Dublin. Brendan O'Carroll takes readers back to the heart of working-class Dublin, this time in the 1940s.  Together with her soon to be lifelong best friend Marion Delany, young Agnes manages to survive the indignities and demands of Catholic school, the unwanted births of siblings, days spent in the factories and markets, and nights in the dance hall as rock-and-roll invades Dublin.
But on the eve of her wedding night, the Jarro is alive with gossip—will Agnes be turned away at the altar?  For the whole parish knows Agnes's not-so-well-kept secret.  And with a mother falling further into dementia, and a younger sister turning to a life of crime, it's up to Agnes alone to keep her splintering family together, while trying to create one of her own. 
Filled with O'Carroll's trademark wicked wit and loving, larger-than-life characters, The Young Wan shows the hardscrabble beginnings of the ultimate Irish mother and family.

Published:

27 January 2004

ISBN:

9780452284845

Imprint:

Plume

Format:

Paperback

Pages:

224

RRP:

$23.99
Praise for The Mammy "I think Brendan O'Carroll is Agnes Browne, and if he's not, he's done one hell of a job capturing the absolute essence of a widowed mother in working-class Dublin."—Anjelica Huston "How to lose weight: Read The Mammy. You will laugh your arse off and your tears will do away with your water-retention problem. It is an uproariously funny account of growing up in inner-city Dublin—a laugh-out loud book with a Dickensian twist to it."—Malachy McCourt, author of A Monk Swimming "Hilarious and irreverent. A must-read."—Gabriel Byrne Praise for The Chisellers "A brilliant book."—Sunday Independent (London)   "By turns funny, wise and heartbreaking, this Irish Tales of the City is O'Carroll's second book in his Mrs. Browne trilogy; the first, The Mammy, received high praise after publication in the U.S. last year. Featuring eccentric characters who are charming, irreverent and believable, the story continues in 1973 with Agnes Browne at center stage… This lively novel features a wedding, a funeral and an ending that will melt the hardest heart. Readers will eagerly await the third book in this series."—Publishers Weekly   Praise for The Granny "O'Carroll is a popular stand-up comic, and he writes with an easy sense of humor… winning and likable."—Kirkus Reviews   "These Dubliners are irresistibly charming... Tales of working-class Irish life now fill bookshelves, but there's space aplenty for O'Carroll's sturdy contribution."—Publishers Weekly   Praise for The Young Wan "An almost surefire winner… one of those books that demands to be read in one sitting."—The Irish Voice