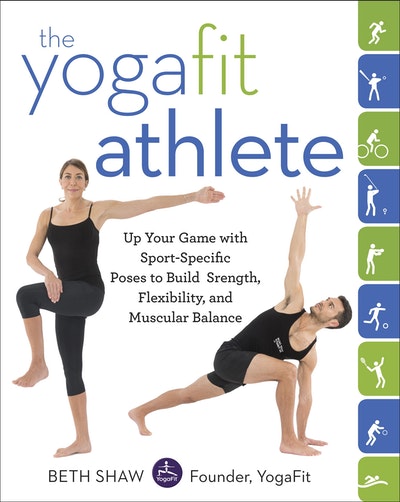 Published:

15 April 2016

ISBN:

9780804178570

Imprint:

Ballantine

Format:

Trade Paperback

Pages:

352

RRP:

$37.99
The Yogafit Athlete
Up Your Game with Sport-Specific Poses to Build Strength, Flexibility, and Balance
---
---
The first book to bring the strength and breathing power of yoga to recreational and professional athletes alike--advice, coaching, and routines tailored to help counteract the repetitive strain, musculature imbalance, and focus issues in 15 popular sports.
What do Seattle Seahawks head coach, Pete Carroll, Shaquille O'Neal, LeBron James and Volleyball great Gabby Reese have in common? They all swear by yoga's ability to improve their athleticism (or their team's; Carroll has made yoga mandatory for the Seahawks roster!). But you certainly don't have to be a pro athlete to reap the benefits. Whether you're a serious triathlete, a weekend tennis buff, or a pick-up basketball player, adding a short yoga sequence to your routine will help seriously up your game! Every athlete overuses discrete muscle groups and under-utilizes others in their sport of choice. The perfect cross training tool as well as an amazing stand-alone exercise, yoga is the perfect complement to any sport, helping to balance both body and mind. With yoga poses and short routines tailored to specific sports (15 in all), Beth Shaw's The YogaFitAthlete will help the "weekend warrior" and professional athlete alike counteract repetitive and strong-side muscular and structural issues, while also building strength and improving overall athletic energy. Including more than 100 clear and simple demonstration photos, breath work and focus advice, the book also includes an important universal torso workout that builds power and strength into the core--helpful to all athletes--as well as quick and essential yoga warm-up and cool-down routines.
Sports specifically covered: Swimming, running, cycling, golf, tennis, baseball, football, volleyball, basketball, skiing, snowboarding, weightlifting, kickboxing, boxing, Crossfit.
Published:

15 April 2016

ISBN:

9780804178570

Imprint:

Ballantine

Format:

Trade Paperback

Pages:

352

RRP:

$37.99