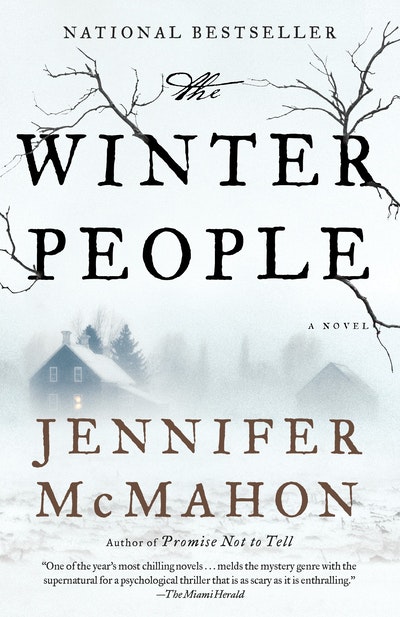 Published:

1 April 2015

ISBN:

9780804169967

Imprint:

Doubleday US

Format:

Trade Paperback

Pages:

336

RRP:

$26.99
The Winter People
---
---
---
The New York Times bestselling author of Promise Not to Tell returns with a simmering literary thriller about ghostly secrets, dark choices, and the unbreakable bond between mothers and daughters . . . sometimes too unbreakable.
West Hall, Vermont, has always been a town of strange disappearances and old legends. The most mysterious is that of Sara Harrison Shea, who, in 1908, was found dead in the field behind her house just months after the tragic death of her daughter, Gertie. Now, in present day, nineteen-year-old Ruthie lives in Sara's farmhouse with her mother, Alice, and her younger sister, Fawn. Alice has always insisted that they live off the grid, a decision that suddenly proves perilous when Ruthie wakes up one morning to find that Alice has vanished without a trace. Searching for clues, she is startled to find a copy of Sara Harrison Shea's diary hidden beneath the floorboards of her mother's bedroom. As Ruthie gets sucked deeper into the mystery of Sara's fate, she discovers that she's not the only person who's desperately looking for someone that they've lost. But she may be the only one who can stop history from repeating itself.
Published:

1 April 2015

ISBN:

9780804169967

Imprint:

Doubleday US

Format:

Trade Paperback

Pages:

336

RRP:

$26.99
Praise for The Winter People
"One of the year's most chilling novels. She melds the mystery genre with the supernatural for a psychological thriller that is as scary as it is enthralling." —The Miami Herald

"Jennifer McMahon is a writer of exceptional talent, and The Winter People is a hypnotic, gripping and deeply moving thriller. With her beautifully drawn characters and complex, layered, and suspenseful story, McMahon has woven a dream from which I didn't want to wake—and couldn't have even if I wanted to." —Lisa Unger, author of In the Blood 

"Crisp, mysterious and scary.... The Winter People has a consistently eerie atmosphere, and some of its darker supernatural flights are reminiscent of Stephen King." —USA Today

"I don't believe in ghosts. At least that's what I kept telling myself as I read The Winter People. I also don't need to sleep with the lights on. I told myself that, too. But I was whistling past a graveyard—or, in this case—past a Vermont landscape that is authentic and recognizable and still altogether chilling. The Winter People is terrifying—everything you could want in a classic ghost story." —Chris Bohjalian, author of The Light in the Ruins

"A fascinatingly creepy tale. The historical foundation and the modern mystery blend together seamlessly, making the reader eager to find out the secrets Sara Harrison Shea might have known, while the exploration of mother-daughter love and loss makes both Sara's and Ruthie's narratives irresistible. Not a book to be read late at night, or in a creaky old house, The Winter People is a literary thriller to savor." —Shelf Awareness 


"A ghost story that is ... all too human.... A hauntingly beautiful read." --Oprah.com 

 
"In an edge-of-your-seat scary ghost story, Jennifer McMahon's The Winter People yanks you from one page to the next by expertly weaving the past and present. I will never look at the woods behind my home in the same way again!" —Heather Gudenkauf, author of The Weight of Silence 

 
"A deliciously terrifying glimpse into a ghostly world that will haunt you long after you've finished the last page. Jennifer McMahon knows how to conjure your darkest fears and nightmares, while entertaining you with a clever, twisty plot that winds around and around, pulling you deep into the forbidden, secret world of The Winter People." —Chevy Stevens, author of Always Watching
 
"This is not a book that will sit unread on anyone's bedside table for very long. Open the first few pages and you are swept into a swift, dark current of unfolding events that will hold you enthralled. Much more than a spooky mystery of murder and mayhem, The Winter People blends the anguish of loss and the yearning for connection into one great story, well told."  —Kate Alcott, author of The Dressmaker


From the Hardcover edition.