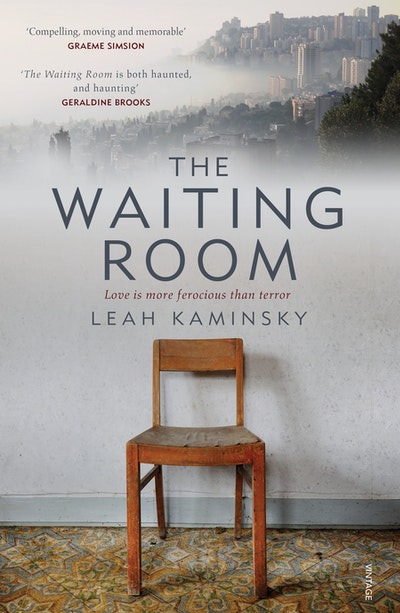 Published:

1 September 2015

ISBN:

9780857986221

Imprint:

Vintage Australia

Format:

Trade Paperback

Pages:

304

RRP:

$32.99
The Waiting Room
---
---
---
Winner of the Voss literary prize.
Compelling, moving and memorable. Graeme Simsion.
The Waiting Room captures the sights, sounds, accents and animosities of a country overflowing with stories.
Dina is a family doctor living in the melting-pot city of Haifa, Israel. Born in Australia in a Jewish enclave of Melbourne to Holocaust survivors, Dina left behind a childhood marred by misery and the tragedies of the past to build a new life for herself in the Promised Land.
After starting a family of her own, she finds her life falling apart beneath the demands of her eccentric patients, a marriage starting to fray, the ever-present threat of terrorist attack and the ghost of her mother, haunting her with memories that Dina would prefer to leave on the other side of the world.
Leah Kaminsky plumbs the depths of her characters' memories, both the sweet and the heart-wrenching, reaching back in a single climactic day through six decades and across three continents to uncover a truth that could save Dina's sanity – and her life.
Published:

1 September 2015

ISBN:

9780857986221

Imprint:

Vintage Australia

Format:

Trade Paperback

Pages:

304

RRP:

$32.99
Praise for The Waiting Room
Leah Kaminsky's debut novel, The Waiting Room is nail-biting, but not in a whodunnit way; in the way of an eight-month pregnant protagonist holding her breath against the dual assault of Israeli terrorism and Holocaust memories. Not for the faint-hearted, but with a surprising surfeit of grace notes.

Clare Wright, The Sydney Morning Herald
The Waiting Room deftly draws together and personalises the legacy of the Holocaust and the present-day threat to Israel. It is an assured debut with a complex, believable and engaging protagonist. Finely-observed characters and vignettes give us a human perspective on a culture that is too often portrayed only in political terms. Compelling, moving and memorable. The Waiting Room took me to Israel in the way The Kite Runner took me to Afghanistan, and shone a light on the generational impact of the Holocaust.

Graeme Simsion
Dina, the child of Holocaust survivors, struggles herself to survive the burden of memory and misery that has infused her Melbourne childhood. Far from home, working as a doctor in Haifa and married to a stoic Israeli, she must find a way to quiet her ghosts before their dark voices further dim her own chance at happiness. At a time when the survivors' generation is rapidly diminishing, this novel reminds us that suffering on such a scale has a potent half-life. The Waiting Room is both haunted, and haunting.

Geraldine Brooks
Leah Kaminsky knows the stress of a doctor's life: she is one. This is why her debut novel about a pregnant Israeli GP has such an authentic flavour. We're right there with her as she rushes about her duties, haunted by her persistently present but dead mother and living on high alert, ever vigilant for the next terrorist attack. The Waiting Room convincingly conveys all the intensity of Israeli everyday life.

Caroline Baum, Booktopia Buzz
Kaminsky is our Virgil, guiding us – sometimes playfully – through the circles of hell. It may be intense, but we are entertained along the way. Here is humanity, in all its minutiae, in all its terrifying grandness, banality and brutality. Meanwhile, the immediate situation is utterly compelling. You know the day is going to end badly but you don't how or when or where or for whom. You're driven forward, to find out.

Tracy Sorensen, Newtown Review of Books
The Waiting Room exudes white-hot urgency

Zelda Cawthorne, The Australian Jewish News
Kaminsky's book is set in 2001, and things have only grown more polarised since then, and attitudes hardened. In that it paints a sympathetic picture of a compassionate Australian-Israeli haunted by ghosts of the Holocaust, some would condemn it as apologist. Others will find it confronting at other levels. Dina has, in the end, to choose between Melbourne and Haifa. Which is more ferocious, love or terror? Is it better, for her, to be a "galutnik" or in the thick of things? Kaminsky's book throws up some tough questions.

Anne Susskind, The Sydney Morning Herald
Written with emotional insight, poetic nuance and fascinating cultural knowledge, The Waiting Room is original, affecting and a compulsive read. It is at times pacy, with its anticipation of horror, and at other times ponderous, with its generations of guilt and pain. At all times it is impossible to put down. Kaminsky's great skill in writing this story is her ability to draw the reader into the foreign, haunted and terrorised landscape of Dina's inner turmoil and daily life, both in Melbourne and Haifa. The Waiting Room is a debut novel of the highest order by an inventive and accomplished writer.

Lynette Washington, The Clothesline
Deft, poetic and insightful, Kaminsky's The Waiting Room is an important and moving meditation on choice and generational trauma.

Leslie Cannold
An important book, and superbly well-written. In The Waiting Room, debut novelist Leah Kaminsky has captured fear, guilt and unresolved anguish in a novel that will wring your heart.

Lisa Hill, ANZ LitLovers Blog
Kaminsky's memorable novel weaves the past and present together and peers briefly into the future. Although Kaminsky has written non-fiction, this is her first fiction and it's wonderful to have discovered her.

Sophia Whitfield, Culture Street
Leah Kaminsky has written a brilliant and harrowing book, one which becomes more relevant with each new terrorist act inflicted upon the civilized world

Clint McCown
Sublime. Achingly true and transcendent.

Catherine Therese
Vivid, riveting, authentic with emotion and conflict

Jerome E. Groopman
An astonishing novel that mingles the everyday with a twisted landscape of trauma and hauntings, the bitter honesty of ghosts, the live phantoms of terror

Peter Bishop
The Waiting Room tackles universal aspects of the human condition: the dilemmas of parenting, the working life and the migrant experience, albeit under the heightened pressure of a life threatened by terror past and present. Kaminsky's debut novel The Waiting Room is a true achievement and a book that I highly recommend.

Annette Marfording
The Waiting Room is an extraordinary Australian novel. Kaminsky vividly evokes the claustrophobia of growing up in a Jewish enclave in Melbourne's Caulfield in the 1950s and the jostling of Jews, Soviet immigrants, Arabs, Iranian refugees and Christians in the streets and markets of Haifa. Her book captures the frantic energy of people trying to maintain a semblance of normal life in a time of war - the fraying of relationships, the loss of civility in the face of terror – and trying to find the courage it takes to endure. Kaminsky's eye for physical detail, the way she brings her characters and their often tragic backstories to life with compassion and humour, and her skill in ratchetting up tension make this a totally engrossing novel. But more than that, The Waiting Room transcends the specificities of place and time as it asks us to consider more universal questions: is it possible – or desirable - to forget the past? Can the burden of the dead on the living be overcome? Can the living bring rest to the troubled dead? Is it possible for a survivor, or the children of survivors, to live a 'normal' life? Can compassion for the individual outweigh prejudice born of fear? Who heals the healer? Leah Kaminsky's The Waiting Room is an emotionally powerful, complex and thought-provoking novel.

Judges report, Voss literary prize
Leah Kaminsky's prose is simple, elegant, restrained, and shot through with moments of humour both bright and dark. Past and present, reality and unreality, are woven together until neither the narrator nor the reader can be sure exactly what is happening. A powerful and insightful book into the very black shadows the Holocaust continues to cast.

Kate Forsyth