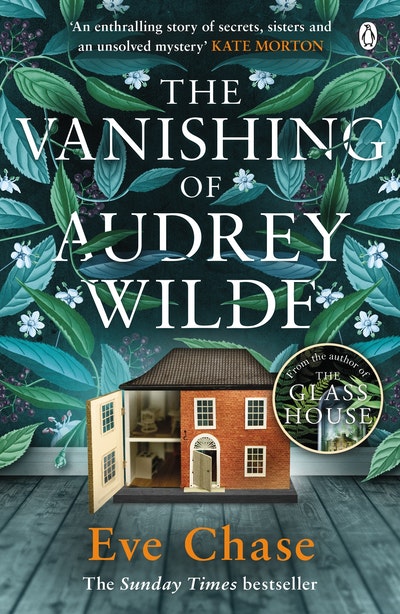 Published:

5 January 2022

ISBN:

9781405919340

Imprint:

Michael Joseph

Format:

Paperback

Pages:

416

RRP:

$22.99
The Vanishing of Audrey Wilde
The spellbinding mystery from the Richard & Judy bestselling author of The Glass House
---
---
---
From the Sunday Times bestselling author of The Glass House. Four sisters, one long hot summer, and the terrible secret that binds them . . .
In the heatwave of 1959, four sisters arrive at Applecote Manor to relive their memories of hazy Cotswolds summers.
But their uncle and aunt are still reeling from the disappearance of their only daughter, five years before.
An undercurrent of dread runs through the house. Why did Audrey vanish? Who is keeping her fate secret?
As the sisters are lured into their missing cousin, the stifling summer takes a shocking, deadly turn.
One which will leave blood on their hands, and put another girl in danger decades later . . .
Published:

5 January 2022

ISBN:

9781405919340

Imprint:

Michael Joseph

Format:

Paperback

Pages:

416

RRP:

$22.99
Praise for The Vanishing of Audrey Wilde
Critical acclaim for Black Rabbit Hall

-
A richly evocative mystery

Gransnet, Best Summer Reads
An engrossing story of fractured families, secrets, lies and misunderstandings

Sunday Express
An enthralling story of secrets, sisters and an unsolved mystery

Kate Morton, Number One Sunday Times bestselling author of The Lake House
An enticing, chilling plot, captivating characters and prose beautiful enough to totally lose yourself in. This book is the dream

Isabelle Broom, Heat
Evocative and filled with subtle intrigue. I so enjoyed it

Clare Mackintosh, Sunday Times bestselling author of I See You
I'm really in awe of Chase's power of description. It is magical and she sharpens every sense

Veronica Henry, Daily Express
This little beauty absorbed me completely. Fabulous

Jane Fallon, Sunday Times bestselling author of My Sweet Revenge
Black Rabbit Hall completely swept me away. Glorious, beautifully written. I absolutely loved it

Lisa Jewell
Black Rabbit Hall is a seductive wonder of a novel; with echoes of Daphne du Maurier and Dodie Smith, it pulls you irresistibly into its world where nothing is quite as it first appears

Elizabeth Fremantle
Black Rabbit Hall pulls you like a sleepwalker into a beautiful, hazy story about a grand Cornish home full of character and thunderclap memories, we found ourselves breathless with anticipation. Eve Chase's debut novel is like a prolonged and beautiful daydream, celebrating the enduring power of place in our lives

iBooks Books of the Month
Black Rabbit Hall's beautifully crafted mystery is a delight I want to experience again and again . . . make Chase's debut the one to pack in your suitcase *****

Stylist
A cracking pool-side saga

Good Housekeeping
A deliciously intriguing novel whose rich sense of time and place bear more than a few echoes of du Maurier's best

Alex Marwood, Edgar Award-winning author of The Wicked Girls
A haunting mystery about the secrets of the past, the bonds within families, and the hidden ties that connect people across time. A story to be savored, The Vanishing of Audrey Wilde is a book I'll be recommending to everyone I know

Megan Miranda, New York Times bestselling author of All the Missing Girls
A long hot summer, a Cotswolds manor house fallen into ruin, a dark secret hidden since the 1950s . . . all perfect ingredients for an addictive read, and The Vanishing of Audrey Wilde delivers atmosphere in spades

Good Housekeeping
A stunning new writer has arrived - gripping and heart rending, this novel is full of original characters which don't let you forget them

Katie Fforde
As poetic and intricate as it is a page-turner . . . a delicious, utterly satisfying novel that needs to be savoured

Katy Regan, author of The Story of You
Atmospheric, with echoes of du Maurier, this haunting novel enchanted me

Fanny Blake, Woman & Home
Beautifully written with a gripping plot, I couldn't stop reading this

Katie Fforde, Number One Sunday Times bestselling author of A Secret Garden
Beautifully written with superb characters, this is a deeply satisfying novel which glows with texture and emotion

Elizabeth Buchan, Sunday Times bestselling author of The New Mrs Clifton
Beautifully, poetically written and reminiscent of everything from I Capture The Castle to Hansel And Gretel. Eve Chase is a name to watch

Daily Mail
Chase summons up an enchanted and enchanting environment - reminiscent of classic British literature

Belfast Telegraph
Eve Chase deserves to be lauded as one of the most enthralling novelists of the moment. This is the most beautiful book you will read this year

Lisa Jewell, Sunday Times bestselling author of I Found You
Expertly crafted, dark, beautiful and utterly enthralling

Rowan Coleman
Family secrets, forbidden lust, and a family of four extraordinary children who'll stick with you long after they've scattered off the page. Eve Chase kept me up with her gorgeous descriptions of a crumbling Cornwall estate and the unruly brood who meets tragedy within its walls

Miranda Beverly-Whittemore, New York Times bestselling author of Bittersweet
From the strange, almost dream-like opening pages, I was transfixed by this novel . . . I was especially moved by the depiction of the relationship between the sisters - both tender and strained, and the utterly evocative sense of place. A beautiful and compelling story

Clover Stroud, author of The Wild Other
I devoured it. What an exquisite, intriguing, evocative novel. I already know it's a novel I will reread and talk about to everyone I can

Adele Parks, Sunday Times bestselling author of The Stranger in My Home
Every now and then you read a special book and this is one. I can't tell you how much I loved it

Dinah Jefferies, Number One Sunday Times bestselling author of The Tea Planter's Wife
I'm really in awe of Eve Chase's writing. There is something magical about it: she sharpens every sense. And underlying the lyrical description is a masterful suspense - like a strong current in a river, it pulls you along to the very end. The book was utter bliss. Lyrical, magical, enchanting, bewitching

Veronica Henry, Sunday Times bestselling author of The Forever House
Infused with tension and suspicion as lies are uncovered, I was gripped by the dark mystery that surrounds Audrey's disappearance and desperate to know who might be responsible. This is one novel I won't be able to stop thinking about for a very long time. I really loved it

Claire Douglas, Sunday Times bestselling author of Local Girl Missing
Mitford sisters meet Hideous Kinky by way of Kate Morton. Just wonderful

Wendy Holden, Daily Mail
The bonds of sisterhood will tested and an unthinkable choice will have a decades-long legacy . . . step back in time for a mystery of breathtaking suspense

No. 1 Magazine
The writing is beautiful - characteristically exquisite and evocative - and the pace and suspense handled expertly. This is an assured novel: richly poetic, immersive, affective. It even made me cry at the end

Sarah Vaughan, author of Anatomy of a Scandal
There's something about tales of mysterious old buildings that have the ability to set hairs on end. In this one, two intertwining stories explore the magnificence of Black Rabbit Hall and the dark secrets behind its walls. Perfect sunlounger fodder

Red Online
Utterly engrossing and beguiling from the first page, a beautifully written, exquisitely paced, dark dream of a book

Rowan Coleman, bestselling author of, The Summer of Impossible Things
What happens at Applecote Manor has repercussions that stretch tentacles into the present day . . . A mystery of nail-biting suspense

Woman & Home