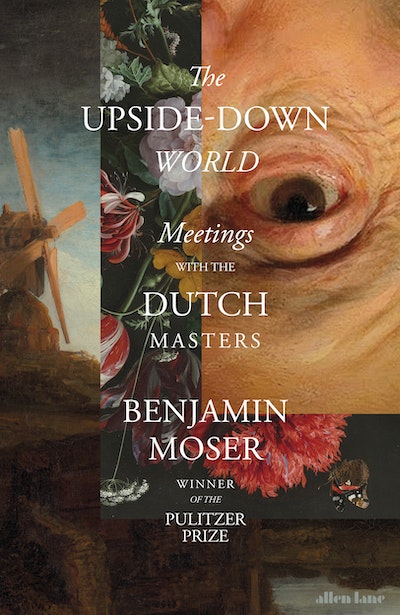 Published:

7 November 2023

ISBN:

9780241586457

Imprint:

Allen Lane

Format:

Hardback

Pages:

400

RRP:

$69.99
The Upside-Down World
Meetings with the Dutch Masters
---
---
A charming and highly personal introduction to the artists of the Dutch Golden Age
Twenty years ago, Benjamin Moser followed a love affair to an ancient Dutch town. In order to make sense of this new place, he threw himself into the Dutch museums. Soon, he found himself unearthing the strange, inspiring and sometimes terrifying stories of the artists who shaped one of the most luminous moments in the history of human creativity, the Dutch Golden Age.
As he explored the hidden world of the Dutch Masters (and one Mistress), Moser met a crowd of fascinating personalities: the stormy Rembrandt, the intimate Ter Borch, the mysterious Vermeer. Through their art, he got to know their country, too: from Pieter Saenredam's translucent churches to Paulus Potter's muddy barnyards, and from Pieter de Hooch's cozy hearths to Jacob van Ruisdael's tragic trees. Over the years, Moser found himself on increasingly intimate terms with these centuries-dead artists, and found that they, too, were struggling with the same questions he was. Why do we make art? What is art, anyway - and what is an artist? What does it mean to succeed as an artist, and what does it mean to fail?
The Upside-Down World is an invitation to ask these questions, and to turn them on their heads: to look, and then to look again. It is a brilliant, colourful and learned book for anyone, whether lifelong scholar or curious tourist, who has ever felt the lure of the Dutch galleries. It shows us art, and artists, as we have never seen them before.
Published:

7 November 2023

ISBN:

9780241586457

Imprint:

Allen Lane

Format:

Hardback

Pages:

400

RRP:

$69.99
Praise for The Upside-Down World
The most agreeable of companions in his encompassing yet highly personal tour of the Golden Age of Dutch painting, Benjamin Moser delivers fresh insights that will delight the expert and the casual museum-goer alike, in prose as precise and intimate as a Vermeer - and as luminous

Jim Holt
The most agreeable of companions in his encompassing yet highly personal tour of the Golden Age of Dutch painting, Benjamin Moser delivers fresh insights that will delight the expert and the casual museum-goer alike, in prose as precise and intimate as a Vermeer - and as luminous

Jim Holt
Benjamin Moser's fascinating study of Dutch art and artists is more than the sum of its extraordinary parts. Part memoir, part critical and historical analysis, the book also offers a superb commentary - one of the best I've ever read - on what it means to be displaced in a never entirely whole world, and what it means to see between the cracks. I learned so much reading this fine book, and so will you

Hilton Als
Benjamin Moser's fascinating study of Dutch art and artists is more than the sum of its extraordinary parts. Part memoir, part critical and historical analysis, the book also offers a superb commentary - one of the best I've ever read - on what it means to be displaced in a never entirely whole world, and what it means to see between the cracks. I learned so much reading this fine book, and so will you

Hilton Als
I always dreamed of living in the rooms of my favorite paintings. Finally! A book that animates these rooms, their light, the people in them - that evokes their character and emotions and places them in the context of their culture. Profound and intensely alive, Benjamin Moser's writing describes them both as living beings and as works of art, and connects his own life as a writer to these deep insights into the meaning of art

Laurie Anderson
I always dreamed of living in the rooms of my favorite paintings. Finally! A book that animates these rooms, their light, the people in them - that evokes their character and emotions and places them in the context of their culture. Profound and intensely alive, Benjamin Moser's writing describes them both as living beings and as works of art, and connects his own life as a writer to these deep insights into the meaning of art

Laurie Anderson
In a luminous, splendidly illustrated melding of art history and memoir, Pulitzer Prize-winning biographer, translator, and essayist Moser pays homage to 17th-century artists whose works he discovered when he first settled in the Netherlands 20 years ago ... He sets artists' lives in the context of violence and upheaval, as well as personal loss, poverty, grief, and longing ... A graceful meditation on art

Kirkus Reviews
In a luminous, splendidly illustrated melding of art history and memoir, Pulitzer Prize-winning biographer, translator, and essayist Moser pays homage to 17th-century artists whose works he discovered when he first settled in the Netherlands 20 years ago ... He sets artists' lives in the context of violence and upheaval, as well as personal loss, poverty, grief, and longing ... A graceful meditation on art

Kirkus Reviews
No country may be read through its art as clearly as the Netherlands. Benjamin Moser's enchanting survey of the Dutch Masters offers a salutary reminder that the pantheon is never locked and that neglected artists may deserve a reappraisal. In all, he gives us a loving portrait of the country he decided to call home, and valuable lessons along the way about how to create and how to be

Hugh Aldersey-Williams
No country may be read through its art as clearly as the Netherlands. Benjamin Moser's enchanting survey of the Dutch Masters offers a salutary reminder that the pantheon is never locked and that neglected artists may deserve a reappraisal. In all, he gives us a loving portrait of the country he decided to call home, and valuable lessons along the way about how to create and how to be

Hugh Aldersey-Williams
A delight. It is incredibly difficult to teach the act of looking and nearly impossible to describe how to find what one needs from a painting. Moser's book is a beautifully gentle guide. Both wise and charismatic, it demonstrates and questions, rather than explains. It shows us how the Dutch Masters' magic persists across time, shooting us right in the soul when we need it - and when we are willing to see its alchemy at work

Christine Coulson
A delight. It is incredibly difficult to teach the act of looking and nearly impossible to describe how to find what one needs from a painting. Moser's book is a beautifully gentle guide. Both wise and charismatic, it demonstrates and questions, rather than explains. It shows us how the Dutch Masters' magic persists across time, shooting us right in the soul when we need it - and when we are willing to see its alchemy at work

Christine Coulson
Benjamin Moser's way of looking is sharp, original, penetrating, generous and nourished by knowledge and study. His book is an essential guide to the Dutch painters, but, more than that, it is an engaging conversation with a well-stocked mind

Colm Tóibín
Benjamin Moser's way of looking is sharp, original, penetrating, generous and nourished by knowledge and study. His book is an essential guide to the Dutch painters, but, more than that, it is an engaging conversation with a well-stocked mind

Colm Tóibín
The Upside-Down World sketches out the lives and work of preeminent figures, such as Rembrandt, Vermeer and Hals, alongside those less well known … While many an art historian has delved into the private lives of artists for the purposes of adding colour to the criticism, Moser's book is a treatise on ambition … asking what catalyses people to write (or make art), and to write (or make art) the way they do

Oliver Basciano, ArtReview
The Upside-Down World sketches out the lives and work of preeminent figures, such as Rembrandt, Vermeer and Hals, alongside those less well known … While many an art historian has delved into the private lives of artists for the purposes of adding colour to the criticism, Moser's book is a treatise on ambition … asking what catalyses people to write (or make art), and to write (or make art) the way they do

Oliver Basciano, ArtReview
A museum, Benjamin Moser writes, has an aura. It promises improvement, elevation. Walking through galleries of Dutch art was at once calming and exciting; it raised questions, stimulated curiosity, the quantity as well as the quality of the art astonishing him. How did such a small country achieve so much? … Moser's excitement at what he's found, along with the desire to know more, lends a particular aura to this book … Richly illustrated, the writing is conversational yet erudite, threaded with autobiographical anecdotes

Norma Clarke, Literary Review
A museum, Benjamin Moser writes, has an aura. It promises improvement, elevation. Walking through galleries of Dutch art was at once calming and exciting; it raised questions, stimulated curiosity, the quantity as well as the quality of the art astonishing him. How did such a small country achieve so much? … Moser's excitement at what he's found, along with the desire to know more, lends a particular aura to this book … Richly illustrated, the writing is conversational yet erudite, threaded with autobiographical anecdotes

Norma Clarke, Literary Review
The Upside-Down World reminds us that every artist is only a human and starts from obscurity … The book is a blend of immigration memoir and an artist's reflection on finding his way to success in a creative pursuit

Houston Public Media
The Upside-Down World reminds us that every artist is only a human and starts from obscurity … The book is a blend of immigration memoir and an artist's reflection on finding his way to success in a creative pursuit

Houston Public Media
In The Upside-Down World, Benjamin Moser confronts the world through the eyes of Vermeer, Rembrandt, Hals and others. He is an exemplary museumgoer, the kind we should all aspire to be … Here, Moser interweaves personal memoir with observations he has gleaned from years of faithful looking at Dutch paintings

Wall Street Journal
In The Upside-Down World, Benjamin Moser confronts the world through the eyes of Vermeer, Rembrandt, Hals and others. He is an exemplary museumgoer, the kind we should all aspire to be … Here, Moser interweaves personal memoir with observations he has gleaned from years of faithful looking at Dutch paintings

Wall Street Journal
A personal and stirring guide to the great Dutch painters … The Upside-Down World is an excellent companion to the Dutch galleries: conversational and congenial, essayistic and elevating

Washington Post
A personal and stirring guide to the great Dutch painters … The Upside-Down World is an excellent companion to the Dutch galleries: conversational and congenial, essayistic and elevating

Washington Post
Moser writes with insight and sympathy about his 18 painters and their pictures, many of which are handsomely reproduced in his pages

The Times
Moser writes with insight and sympathy about his 18 painters and their pictures, many of which are handsomely reproduced in his pages

The Times
Moser considers individual lives, life in general and the fragility of all biographies. Unknowns make the knowns shine brighter… Moser relishes strange facts and is attuned to the charisma of his subjects… a meditation on belonging, how we strive to adopt a nation through its art, how we fall in love with a place, its past and foreignness… an excellent guide

Prospect
Moser considers individual lives, life in general and the fragility of all biographies. Unknowns make the knowns shine brighter… Moser relishes strange facts and is attuned to the charisma of his subjects… a meditation on belonging, how we strive to adopt a nation through its art, how we fall in love with a place, its past and foreignness… an excellent guide

Prospect
A deeply personal, lyrical and philosophical introduction to the Dutch masters. Ben Moser looks deeply and reads widely, with fascinating insights and revelations

Jerry Brotton, Financial Times