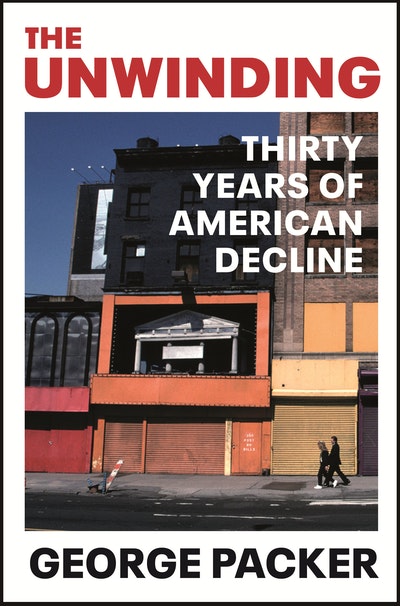 Published:

2 July 2019

ISBN:

9781529111583

Imprint:

Vintage

Format:

Paperback

Pages:

448

RRP:

$22.99
The Unwinding
Thirty Years of American Decline
---
---
---
George Packer's 2013 masterful portrait of a superpower coming apart at the seams - the book that gave voice and perspective to the discontent that would enfranchise Donald Trump

*WINNER OF THE NATIONAL BOOK AWARD FOR NON-FICTION*
'A Great American Novel in the guise of a Great Nonfiction Epic, The Unwinding asks.do we truly like the world we have made for ourselves?' The Times
America is in crisis.
In the space of a generation the country has become divided between winners and losers, with its political system on the verge of breakdown and its people adrift amongst failing institutions.
In The Unwinding, George Packer tells the human story of America's vertiginous collapse. Dean Price is a sustainability evangelist in the rural South; Tammy Thomas, a factory worker trying to survive the collapse of the Rust Belt; Jeff Connaughton, a political careerist in Washington, and Peter Thiel, a controversial Silicon Valley billionaire. Journeying across three decades, Packer weaves the stories of these four Americans together to paint a rich, complex and compelling portrait of contemporary America as it stands at this, its most pivotal moment.

'Hums - with sorrow, with outrage and with compassion... Close to a non-fiction masterpiece' The New York Times
Published:

2 July 2019

ISBN:

9781529111583

Imprint:

Vintage

Format:

Paperback

Pages:

448

RRP:

$22.99
Packer's is an American voice of exceptional clarity and humanity in a tradition of reportage that renders the quotidian extraordinary. When our descendants survey the ruins of this modern imperium and sift its cultural detritus, American voices like this will be the tiny treasures that endure.

David Goldbatt, Independent
The historic scope of Packer's book - from the late-Seventies economic downturn right up to the recent Occupy Wall Street protests - is as impressive as its immense ambition and its cumulative narrative power... A Great American Novel in the guise of a Great Nonfiction Epic, The Unwinding asks us...that daunting, unsettling question: do we truly like the world we have made for ourselves?

The Times
Epic, sad and unsettling history of the last four decades in the US... It is a testament to Packer's talents that The Unwinding is powerful, rather than off-puttingly earnest or just depressing, and that it lingers so long after reading. The sense of loneliness - of isolated souls, failed by their institutions, pummelled by the forces of big money - seems to seep under your skin, and to stay there.

Oliver Burkeman, Guardian
Packer is among the best non-fiction writers in America... In its sensibility, The Unwinding is closer to a novel than a work of fiction. It is all the more powerful for it.

Edward Luce, Financial Times
Original, incisive, courageous, and essential. One of the best works of non-fiction I've read in years

Katherine Boo, author of Behind the Beautiful Forevers
A tour de force... A fascinating journey through an America that has largely remained hidden from view. There are echoes of Don DeLillo's Underworld in the scope of Packer's vision and his deft eye for language and detail

Sunday Business Post
Hums - with sorrow, with outrage and with compassion for those who are caught in the gears of America's increasingly complicated (and increasingly poorly calibrated) financial machinery... Close to a non-fiction masterpiece

The New York Times
A precise, complex but delicately wrought tapestry, both funny and wistfully sad and always rich in observational detail... [An] angry, wise and moving state-of-the-union address

Sunday Telegraph