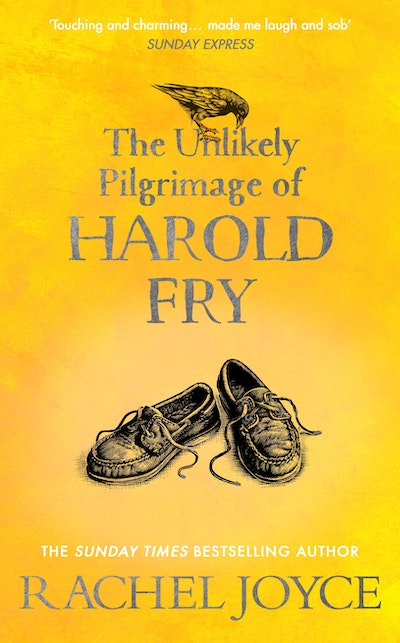 Published:

2 January 2013

ISBN:

9780552778091

Imprint:

Black Swan

Format:

Paperback

Pages:

384

RRP:

$22.99
The Unlikely Pilgrimage Of Harold Fry
The uplifting and redemptive No. 1 Sunday Times bestseller
---
---
---
The critically acclaimed, Sunday Times and international bestseller, long-listed for the Man Booker Prize 2012: 'A magical, moving and uplifting tale about a man's journey across England and into his own heart.' - Deborah Moggach.
Rachel Joyce is the Specsavers National Book Awards New Writer of the Year 2012.

'Impossible to put down' TIMES
'Life-affirming delight. A comic pleasure' WOMAN AND HOME
'Profoundly moving' RICHARD MADELEY
OVER 4 MILLION COPIES SOLD. SOON TO BE A MAJOR MOVIE STARRING JIM BROADBENT AND PENELOPE WILTON
____________________

When Harold Fry nips out one morning to post a letter, leaving his wife hoovering upstairs, he has no idea that he is about to walk from one end of the country to the other.
He has no hiking boots or map, let alone a compass, waterproof or mobile phone. All he knows is that he must keep walking. To save someone else's life.
Harold Fry is the most ordinary of men. He just might be a hero for us all.
____________________
'A gorgeously hopeful book' OPRAH MAGAZINE
'A funny book, a wise book, a charming book . . . Harold Fry is just wonderful ... I love this book' ERICA WAGNER, THE TIMES
'The odyssey of a simple man, original, subtle and touching' CLAIRE TOMALIN
'One of the sweetest, most delicately-written stories I've read in a long time. One man's walk along the length of England to save the life of a dying woman . . . Philosophical, intriguing, and profoundly moving' RICHARD MADELEY
'Full of heart, laced through with wry wit. I loved Harold and Maureen and their separate journeys . . . A celebration of being alive, being human. Beautiful!' NIAMH CUSACK
'Tender and funny, The Unlikely Pilgrimage of Harold Fry shows that even our frailties can be uplifting and redemptive' EDWARD STOURTON
____________________
MISS BENSON'S BEETLE BY RACHEL JOYCE IS OUT NOW. HER NEW NOVEL, MAUREEN, IS PUBLISHED IN OCTOBER 2022.
____________________
Published:

2 January 2013

ISBN:

9780552778091

Imprint:

Black Swan

Format:

Paperback

Pages:

384

RRP:

$22.99
Praise for The Unlikely Pilgrimage Of Harold Fry
One of the sweetest, most delicately-written stories I've read in a long time. One man's walk along the length of England to save the life of a dying woman. Each chapter describes a different encounter along the way, with a definite nod to Chaucer's Canterbury Tales. Philosophical, intriguing, and profoundly moving.

Richard Madeley, Foyles website
Uplifting, funny and delicate

Jon Stock, The Daily Telegraph
From the moment I met Harold Fry, I didn't want to leave him. Impossible to put down.

Erica Wagner, The Times
Wonderful

Deborah Orr, Guardian
At times almost unbearably moving.

Sunday Times
A brilliant and charming novel: full of comic panache yet acute and poignant.

Spectator
Tender and funny, The Unlikely Pilgrimage of Harold Fry shows that even our frailties can be uplifting and redemptive.

Edward Stourton
Compelling and truly wonderful. It made me laugh out loud at times and brought tears to my eyes. There are sentences that are just brilliant and well observed.

David Headley, Goldsboro Bookshop
I was completely blown away. I thought I was about to read a comic novel but what can I say - it was indeed funny, but tender, ironic and deeply moving, a really wonderful book.

Pat Abrehard, Harbour Bookshop, Kingsbridge, Devon
Harold Fry is infuriating, hilarious and completely out of his depth, but I held my breath at his every blister and cramp and, felt, as if by turning the pages, I might help his impossible quest succeed. Marvellous!

Helen Simonson, author of Major Pettigrew's Last Stand
A delightfully original and engaging debut.

Rebecca Frayn
I loved this book. I loved its purity, its brutality and unerring honesty. I don't think I have read such richly composed metaphors before. They are like shooting stars glittering across each page. I can't believe this is her first novel- I wait with bated breath for her next.

Natascha McElhone
Harold's unlikely pilgrimage takes him the length of the country - and into the deepest parts of himself. This beautifully written tale is by turns funny, touching, farcical and heroic. A very unusual and uplifting debut.

Isabel Wolff
The odyssey of a simple man, original, subtle and touching.

Claire Tomalin
This book is like a naive painting: simple and profound. It is a moving story , full of heart, laced through with wry wit. I loved Harold and Maureen and their separate journeys. It felt like a celebration of being alive, being human. Beautiful!

Niamh Cusack
The Unlikely Pilgrimage of Harold Fry is a funny book, a wise book, a charming book - but never cloying. It's a book with a savage twist, and yet never seems manipulative. Perhaps because Harold himself is just wonderful...This book may follow a pattern set by another radio dramatist-turned-novelist, David Nicholls, whose One Day has now sold more than a million copies and been made into a successful film simply because one reader said to another 'I love this book' over and over again. So I'm telling you now: I love this book.

Erica Wagner, The Times
Life-affirming delight. A comic pleasure.

Woman and Home
A tender, funny debut about second chances and regained love as a man takes to the road on an unusual quest.

Marie Claire
Accomplished BBC playwright Joyce's debut novel is a gentle and genteel charmer, brimming with British quirkiness yet quietly haunting in its poignant and wise examination of love and devotion. Sure to become a bookclub favorite.

Booklist
a gorgeously poignant novel of hope and transformation

Oprah Magazine
Joyce's beguiling debut is another modest-seeming story of 'ordinary' English lives that enthralls and moves you as it unfolds.

People Magazine 4* Review
Tender and profound, fresh and funny, a debut that provokes thoughts of reconciliation

Marie Claire, Italy
A terrific book, comic and sad and very honest. Harold is a wonderfully-drawn character... his story is at the same time emotionally gruelling and yet ultimately uplifting.

Joanne Harris
one of the most moving, uplifting, inspiring novels I've ever read

Richard Madeley
[Harold's] tragicomic journey has the affecting simplicity of a modern-day parable

Sunday Telegraph
[Joyce] has created, with admirable ease, the kind of character whom readers will struggle to forget, who is genuine from the very beginning... emotionally gripping... a 21st-century morality tale that ultimately, and perhaps surprisingly, celebrates the kindness of strangers

The Independent
Impressive... Tender and thought-provoking

Choice Magazine
A moving, redemptive story

The Lady
I found myself taking days over it just because I wanted to savour every few pages. An enchanting, gentle book.

Nathaniel Parker, Daily Express