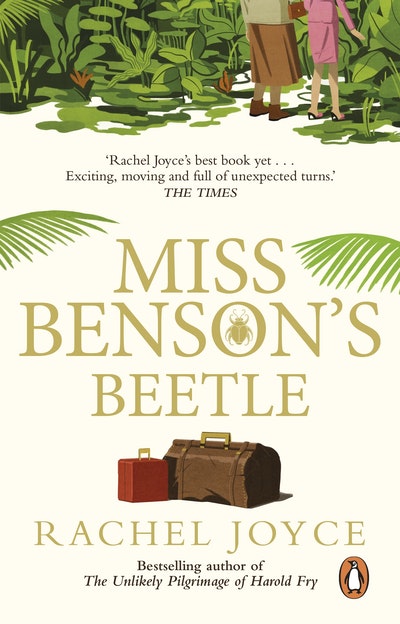 Published:

30 March 2021

ISBN:

9780552779487

Imprint:

Black Swan

Format:

Paperback

Pages:

416

RRP:

$19.99
Miss Benson's Beetle
An uplifting and redemptive story of a glorious female friendship against the odds
---
---
---
The bestselling author of The Unlikely Pilgrimage of Harold Fry delivers an intoxicating adventure story about female friendship and having the courage to live your dreams, however unlikely they may be.
WOMAN & HOME BEST BOOKS OF THE YEAR and A NEW YORK TIMES BESTSELLER
Shortlisted for the 2021 WILBUR SMITH ADVENTURE WRITING PRIZE | BEST PUBLISHED NOVEL.
'The perfect escape novel for our troubled times.' PATRICK GALE

It is 1950. In a devastating moment of clarity, Margery Benson abandons her dead-end job and advertises for an assistant to accompany her on an expedition. She is going to travel to the other side of the world to search for a beetle that may or may not exist.
Enid Pretty, in her unlikely pink travel suit, is not the companion Margery had in mind. And yet together they will be drawn into an adventure that will exceed every expectation. They will risk everything, break all the rules, and at the top of a red mountain, discover their best selves.
This is a story that is less about what can be found than the belief it might be found; it is an intoxicating adventure story but it is also about what it means to be a woman and a tender exploration of a friendship that defies all boundaries.

'A girl's own adventure...This is Rachel Joyce's best book yet ...Exciting, moving and full of unexpected turns.' THE TIMES
'Brilliant and elegant and wise...powerful and moving...I can't recommend it enough.' JOANNA CANNON
'A beautiful portrayal of female friendship in all its frailties, contradictions and strengths.' RAYNOR WINN
WOMAN & HOME BEST BOOKS OF THE YEAR 2020; DAILY MAIL BEST BOOKS OF THE YEAR 2020; BOOKMARK BOOK OF THE YEAR 2020; GOOD HOUSEKEEPING BEST BOOKS OF THE YEAR 2020
Published:

30 March 2021

ISBN:

9780552779487

Imprint:

Black Swan

Format:

Paperback

Pages:

416

RRP:

$19.99
Praise for Miss Benson's Beetle
I loved The Unlikely Pilgrimage of Harold Fry, but Miss Benson's Beetle is even better. The characters have a richness and depth that drew me into their story immediately. And what characters! This book is far more than an unexpected adventure, it's a beautiful portrayal of female friendship in all its frailties, contradictions and strengths. It made me think we all have the power to be so much more than we imagine when we cut the chains of expectation. I actually feel as if I've just lost a positive, powerful friend - I'm cut adrift, I haven't been so immersed in a novel for years

Raynor Winn, author of The Salt Path
Rachel Joyce is a masterful storyteller. She has written the perfect book for these times. Funny, perceptive and life-enhancing. I urge you to read it.

Sarah Winman, author of When God was a Rabbit
Miss Benson's Beetle is the perfect escape novel for our troubled times, about a woman in emotional, professional and physical lockdown who breaks free to reclaim her true self. It's as funny and nourishing as a classic Ealing comedy, as feminist as your formidable great-aunt.

Patrick Gale, author of Notes from an Exhibition
I fell in love with the unlikely friendship between two wildly different women, Enid Pretty and Margery Benson—their devotion to each other as they trek up and down mountains in someplace called New Caledonia is a hysterical delight. This novel made me realize how hungry I am for stories about women loving each other into being their best selves. Many thanks to Rachel Joyce for writing one.

Ann Napolitano, New York Times bestselling author of Dear Edward
A beautifully written, extraordinary quest in which two ordinary, overlooked women embark on an unlikely scientific expedition to the South Seas. A classic tale of gripping adventure and friendship, told from the subversive and often hilarious female view.

Helen Simonson, New York Times bestselling author of Major Pettigrew's Last Stand
Whatever you may look for in a novel—adventure, fully realized characters, humor, poignancy, a chance to learn something new—is all here in Miss Benson's Beetle. What's also here is the particular grace and humanity that Rachel Joyce brings to her work. She reminds us that we all are broken in one way or another, but that we are capable—oftentimes in unexpected ways—of helping to make ourselves and others whole. This beautifully written novel is an absolute delight.

Elizabeth Berg, author of The Story of Arthur Truluv
Bursting with the irrepressible wonder that is quintessential Rachel Joyce. Miss Benson's Beetle is about the courage to say YES! Yes, I will. Yes, I can. Radiant, transporting, idiosyncratic, tender and shimmeringly alive (and dead!) The master of charm and delight.

Keggie Carew, author of Dadland
Any reader accompanying Rachel Joyce on this exhilarating expedition into the far reaches of the imagination is destined to be rewarded with the richest pleasure ... An enthralling, amazing expedition into the mysteries of the human heart.

David Park, Author of The Light of Amsterdam
So fast-paced and fun it'll make you remember why you loved reading in the first place. Miss Benson's Beetle has everything: adventure, mystery, and the greatest, most unlikely friendship, all rendered in some of the most beautiful, enchanting prose you'll ever read. It's full of humour, pathos, and insight, extolling the virtues of love, acceptance, and hard-won self-discovery – all that gleams about the human spirit. It'll capture you right at the beginning and hold you tight the whole way through. This book is a pure and serious joy.

Paula Saunders, author of The Distance Home
Wonderful characters that I will not forget in a hurry ... This book will take you on the adventure of a lifetime. I loved every second!

Favel Parrett, author of Past the Shallows
Editor's Choice: A gorgeous story about friendship, adventure and the importance of taking risks.

Alice O'Keefe, Bookseller
Article
Rachel Joyce Q&A
The international bestselling author on cryptozoology, life in the 1950s and writing the ending early.