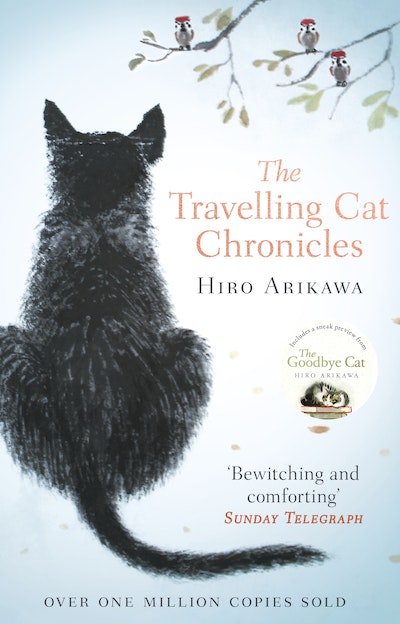 Published:

31 October 2019

ISBN:

9780857524195

Imprint:

Doubleday

Format:

Trade Paperback

Pages:

256

RRP:

$22.99
The Travelling Cat Chronicles
The uplifting million-copy bestselling Japanese translated story
---
---
---
THE SENSATIONAL MILLION-COPY BESTSELLER: a tender, feelgood story of a journey around Japan with a streetcat. Translated by Philip Gabriel, a translator of Murakami.
THE PERFECT CURL-UP READ FOR CAT LOVERS
*** Includes a sneak preview from the author's new bestseller, The Goodbye Cat ***
'Bewitching... as self-possessed and comforting as - well, a cat' SUNDAY TELEGRAPH
'A book about kindness and love, and how the smallest things can provide happiness' STYLIST
___
It's not the journey that counts, but who's at your side.
Nana is on a road trip, but he is not sure where he is going. All that matters is that he can sit beside his beloved owner Satoru in the front seat of his silver van.
Satoru is keen to visit three old friends from his youth, though Nana doesn't know why and Satoru won't say.
Set against the backdrop of Japan's changing seasons and narrated with a rare gentleness and humour, Nana's story explores the wonder and thrill of life's unexpected detours. It is about the value of friendship and solitude, and knowing when to give and when to take.
At the heart of this book is a powerful message about the importance of kindness. It shows, above all, how acts of love, both great and small, can transform our lives.
___
Readers love THE TRAVELLING CAT CHRONICLES:
'Delightful, insightful, full of warmth with plenty of humour' 5 stars *****
'Uplifting and heart wrenching in equal measure' 5 stars *****
'It had me in floods of tears but filled me with hope too' 5 stars *****
Published:

31 October 2019

ISBN:

9780857524195

Imprint:

Doubleday

Format:

Trade Paperback

Pages:

256

RRP:

$22.99
Praise for The Travelling Cat Chronicles
The Travelling Cat Chronicles is delightful. Like a tender feline companion the uniqueness of this book is its subtle yet persistent charm that insinuates itself into your heart long after the encounter has ended.

FIONA MELROSE
The Travelling Cat Chronicles is delightful. Like a tender feline companion the uniqueness of this book is its subtle yet persistent charm that insinuates itself into your heart long after the encounter has ended.

FIONA MELROSE
The Travelling Cat Chronicles is delightful. Like a tender feline companion the uniqueness of this book is its subtle yet persistent charm that insinuates itself into your heart long after the encounter has ended.

FIONA MELROSE
The Travelling Cat Chronicles is why I read books. This beautiful story has everything. It's funny, heart-warming, heart-breaking and kind.

FOREWORD BOOKS
The Travelling Cat Chronicles is why I read books. This beautiful story has everything. It's funny, heart-warming, heart-breaking and kind.

FOREWORD BOOKS
The Travelling Cat Chronicles is why I read books. This beautiful story has everything. It's funny, heart-warming, heart-breaking and kind.

FOREWORD BOOKS
This is the book I am giving everyone . . . the book I am recommending to anyone buying something Japan-related or cat-related, and, quite possibly, the book I am placing in someone's hand when they ask me what my favourite book is. For a bookseller, that is the highest accolade a book can ever receive

WATERSTONES YORK
This is the book I am giving everyone . . . the book I am recommending to anyone buying something Japan-related or cat-related, and, quite possibly, the book I am placing in someone's hand when they ask me what my favourite book is. For a bookseller, that is the highest accolade a book can ever receive

WATERSTONES YORK
This is the book I am giving everyone . . . the book I am recommending to anyone buying something Japan-related or cat-related, and, quite possibly, the book I am placing in someone's hand when they ask me what my favourite book is. For a bookseller, that is the highest accolade a book can ever receive

WATERSTONES YORK
Stunningly beautiful. Tender, warm, sad and uplifting

THE LAST WORD REVIEW
Stunningly beautiful. Tender, warm, sad and uplifting

THE LAST WORD REVIEW
Stunningly beautiful. Tender, warm, sad and uplifting

THE LAST WORD REVIEW
Heart-wrenching but uplifting

RED MAGAZINE
Heart-wrenching but uplifting

RED MAGAZINE
Heart-wrenching but uplifting

RED MAGAZINE
Sweet, sad and lovely, this is a roadtrip novel with a difference

PSYCHOLOGIES MAGAZINE
Sweet, sad and lovely, this is a roadtrip novel with a difference

PSYCHOLOGIES MAGAZINE
Sweet, sad and lovely, this is a roadtrip novel with a difference

PSYCHOLOGIES MAGAZINE
A book about kindness and love, and about how the smallest things can provide happiness

STYLIST
A book about kindness and love, and about how the smallest things can provide happiness

STYLIST
A book about kindness and love, and about how the smallest things can provide happiness

STYLIST
Prepare to have your heart strings tugged by this quirky tale . . . It's a deceptively gentle story that you won't need to be a cat lover to fall for.

SUNDAY MIRROR
Prepare to have your heart strings tugged by this quirky tale . . . It's a deceptively gentle story that you won't need to be a cat lover to fall for.

SUNDAY MIRROR
Prepare to have your heart strings tugged by this quirky tale . . . It's a deceptively gentle story that you won't need to be a cat lover to fall for.

SUNDAY MIRROR
Anyone who has ever unashamedly loved an animal will read this book with gratitude, for its understanding of an emotion that ennobles us as human beings, whether we value it or not

LYNNE TRUSS, GUARDIAN
Anyone who has ever unashamedly loved an animal will read this book with gratitude, for its understanding of an emotion that ennobles us as human beings, whether we value it or not

LYNNE TRUSS, GUARDIAN
Anyone who has ever unashamedly loved an animal will read this book with gratitude, for its understanding of an emotion that ennobles us as human beings, whether we value it or not

LYNNE TRUSS, GUARDIAN
A beautiful travelogue

SYDNEY MORNING HERALD
A beautiful travelogue

SYDNEY MORNING HERALD
A beautiful travelogue

SYDNEY MORNING HERALD
This story of a cat, a man, self-sacrifice and friendship will have you totally captivated ... An addictive tale of friendship and love.

WOMAN'S WEEKLY
This story of a cat, a man, self-sacrifice and friendship will have you totally captivated ... An addictive tale of friendship and love.

WOMAN'S WEEKLY
This story of a cat, a man, self-sacrifice and friendship will have you totally captivated ... An addictive tale of friendship and love.

WOMAN'S WEEKLY
I would urge people not to dismiss this as a 'cat book'; it is too much about human interaction and relationships to be so simply defined. A novel with wide appeal. I predict it will make a popular Christmas gift.

READINGS, BOOK GUIDE, AUSTRALIA
I would urge people not to dismiss this as a 'cat book'; it is too much about human interaction and relationships to be so simply defined. A novel with wide appeal. I predict it will make a popular Christmas gift.

READINGS, BOOK GUIDE, AUSTRALIA
I would urge people not to dismiss this as a 'cat book'; it is too much about human interaction and relationships to be so simply defined. A novel with wide appeal. I predict it will make a popular Christmas gift.

READINGS, BOOK GUIDE, AUSTRALIA
Bewitching… as self-possessed and comforting as – well, a cat

SUNDAY TELEGRAPH
Bewitching… as self-possessed and comforting as – well, a cat

SUNDAY TELEGRAPH
Bewitching… as self-possessed and comforting as – well, a cat

SUNDAY TELEGRAPH
Arikawa has a lightness of touch that elevates this to a tale about loyalty and friendship ... while speaking to our basic human need for companionship

JOHN BOYNE, IRISH TIMES
Arikawa has a lightness of touch that elevates this to a tale about loyalty and friendship ... while speaking to our basic human need for companionship

JOHN BOYNE, IRISH TIMES
Arikawa has a lightness of touch that elevates this to a tale about loyalty and friendship ... while speaking to our basic human need for companionship

JOHN BOYNE, IRISH TIMES
It has the warmth, painterly touch, and tenderness of a Studio Ghibli film - and it is a delight to read

FINANCIAL TIMES
It has the warmth, painterly touch, and tenderness of a Studio Ghibli film - and it is a delight to read

FINANCIAL TIMES
It has the warmth, painterly touch, and tenderness of a Studio Ghibli film - and it is a delight to read

FINANCIAL TIMES
Fleet, funny and tender... Arikawa clearly knows cats as well as any human can.

TIME
Fleet, funny and tender... Arikawa clearly knows cats as well as any human can.

TIME
Fleet, funny and tender... Arikawa clearly knows cats as well as any human can.

TIME
The Travelling Cat Chronicles is as much a loving tribute to Japan's obsession with and reverence for cats as it is an endearing introduction for non-Japanese readers to the country's ever-fascinating culture and deeply rooted traditions.

SAN FRANCISCO CHRONICLE
The Travelling Cat Chronicles is as much a loving tribute to Japan's obsession with and reverence for cats as it is an endearing introduction for non-Japanese readers to the country's ever-fascinating culture and deeply rooted traditions.

SAN FRANCISCO CHRONICLE
The Travelling Cat Chronicles is as much a loving tribute to Japan's obsession with and reverence for cats as it is an endearing introduction for non-Japanese readers to the country's ever-fascinating culture and deeply rooted traditions.

SAN FRANCISCO CHRONICLE
I'm not ashamed to say it had me at meow.

WASHINGTON POST
I'm not ashamed to say it had me at meow.

WASHINGTON POST
I'm not ashamed to say it had me at meow.

WASHINGTON POST
A book that stands out within the world of cat literature ... and it's a world worth exploring.

TIME MAGAZINE
A book that stands out within the world of cat literature ... and it's a world worth exploring.

TIME MAGAZINE
A book that stands out within the world of cat literature ... and it's a world worth exploring.

TIME MAGAZINE
I found myself sobbing ... unable, unwilling, to let this little book go.

NPR
I found myself sobbing ... unable, unwilling, to let this little book go.

NPR
I found myself sobbing ... unable, unwilling, to let this little book go.

NPR
A book that speaks volumes about our need for connection - human, feline or otherwise.

SAN FRANCISCO CHRONICLE
A book that speaks volumes about our need for connection - human, feline or otherwise.

SAN FRANCISCO CHRONICLE
A book that speaks volumes about our need for connection - human, feline or otherwise.

SAN FRANCISCO CHRONICLE
This touching novel of a brave cat and his gentle, wise human will resonate with lovers of animal tales, quiet stories of friendship, and travelogues alike.

PUBLISHERS WEEKLY
This touching novel of a brave cat and his gentle, wise human will resonate with lovers of animal tales, quiet stories of friendship, and travelogues alike.

PUBLISHERS WEEKLY
This touching novel of a brave cat and his gentle, wise human will resonate with lovers of animal tales, quiet stories of friendship, and travelogues alike.

PUBLISHERS WEEKLY
Gentle, soft-spoken, and full of wisdom

KIRKUS REVIEWS
Gentle, soft-spoken, and full of wisdom

KIRKUS REVIEWS
Gentle, soft-spoken, and full of wisdom

KIRKUS REVIEWS
A delight to read

FINANCIAL TIMES
A delight to read

FINANCIAL TIMES
A delight to read

FINANCIAL TIMES
Prepare to have your heartstrings tugged by this quirky tale

SUNDAY MIRROR
Prepare to have your heartstrings tugged by this quirky tale

SUNDAY MIRROR
Prepare to have your heartstrings tugged by this quirky tale

SUNDAY MIRROR
i found myself sobbing ... unable, unwilling to let this joyful little book go

NPR
i found myself sobbing ... unable, unwilling to let this joyful little book go

NPR
i found myself sobbing ... unable, unwilling to let this joyful little book go

NPR