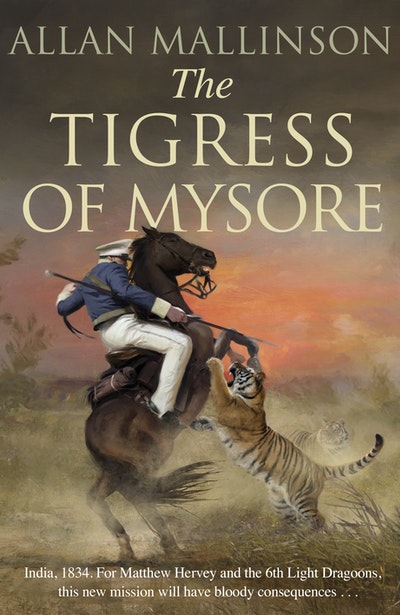 Published:

6 October 2020

ISBN:

9781787632950

Imprint:

Bantam Press

Format:

Hardback

Pages:

368

RRP:

$46.99
The Tigress of Mysore
---
---
---
Set against the backdrop of an India in transition, this novel marks the welcome return of Matthew Hervey of the 6th Light Dragons in his fourteenth adventure in the bestselling series.
Following their successful invasion of Coorg in order to remove the state's deranged rajah, Lieutenant-Colonel Matthew Hervey is looking forward to a few months' respite for his regiment, the 6th Light Dragoons, and his family. Indeed, with his stock standing high throughout British India, he has rarely counted himself so content.
But it is not to last.
Lord William Bentinck, the governor-general believes that Hervey is just the man to form and lead a force of suppression against the 'thuggee' criminals who threaten the stability of both the East India Company's domains and a number of friendly princely states. And so Hervey and the Sixth embark on a campaign that will prove to be infinitely complex and very bloody - and put Hervey's own family in very real danger.
Brilliantly researched, beautifully written and wholly engaging, The Tigress of Mysore is set against the backdrop of an India in transition as Allan Mallinson's series hero unwittingly takes his first steps on the tumultuous road that will ultimately lead to the Indian Mutiny . . .
Published:

6 October 2020

ISBN:

9781787632950

Imprint:

Bantam Press

Format:

Hardback

Pages:

368

RRP:

$46.99