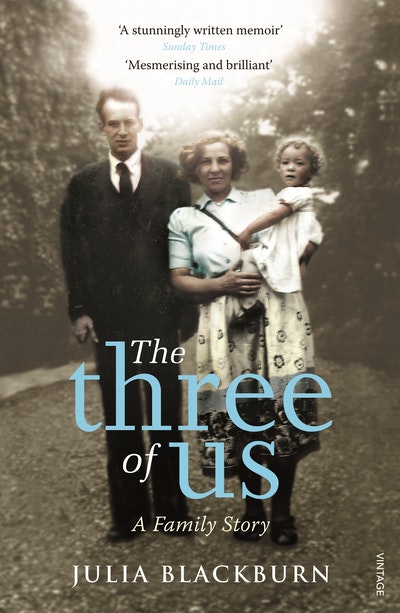 Published:

1 August 2011

ISBN:

9781409001010

Imprint:

Vintage Digital

Format:

EBook

Pages:

336
The Three of Us
A Family Story
---
---
---
This is the story of three people: Julia Blackburn, her father Thomas and her mother Rosalie. Thomas was a poet and an alcoholic, who for many years was addicted to barbiturates, which would often make him violent. Rosalie, a painter, was sociable and flirtatious; she treated Julia as her sister, her confidante, and eventually as her deadly sexual rival. For after her parents were divorced, Julia's mother took in lodgers, always men, on the understanding that each should become her lover. When one of the lodgers started an affair with Julia, Rosalie was devastated; when he later committed suicide the relationship between mother and daughter was shattered irrevocably.
Or so it seemed until the spring of 1999, when Rosalie, diagnosed with leukaemia, came to live with Julia for the last month of her life. At last the spell was broken, and they were able to talk with an ease they had never known before. When she was very near the end, Rosalie said to Julia, 'Now you will be able to write about me, won't you?'
The Three of Us is a memoir like no other you have read. The writing is magical, and the story is extraordinary not only for its honesty but also for its humour and its lack of blame. Ultimately, this is a tale of redemption, a love story. It will surely become one of the classics of the genre.
Published:

1 August 2011

ISBN:

9781409001010

Imprint:

Vintage Digital

Format:

EBook

Pages:

336
Praise for The Three of Us
A small masterpiece, much to be recommended

Daily Telegraph
This memoir [has] a warmth and love it's hard to imagine could have been possible... a work of art in itself: a careful weaving in and out of personal memories and present pain to create something remarkable

Herald
An unnerving book about manipulation and loss ... and about the complicated burdens families inflict on one another down through the generations. As a literary memoir of a lost childhood , it is remarkable as much for its candour as its craftsmanship

Sunday Times
The Three of Us contains all the mental and physical violations that cling to the bare bones of their shared past... Blackburn was never afraid of her father. It's very clear in the book - he is described even at his blackest moments with affection and warmth

Guardian
Blackburn's first 16 years sound quite frankly too bad to be true. Nightmarish infact - though she details them in such an ingenuous, matter-of-fact manner that she somehow manages to make terrible events seem almost funny.... the resulting memoir is mesmerising and brilliant

Daily Mail
Despite the darkness of the rooms she re-enters, her book isn't gloomy in the least............. Extracts from her journal and faxes to Herman offset the main narrative, which darts back and forth in time. It's a structure that works wonderfully well..... However unforgiving her detail, tout comprendre, c'est tout pardonner is the message of this extraordinary book

Blake Morrison, Guardian
Having read her family memoir, a book that engrosses and horrifies in equal measure, it is hard not to be reminded of Larkin's famous axiom: 'They fuck you up your mum and dad.'... 'Blackburn's writing transcends the frightening idiosyncrasies of her upbringing. Her prose is understated and evocative, despite the desperate truths that lurk beneath.'... 'It would be easy for Blackburn to attribute blame or to seek explanation, but her refusal to do so gives this triptych portrait an integrity and honesty that it could otherwise lack.

Observer
The fact that I was unable to put [the book] down is proof of how well she tells [the story], and of how such an experience, if described with real skill, honesty, and sensitivity, will make a valuable book, however many others of a similar kind have been published.... I ended it feeling very glad indeed that I had overcome my first disinclination to begin it

Diana Athill, Literary Review
[Blackburn] has written an exceptionally perceptive and fascinating book, a tribute by a remarkable daughter to the resilience of filial love.

Anne Chisholm, Sunday Telegraph
A stunningly written memoir

Sunday Times
In this memoir she describes her eccentric, dangerous, wonderful bohemian parents...Blackburn emerged from this turmoil as a fine writer, and this book is full of understanding and reconciliation

Margaret Drabble, New Statesman
a rich account...brilliant vignettes

Camilla Long, Sunday Times
This piercing memoir paints in vivid colours Julia Blackburn's nightmarish childhood

Alison Flood, The Telegraph
Blackburn tells us about these things in a compelling authorial voice which is by turns numb and incredibly sensitive.

William Leith, Evening Standard
Brutally honest book ...deeply moving testament to the love that can somehow survive.

Aimee Shalan, Guardian
Beautifully written pages.

Nicholas Bagnall, Sunday Telegraph