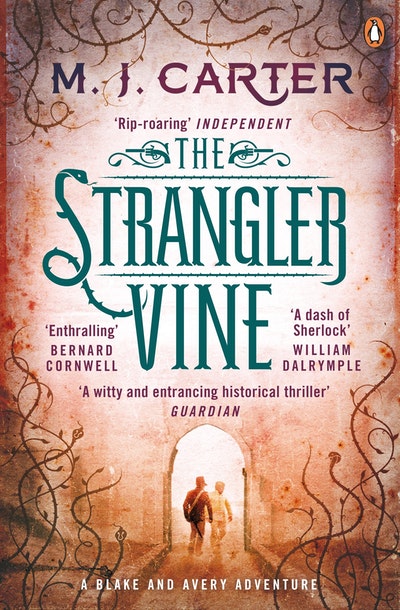 Published:

22 October 2014

ISBN:

9780241966556

Imprint:

Penguin General UK

Format:

Paperback

Pages:

352

RRP:

$22.99
The Strangler Vine
---
---
---
Calcutta, 1837. Young Ensign William Avery is tasked by his employers - the East India Company - to track down disgraced agent Xavier Mountstuart, lost to the jungle.
For lovers of Sherlock, Shardlake and Ripper Street. A gripping and pulse-racing mystery thriller with a great detective double act. 'Splendid, enthralling, an exotic mystery that captivated me.' Bernard CornwellCalcutta 1837. Young officer William Avery is tasked by his employers-the East India Company-with tracking down disgraced poet and spy Xavier Mountstuart, lost in the jungles of central India. Accompanied by the dissolute and mysterious Jeremiah Blake, Avery is sure the mission is doomed. When their search leads them into Kali-worshipping Thug territory, the pair are soon fighting for their lives, but impelled to solve the horrifying mystery behind their mission. With death and danger on every side, is it too late for them to save themselves?Shortlisted for the John Creasey New Blood Dagger for Best Debut Crime novel of the year 2014, and the HWA Debut Crown for Best Historical Novel 2015, Longlisted for the Theakston's Old Peculiar Crime Novel of the Year 2015 and the Bailey's Woman's Prize for Fiction 2014%%%The first of three rip-roaring capers, introducing Blake and Avery, a Watson and Holmes duo for the 1830s and 40s.
Calcutta 1837. The East India Company rules India - or most of it; and its most notorious and celebrated son, Xavier Mountstuart, has gone missing.
William Avery, a down-at-heel junior officer in the Company's army, is sent to find him, in the unlikely company of the enigmatic and uncouth Jeremiah Blake. A more mismatched duo couldn't be imagined, but they must bury their differences as they are caught up in a search that turns up too many unanswered questions and seems bound to end in failure.
What was it that so captivated Mountstuart about the Thugs, the murderous sect of Kali-worshippers who strangle innocent travellers by the roadside? Who is Jeremiah Blake and can he be trusted? And why is the whole enterprise shrouded in such secrecy?
In the dark heart of Company India, Avery will have to fight for his very life, and in defence of a truth he will wish he had never learned.
M. J. Carter is a former journalist and the author of two acclaimed works of non-fiction: Anthony Blunt: His Lives and The Three Emperors: Three Cousins, Three Empires and the Road to World War One. M. J. Carter is married with two sons and lives in London.%%%The first of three rip-roaring capers, introducing Blake and Avery, a Watson and Holmes duo for the 1830s and 40s.Calcutta 1837. The East India Company rules India - or most of it; and its most notorious and celebrated son, Xavier Mountstuart, has gone missing.William Avery, a down-at-heel junior officer in the Company's army, is sent to find him, in the unlikely company of the enigmatic and uncouth Jeremiah Blake. A more mismatched duo couldn't be imagined, but they must bury their differences as they are caught up in a search that turns up too many unanswered questions and seems bound to end in failure.What was it that so captivated Mountstuart about the Thugs, the murderous sect of Kali-worshippers who strangle innocent travellers by the roadside? Who is Jeremiah Blake and can he be trusted? And why is the whole enterprise shrouded in such secrecy?In the dark heart of Company India, Avery will have to fight for his very life, and in defence of a truth he will wish he had never learned.M. J. Carter is a former journalist and the author of two acclaimed works of non-fiction: Anthony Blunt: His Lives and The Three Emperors: Three Cousins, Three Empires and the Road to World War One. M. J. Carter is married with two sons and lives in London.%%%Shortlisted for the John Creasey New Blood Dagger for Best Debut Crime Novel of the YearShortlisted for the HWA Debut Crown 2015<
Published:

22 October 2014

ISBN:

9780241966556

Imprint:

Penguin General UK

Format:

Paperback

Pages:

352

RRP:

$22.99