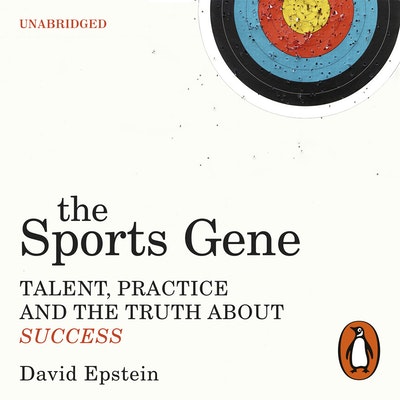 Published:

13 November 2014

ISBN:

9781473522459

Imprint:

Vintage Digital

Format:

Audio Download

Length:

10 hr 22 min

Narrator:

David Epstein

RRP:

$22.99
The Sports Gene
What Makes the Perfect Athlete
---
---
---
An entertaining and thought-provoking examination of the truth behind sporting talent
*** Shortlisted for William Hill Sports Book of the Year 2013 ***
Is Usain Bolt a superhuman one-off?
Are sports stars like Paula Radcliffe and Tiger Woods born or made?
Could we all be Olympians if we trained hard enough?
And is the answer to be found by looking at Alaskan huskies?
In this ground-breaking and entertaining exploration of athletic success, award-winning writer David Epstein gets to the heart of the great nature vs. nurture debate, and explodes myths about why top sportsmen excel.
Along the way Epstein exposes the flaws in the so-called 10,000-hour rule that states that rigorous practice from a young age is the only route to success. He shows why some skills that we imagine are innate are not – like the bullet-fast reactions of a baseball player – and why other characteristics that we assume are entirely voluntary, like an athlete's will to train, might in fact have important genetic components.
Through on-the ground reports at locations ranging from below the equator to above the Arctic Circle, revealing conversations with leading scientists and Olympic champions, and interviews with athletes who have rare genetic mutations or physical traits, Epstein forces us to rethink the very nature of sport.
Published:

13 November 2014

ISBN:

9781473522459

Imprint:

Vintage Digital

Format:

Audio Download

Length:

10 hr 22 min

Narrator:

David Epstein

RRP:

$22.99
Praise for The Sports Gene
A wonderful book. Thoughtful... fascinating.

Malcolm Gladwell, author of Outliers
Provides a powerful and convincing analysis of how genes influence all our lives, especially the careers of elite sportsmen

The Times
A fascinating, thought-provoking look at the leading edge of sports performance, written by a guy who knows the territory. David, besides being a senior writer for Sports Illustrated, was a collegiate runner for Columbia University. More to the point, he's a terrific researcher and a fine, thoughtful writer

Dan Coyle, author of The Talent Code
Full credit to David Epstein, a Sports Illustrated journalist with a serious and deep knowledge of genetics and sports science, for his terrific and unblinking new book, The Sports Gene, a timely corrective to the talent-denial industry

Ed Smith, New Statesman
Endlessly fascinating

John Harding, Daily Mail
Epstein's book does not try to simplify the argument, but it does provide a welcome corrective to those who have deliberately underplayed the notion that genetic make-up is irrelevant

Mike Atherton, The Times
David Epstein's illuminating synthesis of the latest research into the nature v nurture debate as applied to sport

Simon Redfern, Independent
Provoking spirited debate about the merits of the 10,000 hour rule

Rick Broadbent, The Times
An important book on the relative roles of genes and environment—nature and nurture—in the building of a professional athlete ... bound to put the cat among the pigeons

Wall Street Journal
Captivating...fascinating...His answer to the questions "Nature or nurture?" is both. If that sounds like a hedge, it isn't: instead, it's a testament to the author's close attention to nuance.

New York Times
Intelligently, rigorously and politely debunks the "10,000 hours" myth

Ed Smith, New Statesman
Perhaps the most fascinating book of the year... Absorbing and full of fascinating detail

Chris Maume, Independent
This subtle, enthralling study by the Sports Illustrated writer avoids making excessive claims for genetics

Financial Times
David Epstein's The Sports Gene has a discussion that badly needs to happen at all levels in sport; about the relationships between talent, genetics, practice and success in sport

Dave MacLeod, Scotsman
Respect is due to Epstein…for injecting some objectivity into the debate with his gripping new tome

David Bradford, Cycling Active
The Sports Gene offers a fascinating insight into the topic of nature v nurture…a great read

Jason Henderson, Athletics Weekly
A welcome corrective to those who have deliberately underplayed the notion that genetic makeup is relevant

Oldie
An illuminating read

Sport
Fascinating

Rick Broadbent, The Times
Well written and contains important research, and has some wonderful anecdotes

Matthew Syed, The Times
The most intriguing sports books of the year, and possibly the best-researched

Irish Examiner
An enjoyable mixture of easily digestible science, anecdote and argument

Michael Beloff, Times Literary Supplement
This is a book to counter the 10,000-hour rule popularised by Malcolm Gladwell

Mark Gallagher, Daily Mail
In a book packed with fascinating anecdotes, it's hard to pick out highlights … If sport is a passion, The Sports Gene is required reading

The Score
Highly entertaining and enlightening

Brandon Robshaw, Independent on Sunday
The Sports Gene does not try to simplify the nature vs nurture argument, but it does provide a welcome corrective to those who have underplayed the notion that genetic make-up is relevant

The Times
Epstein explores this territory with canny verve

William Leith, Evening Standard
Interesting reading

Alastair Mabbott, Herald
Dazzling and illuminating

Richard Moore, Guardian
Epstein is too respectful of the complexity of his subject matter to leap to any grand conclusions. The book was conceived partially as a rebuttal to glib theorising, and it is all the more fascinating as a result

Ken Early, Irish Times
Fascinating from start to finish

Amanda Khouv, Women's Fitness
Epstein forces us to rethink the very nature of athleticism

GrrlScientist, Guardian
Looks at the science of extraordinary athletic performance.

Adam Whitehead, Daily Telegraph
Captivating… Dazzling and illuminating

Richard Moore, Guardian
Epstein is not afraid to follow science in "trekking deep into the bramble patches of sensitive topics like gender and race"

Choice
Captivating… In a particularly fascinating chapter, Epstein investigates an old theory that purports to explain why Jamaica produces so many Olympic sprinters

Christie Ashwanden, Scotsman
The Sports Gene is a formidable and absorbing book… A terrific book…a fascinating read…impressive as hell

Sunday Business Post
If you want to stay abreast of the rapid developments in sports science… The Sports Gene is a must

BBC Focus Magazine