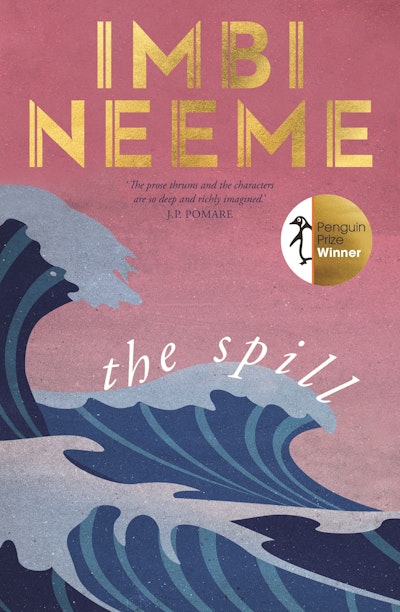 Published:

2 June 2020

ISBN:

9781760893767

Imprint:

Viking

Format:

Trade Paperback

Pages:

336

RRP:

$32.99
The Spill
Winner of the Penguin Literary Prize
---
---
---
Winner of the 2019 Penguin Literary Prize
In 1982, a car overturns on a remote West Australian road. Nobody is hurt, but the impact is felt for decades.
Nicole and Samantha Cooper both remember the summer day when their mother, Tina, lost control of their car – but not in quite the same way. It is only after Tina's death, almost four decades later, that the sisters are forced to reckon with the repercussions of the crash. Nicole, after years of aimless drifting, has finally found love, and yet can't quite commit. And Samantha is hiding something that might just tear apart the life she's worked so hard to build for herself.
The Spill explores the cycles of love, loss and regret that can follow a family through the years – moments of joy, things left unsaid, and things misremembered. Above all, it is a deeply moving portrait of two sisters falling apart and finding a way to fit back together.
Published:

2 June 2020

ISBN:

9781760893767

Imprint:

Viking

Format:

Trade Paperback

Pages:

336

RRP:

$32.99
Intriguing, subtle and brimful of subterranean sadness, The Spill sucked me in from the first page. A thoughtful, sensitive look at the lies we tell ourselves and the stories we tell each other, and the ways we help piece together the people closest to us.

Jane Rawson
Brilliantly comic and tender, this is a sharp and intimate portrayal of that most mystifying of things: family. Neeme gives us a real world; of chaotic fragments drawn with charm and compassion. These are people, like us, making lives of their messes.

Robert Lukins
This compelling, beautifully crafted story introduces us to a pair of sisters, and then peels back the layers of their history to reveal the complexities and contradictions at the heart of love. Reading The Spill feels like being welcomed into a new family and gradually making sense of their complicated dynamics. The sisters and their troubled mother are flawed, frustrating, and at times infuriating, yet relatable and deeply endearing. Imbi Neeme is a hugely talented writer with an eye for the nuances that inform relationships. The family and their history will linger on in your mind long after you've finished the book.

Kerri Sackville
Imbi Neeme's prose thrums, and her characters are so deep and richly imagined that it's astounding to think The Spill is her first novel. This is the story of sisters coming to terms with their mother's alcoholism and their father's shortcomings as a husband and a parent, but it's also a study of generational cause and effect and the ways we hurt the ones we most want to protect. I was hooked at first by the writing, but I soon found myself so invested in the characters that I didn't come up for air until I'd finished.

J.P. Pomare
The ?Spill explores the dangers of silence, secrets, and loneliness. Each significant moment in the sisters' lives is traced back to a decision, and each decision traced back to a past, often seemingly insignificant, trauma. By deftly dissecting the sisters' recollections, Neeme examines the fickleness of memory and illustrates how the intense fear of past mistakes can actually lead you down the path to repeating them.

Chloe Cooper, Kill Your Darlings
In The Spill, Imbi Neeme evokes through Samantha and Nicole how easily one's memories, histories, and perceptions are malleable – yet how we can't escape them. Each of Neeme's characters are authentic in their foibles, and the tribulations of this imperfect family will draw you in. This is a debut that aims to articulate the tangled mess that is family, and it succeeds. An engaging story from an author who is only just getting started.

Jack Callil, The Age
Well formed, courageous and very enjoyable ... Perfect for those who love the domestic dramas of Liane Moriarty or Alice Munro.

Chris Gordon, Readings
The Spill is the gorgeous debut novel from Imbi Neeme which tackles life's painful moments with poise and love. I absolutely adored this book to the very last page, where hope nestled itself into the pages despite heartbreak and regret.

Ashleigh Berry, The Booktopian
A warm, deftly observed multi-narrative about the inherent messiness of life and relationships.

Thuy On, The Big Issue
Imbi Neeme's accomplished and coherent sister-gate, exposes the bond and the cause of friction between the siblings as these flawed, troubled and likeable women track their 'missing pieces.' The book's engaging cast sing convincingly on the page. The intriguing characters are engaging as they wrestle with the past, find acceptance and forge new beginnings.

Gillian Wills, Arts Hub
Skilfully constructed, deeply affecting and all the more enjoyable for its measure of sadness and regret, THE SPILL marks a dazzling debut for author, Imbi Neeme. The fickle finger of memory plays into the hand of fiction figuratively and metaphorically in Neeme's assured hands. The title is not only about an incident, but of its causation and its ramifications. It is through her rich characters, specifically the sisters, that Neeme explores the notion that events are experienced in various ways with memories formed in nuance rather than cold, hard, immutable fact. Told with the sympathy and skill of a natural storyteller, THE SPILL seeps below the surface of fractured families to fathom deep seated resentments but the book has the heart to search for healing and the making of amends.

Richard Cotter, Sydney Arts Guide
A thoughtful touching read.

New Idea
The Spill is a feat of clever handiwork, like a series of magical sleights of hand. Sometimes there appears to be not much going on on the surface. The dialogue, in everyday Australian vernacular, sometimes veers into the banal. But it's all deliberate and, subsequently, darkly funny. 'I'll have the Atlantic Salmon,' one of the characters says, at a restaurant, overcoming her issues with another character's money and ordering the most expensive thing on the menu. Dark humour aside, Neeme investigates issues that are not trivial at all. Her characters, traversing their contemporary lives, are barely hanging on. Satisfying and well-wrought.

Michalia Arathimos, Overland magazine
The Spill is truly a beautiful and touching story of love, 4.5 family and regret. Would definitely be a good book club book.

Amber Sawyer, 4.5 stars, Good Reading magazine
Imbi Neeme has crafted a clear-eyed, compassionate novel with crackling dialogue and endearing characters struggling to put together the fragments of a misremembered past.

Roanna Gonsalves, The Saturday Paper
It is extremely snappily written. There is some obvious talent here as a writer. It's take you by the hands, sit back, you're gonna be told a story and it's going to entertain you. And there are going to be waymarks that you'll feel comfortable having reached. And I also think there's probably been a brilliant editor working on it, because as a debut novel, I mean, it's pretty flawless in what it wants to be and knowing what it wants to be.

Cassie McCullagh, Radio National. the Book Show
This is a story of tumultuous family relationships, especially that of the two sisters. The snapshots we see of their lives, always under the shadow of the crash, ate poignant and illuminating. I absolutely devoured this book and enjoyed evey page of it!

Anna, Constant Reader
Article
Imbi Neeme Q&A
The 2019 Penguin Literary Prize winner on her inspiration, writing process and club sandwiches.
Article
The Spill book club notes
Explore the cycles of love, loss and regret, that can follow a family through the years, with your reading group.