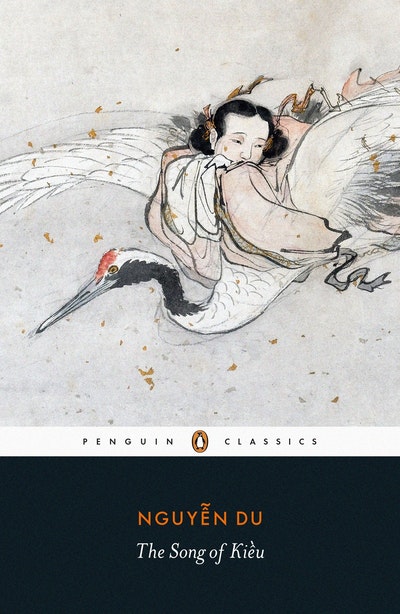 Published:

7 May 2019

ISBN:

9780241360668

Imprint:

Penguin Classics

Format:

Paperback

Pages:

240

RRP:

$24.99
The Song of Kieu
A New Lament
---
---
---
The greatest classic of Vietnamese literature in a stunning new verse translation.
"This manuscript is ancient, priceless,
bamboo-rolled, perfumed with musty spices.
Sit comfortably by this good light, that you may learn
the hard-won lesson that these characters contain."
The Song of Kieu is the greatest classic of Vietnamese literature. It tells the story of the beautiful Vuong Thúy Kieu, who agrees to a financially profitable marriage in order to save her family from ruinous debts, but is tricked into working in a brothel. Her tragic career involves jealous wives, slavery, war, poverty and she becomes a nun twice. There are high points, such as when she teams up with a muscle-bound, tender-hearted rebel hero who makes her his queen and summons all her wrongdoers to account, but the ending is bittersweet.
'To the Vietnamese people themselves, [it] is much more than just a glorious heirloom from their literary past,' says Professor Alexander Woodside of the University of British Columbia. 'It has become a kind of continuing emotional laboratory in which all the great and timeless issues of personal morality and political obligation are tested and resolved.'
'For elegance and sheer readability I doubt if it could be equalled. English readers already familiar with Kieu will be delighted by its musicality. And those who have not previously encountered Kieu will wonder how such a masterpiece could so long have eluded them.' John Keay
Published:

7 May 2019

ISBN:

9780241360668

Imprint:

Penguin Classics

Format:

Paperback

Pages:

240

RRP:

$24.99
Praise for The Song of Kieu
'Tim Allen has done what most literary translators can only aspire to do. He has secured a place for a major foreign work in the stock of his mother tongue.'

David Constantine
'For elegance and sheer readability I doubt if it could be equalled. English readers already familiar with Kieu will be delighted by its musicality. And those who have not previously encountered Kieu will wonder how such a masterpiece could so long have eluded them.'

John Keay
'Timothy Allen's translation of the Vietnamese epic The Song of Kieu is magnificent. [In language] capable of exquisitely beautiful love scenes, throat-catchingly eloquent nature passages and moments of humour, he renders an obscure masterpiece into a strikingly contemporary one.'

William Wall
'Tim Allen's new translation of THE SONG OF KIEU is lively and absorbing. It reinvigorates a classic and wonderfully conveys the romance, adventure, tragedy, and wisdom of the poem that all Vietnamese know.'

Viet Thanh Nguyen
'Timothy Allen's supple and imaginative translation has re-energised Nguyên Du's lyricism in meticulous free verse that evokes the five senses'

Kit Fan, The Poetry Review