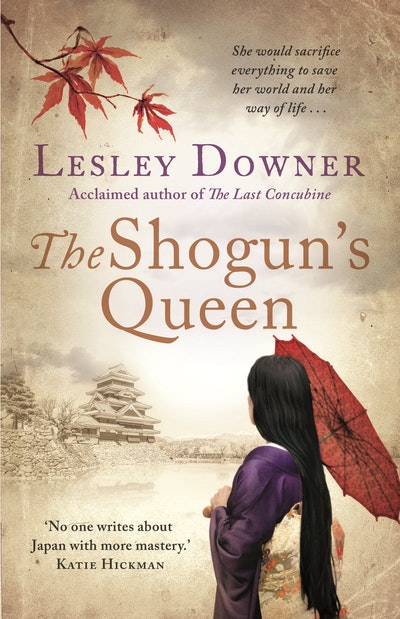 Published:

3 November 2016

ISBN:

9781448152476

Imprint:

Transworld Digital

Format:

EBook

Pages:

544
The Shogun's Queen
The Shogun Quartet, Book 1
---
---
---
From one of our finest chroniclers of Japan, its history, society and culture - the acclaimed author of Geisha - comes this gripping and richly detailed new historical novel, telling the true story of Princess Atsu and her struggle to save Japan.
'A persuasive storyteller and the setting is mesmerising' Antonia Senior, The Times
_________________
The year is 1853, and a young Japanese girl's world is about to be turned upside down.
When black ships carrying barbarians arrive on the shores of Japan, the Satsuma clan's way of life is threatened. But it's not just the samurai who must come together to fight: the beautiful, headstrong Okatsu is also given a new destiny by her feudal lord - to save the realm.
Armed only with a new name, Princess Atsu, as she is now known, journeys to the women's palace of Edo Castle, a place so secret it cannot be marked on any map. Behind the palace's immaculate façade, amid rumours of murder and whispers of ghosts, Atsu must uncover the mystery that surrounds the man whose fate, it seems, is irrevocably linked to hers - the shogun himself - if she is to rescue her people . . .
Published:

3 November 2016

ISBN:

9781448152476

Imprint:

Transworld Digital

Format:

EBook

Pages:

544
Praise for The Shogun's Queen
It is completely absorbing, showing Lesley Downer's deep knowledge of Japan and her mastery of its complex history during the nineteenth century.

LIAN HEARN, author of Across the Nightingale Floor
What a wonderful storyteller Lesley Downer is, and what an amazing story she tells in The Shogun's Queen. Set at a pivotal moment in Japan's history, her novel effortlessly transported me to nineteenth century Japan. At its heart is Okatsu, Downer's heroine for all seasons, plus a vivid cast of characters - some loyal, some treacherous - all caught up in the turbulent politics of the time. I was only sorry to reach the end of this gripping and deeply suspenseful novel.

MARGOT LIVESEY, author of The House on Fortune Street
Lesley Downer has pulled off a remarkable achievement in making the beautiful, strange and dangerous world of one woman in a 19th-century Japan facing Western invasion utterly believable, and utterly gripping.

VANORA BENNETT, author of Portrait of an Unknown Woman
Atsu is what we all want to be: a courageous woman of heartbreaking intelligence. set against our own darkest selves. This tale of western imperialism has so many resonances in the modern world, written with passion, depth and brilliance, and a sense of time and place that is earning Lesley Downer a reputation as the Shogun's Writer for the twenty first century.

MANDA SCOTT, bestselling author of the Boudica novels
A persuasive storyteller and the setting is mesmerising.

Antonia Senior, THE TIMES
An epic and intricate, beautifully described story of love, bravery and sacrifice . . . a must read for fans of Japan, historical fiction and great storytelling

ONE MORE PAGE
What Hilary Mantel is to the Tudors or Mary Beard to the Romans, Lesley Downer is to ancient Japan.

101 GREAT READS
Impeccably researched, packed with intrigue, adventure and romance, this is a wonderful evocation of a bygone time.

WOMAN & HOME
Superb. A wonderful evocation of an alien world, with entrancing characters and a riveting narrative that fits perfectly with the historical facts.

JOHN MAN, author of Genghis Khan