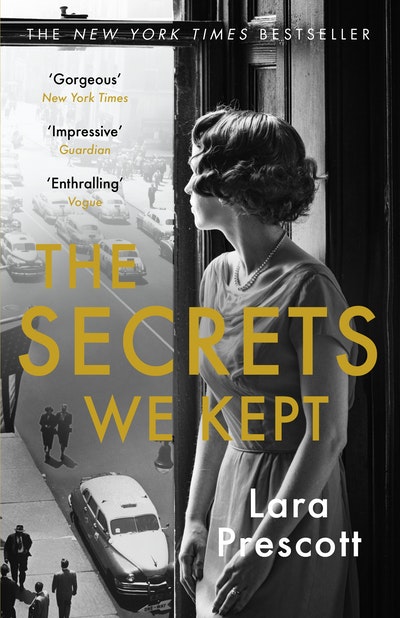 Published:

17 March 2020

ISBN:

9781786090744

Imprint:

Windmill Books

Format:

Paperback

Pages:

480

RRP:

$19.99
The Secrets We Kept
The sensational Cold War spy thriller
---
---
---
A wonderful, revelatory, unforgettable read about passion, friendship, hidden heroes, and the power of the written word to change the world.
________________________
'Utterly compelling... I absolutely loved it' Sarah Winman
'Tantalising' Sunday Times
'Thoroughly enjoyable' Guardian
________________________No one looks twice at the women in the typing pool.
No one knows that two of them are trading secrets.
The secret is a book, the size of the one in your hands, and within its pages, a love story that could change the world.
But where there is love there is pain. And where there is deception, formidable danger...
________________________
'Mixing Mad Men and John le Carré ... addictive' i paper
'Irresistibly charged' Mail on Sunday
Published:

17 March 2020

ISBN:

9781786090744

Imprint:

Windmill Books

Format:

Paperback

Pages:

480

RRP:

$19.99
Praise for The Secrets We Kept
What a fantastic novel The Secrets We Kept is. Thrilling, seductive and thoroughly compelling - Lara has created something really special. And it's made me want to re-read Doctor Zhivago! I absolutely loved it!

SARAH WINMAN
An unusual, stimulating variant on the standard spy thriller.

THE TIMES
A publishing phenomenon; but more importantly, it is a thoroughly enjoyable read.

GUARDIAN
Enthralling... This is a rare page-turner with prose that's as wily as its plot.

VOGUE
A riveting story of secrets, forbidden passions and the dark arts of espionage. I couldn't put it down.

LISA JEWELL
A fascinating true-life tale has been embroidered into a thrilling story that has it all - turbulent historical events, romantic love (some thwarted, some forbidden) and very cool spycraft. This captivating novel is so assured that it's hard to believe it's a debut - and very easy to see why there's huge buzz around it.

SUNDAY MIRROR
This addictive debut uses the true story behind the publication of Dr Zhivago to spin a tale of spies, love and betrayal.

THE TIMES
A page-turner combining elements of spy, literary, thriller, historic, romantic and gay fiction ... This is escapist fiction rooted in an at times harrowing historical reality... An unusual and stimulating Cold War spy thriller.

SUNDAY TIMES
There's something of Mad Men about this book and you can't get higher praise than that… Proving that fact can be stranger than fiction, this is the perfect book for some much-needed escapism. Cut yourself off and drink it all in.

STYLIST
Irresistibly charged and vividly imagined, it's told with a breezy confidence that sets the pages flying.

MAIL ON SUNDAY
A fascinating story, so cleverly told, of the long chain of people who helped to bring Pasternak's masterpiece into the world. I gulped it down.

GILL HORNBY
A heady tale of love, danger and double agents.

SUNDAY EXPRESS
A fantastic book

SINEAD MORIARTY
I loved this book. So vivid and engaging. A joy to read a story about spies that has lots of women in active roles.

CATHY RENTZENBRINK
The insight into the workings of the CIA, the portrait of the 1950s and a threatened love affair in the West… make for riveting reading.

DAILY MAIL
Two very different love stories are woven into the action and plenty of impossible moral choices have to be made by its appealing characters.

LITERARY REVIEW
A stylish debut… Prescott delivers a multi-layered tale.

WOMAN & HOME
The novel…draws the reader into the emotional lives of the charactersand their ever-changing roles and personas…No mere spy thriller.

IRISH EXAMINER
Well-researched and cleverly constructed... An intriguing and little-known chapter of literary history is brought to life with brio.

KIRKUS (starred review)
A proto-feminist Mad Men transposed to the world of international espionage – all mid-century style and intrigue set against real, indelible history.

ENTERTAINMENT WEEKLY
Triumphant ... This debut shines as spy story, publication thriller and historical romance with a twist.

PUBLISHERS WEEKLY
How does Lara Prescott manage to do so much in one book? The Secrets We Kept is stylish, thrilling, smart, vivid, at once intimate and sweeping, dreamlike and true-to-life, with an unforgettable cast and story. This is a riveting novel about a riveting novel, a love story to love stories.

ELIZABETH MCCRACKEN
As lively and vivid a novel as even the most demanding reader could wish for: epic in scope, deliciously meaty with its wide array of characters and milieux, and utterly convincing in its treatment of Cold War espionage and intrigue. This marvelous novel reads like the work of a mid-career master; what a wonderful surprise, then, to realize it's the opening salvo from a supremely gifted debut novelist. Lara Prescott is the real deal, and the evidence is right here on every page.

BEN FOUNTAIN
I was riveted by Lara Prescott's new novel. I barely stirred from my chair for two days. How does one even begin to talk about this book? It's all here—the KGB versus the CIA, the sexual office politics of Mad Men, a horrifying new look at the gulag, the tragic love affair between Boris Pasternak and his mistress, a brilliantly-drawn portrait of a time when a single book had the power to change history. I predict that The Secrets We Kept will be one of the most important books of the year.

JAMES MAGNUSON
Lara Prescott's The Secrets We Kept is trenchant, timely, and compulsively readable. The book thrillingly recalls the period detail of Mad Men, the complex characters of Patricia Highsmith, and the satisfying plots of John le Carre, but ultimately it's Prescott's distinctive voice and vision that feel most stirring and relevant. This is a first-rate novel, and it signals the arrival of a major new writer.

BRET ANTHONY JOHNSTON
The whirl of trench coats and cocktails and midnight meetings on park benches has the heady whiff of classic old-fashioned spy storytelling, brilliantly filtered through Prescott's thoroughly modern lens.

Yahoo! UK and Ireland
Sweeping between Russia and Washington, this captivating novel is so assured it's hard to believe it's a debut. And it is very easy to see why there's such a huge buzz about it.

THE PEOPLE
Wholly original and brilliantly realised, The Secrets We Kept hymns the subversive power of great prose whilst ratcheting up the tension with masterly technique.

WATERSTONES blog
This is a fascinating story... What is entirely Prescott's own is the story of Irina, and her fellow, more experience, spy Sally Forrester. Sally is a particularly affecting character, and, since this is a book about spies, there is the usual complement of lies and double crossings. Woven into the narrative intrigue are a number of touching love stories, including one which allows Prescott to explore how the McCarthyite "Red Scare" found echoes in a widespread paranoia about gays and lesbians in the US government.

IRISH INDEPENDENT
A fascinating fictionalisation.

WOMAN
In this stylish and confident debut novel, we delve into the story behind the story, which is just as enthralling.

WOMAN'S WEEKLY
It draws the reader into the emotional lives of the characters and their ever-changing roles and personas.

THE HERALD
All the pre-publication hype is fully justifiedas American author Prescott's debut novel turns out to be a truly wonderful blend of historical romance, spy thriller and insights into the myriad aspects of love in troubled times… Loved it.

CRIME TIME
It transported me back in time and kept me utterly gripped from beginning to end.

MEATH CHRONICLE
An astonishingly accomplished debut: original, fiercely intelligent, pointedly witty, utterly thrilling and gripping. I don't think it's an exaggeration to say that this is an epic novel worthy of its topic – Dr. Zhivago and the CIA plot to publish the supposed subversive work in the USSR. The Secrets We Kept is an engrossing drama that works on so many levels. Part thriller, part love story, this reimagining of historical events is very convincing, fact and fictional creativity coalesce perfectly. The result is a beguiling read; the tragedy and iniquity of the story will drain you, but there are moments of joy and triumph too… Block out a couple of days and treat yourself to a wonderful read.

NB MAGAZINE
No mere spy thriller, it is, as the typists say of Dr Zhivago, both "a war story and a love story... but it was the love story we remembered most".

NORTHERN ECHO
What a book!... riveting…This unusual story is both beautifully written and deeply compelling in equal measure…I was utterly swept away by Prescott's vivid style of writing together with her cast of strong and wonderfully convincing characters. It is rich in historical detail and covers (for me) a fascinating period in history with astonishing lucidity. This really isn't quite the run-of-the-mill, fast-paced, heart-in-the-mouth thriller I had expected; instead it is SO much more! It is thrilling, and it is pacy, yet it is also deeply emotional and full of zest.

MRS COOKE'S BOOKS, blog
The Secrets We Kept is a brilliantly told story, about a piece of relatively unknown history. It is tense, enthralling and has brilliant female characters. You'll not be able to put it down and you will think about the characters long after you finish the book. This is one of my books of the year, for sure!

FOREWORD BOOKS, blog
If you've read Doctor Zhivago, you'll get a kick out of this.

STELLAR Magazine
Intriguing debut novel

LOVE IT! magazine
The plot is complicated and the narrative even more so, owing to Prescott's decision to use multiple first-person narrators in addition to the gossipy first-person-plural voice of the C.I.A.'s pool of female typists (which, incidentally, is highly effective). And Prescott pulls all this off… Prescott's portrait of Sally Forrester, in particular, and Sally's love for her colleague, Irina, is emotionally sincere and Prescott acutely captures the isolation inherent in Sally's professional, social and sexual identity.

iNews
Engaging …This is a highly readable novel about the power of literature … The pen really is mightier than the sword

COUNTY & TOWN HOUSE
Lara Prescott has managed to summon a vanished world where novels mattered and women didn't.

TLS
Lara Prescott's dazzling debut novel is a sweeping page turner, and now a global literary sensation.

SouthernStar.ie
Lara Prescott's absorbing take on the Cold War spy thriller ... doesn't disappoint … Sweeping and ambitious ... It is a tautly written masterclass in blending fiction and fact.

THE LADY
Article
Lara Prescott Q&A
The Secrets We Kept author on her namesake, travelling to Russia for research and collecting historical artifacts along the way. 
Article