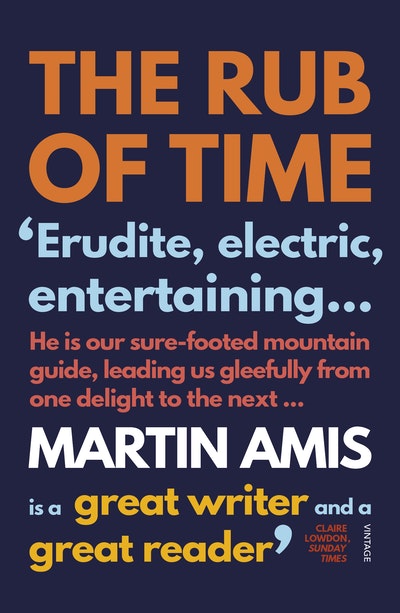 Published:

1 October 2018

ISBN:

9780099488729

Imprint:

Vintage

Format:

Paperback

Pages:

400

RRP:

$24.99
The Rub of Time
Bellow, Nabokov, Hitchens, Travolta, Trump. Essays and Reportage, 1994-2016
---
---
---
One of the finest writers of our time turns his razor sharp wit to the US elections, pornography celebrity culture and a brief history of the name Tim.
Of all the great novelists writing today, none shows the same gift as Martin Amis for writing non-fiction - his essays, literary criticism and journalism are justly acclaimed.
The Rub of Time comprises superb critical pieces on Amis's heroes Nabokov, Bellow and Larkin to brilliantly funny ruminations on sport, Las Vegas, John Travolta and the pornography industry. The collection includes his essay on Princess Diana and a tribute to his great friend Christopher Hitchens, but at the centre of the book, perhaps inevitably, are essays on politics, and in particular the American election campaigns of 2012 and 2016. One of the very few consolations of Donald Trump's rise to power is that Martin Amis is there to write about him.
Published:

1 October 2018

ISBN:

9780099488729

Imprint:

Vintage

Format:

Paperback

Pages:

400

RRP:

$24.99
Praise for The Rub of Time
He is our sure-footed mountain guide, leading us gleefully from one delight to the next in these quotation-rich encomiums. "Panegyric is rightly regarded as the dullest of all literary forms," he writes in Nabakov's Natural Selection, a scintillating panegyric that absolutely achieves its stated aim. The literary essays will leave you educated, enlightened, entertained. I defy anyone not called Tim to get to the end of the Henman-inspired essay, The Tims, without a helpless guffaw. Martin Amis is a great writer and a great reader.

Claire Lowdon, Sunday Times
The Rub of Time is Amis at his considered best, witty, erudite and unafraid. He is sweetly sentimental when it comes to the British royal family (why?), funny about tennis, always brilliant about the body, scorching in his refusal of death, its sorrows and humiliations. He is a great believer in semantic rigour; every sentence snaps with an accuracy that is fresh and fierce. This collection is full of treasures.

Anne Enright, Guardian
There is no one alive - with the possible exception of Adam Mars-Jones - who can hear an ailing sentence and diagnose its problems with such devastating and gleeful precision.

Jon Day, Financial Times
First-class. Amis reveres Vladimir Nabokov, and wonderfully evokes the author's "miraculously fertile instability", and the "dazed hymns to the bliss of existence". Amis's wide reading is prompted by pure pleasure and in this regard he is proudly Kingsley's son. Amis's literary criticism is richly enjoyable, his intellectual gifts are formidable and he is worthy of the praise he shovels upon Nabokov in his prime. His non-fiction is bayonet sharp. The Rub of Time is impressive. The inner world of the old devil on display is one to be treasured.

Roger Lewis, The Times
The reportage is some of the best stuff here. For someone who often doesn't much seem to care for journalists, Amis is a very good journalist indeed. If anyone has written a better, more penetrating, more open-minded interview with John Travolta, for example, I'd like to see it. When he puts his nose to a text, close up, there are few readers like him. And his is superbly good at capturing the nub of what's so interesting in DeLillo, deftly sectioning the phases of JG Ballard's career, tracing the weirdly wonky process of Philip Roth finding his voice or summing up a mood in a glancing phrase.

Sam Leith, Observer
Some absolutely A-grade literary journalism. It only takes a glance at the Larkin stuff.to reveal the depths of Mart's engagement, his habit of throwing out apercus in half a line that would detain most critics for a paragraph. and his eye for individual physicality.

DJ Taylor, National
Mellifluous elegance is an odd desideratum - Beckett possibly wasn't going for that - but as Amis exhibits, it's not the worst thing to have around. It turns out that brisk generalisations, nurtured for decades, lend themselves to potent writing. Certitude is the key to Amis's superhuman flair - and what makes this collection so compelling. Part of the appeal of reading Amis is to holiday in a world of clean, legible order. The Rub of Time is a riot of immaculately delivered punchlines and improbably sustained set-pieces (a longish footnote on Trump's use of "bigly"), of bons mots and mots justes.

Leo Robson, New Statesman
Typically glorious, typically enraging. You're also reminded of his astuteness as a reader, and his instinctive grasp of what an author's up to. Very few writers can surprise and delight in the way Martin Amis can. There may be pratfalls to come, there may be breaches of decorum, but that ear for the thought-rhythms will have to get a whole lot tinnier before I stop reading him.

Orlando Bird, Daily Telegraph
There are some terrific essays here, especially those on the literary subjects most dear to him (Bellow and Nabokov booking the volume) and those to whom he was personally close, such as his father and Christopher Hitchens. A review of Nabokov's barely sketched last novel, The Original of Laura, titled Nabokov and the Problem from Hell, grapples with greater honesty than any other critic has managed with Nabokov's "nympholepsy" or, as it might be, sympathy with paedophilia.

David Sexton, Evening Standard
Joyously self-deprecating. As in tennis, Martin Amis boasts a range of lightly executed master strokes, and sustains an entertaining game. Amis is as big a personality on the literary court as the players he lionises. The critical distinctions he draws between Vladimir Nabokov, the patrician émigré spinning "divine levity" out of his family's flight from the Holocaust, and Saul Bellow, the loving immigrant with a visionary intellectual range and sentience, most often hit the mark.

Selina Guinness, Irish Times
Stunning. What a read.

Chris Evans, Mail on Sunday
This collection of essays, written over 30 years, is a joy to dip into as he brings his critical eye and linguistic dexterity to bear on literature and politics, sport and pornography.

Lorna Bradbury, World of Cruising
America, the slatternly muse, inspires Amis's best writing. It is Amis's sensitivity to language which allows him to describe the different sounds so precisely. His style, bolstered by Latinate and literary diction, doesn't allow the reader to become complacent, to turn her gaze from the subject, to let her mind wander. Perhaps it is best to view Amis as a miner: deep underground, in the narrow tunnels and cramped caves, among the labour and the coughing and the dirt, he finds gold.

William Poulos, Varsity
Think of Milton's. Darkly glittering Satan - vivid, passionate, partisan and fatally persuasive - and you have Martin Amis... The Rub of Time is written in the teeth of mortality. Here is Amis, often at his most brilliant, quick, passionate, very funny and up to his eyes in the mess of being human. For all their cleverness, these essays are characterized by their emotional engagement. Amis gathers his personal canon around him, as you might pull a cloak tight against the cold and coming dark. It's Life that Amis is interested in. His plea, addressed to Time, is: give us just a little more Life, damn you.

Laura Beatty, Spectator
Euphonious, penetrating and very funny. Amis on Larkin. Amis on porn. Amis on Amis. You'd better get it.

Thomas W. Hodgkinson, Spectator
Martin Amis's non-fiction stretches the mind and the vocabulary of his readers. He is acutely perceptive, and illuminates and reveals an author or a book. The Rub of Time., his recent collection of pieces written between 1986 and 2016, is brilliant on politics, poker, people and place. Unmissable.

Susan Hill, Spectator
Erudite, eclectic and entertaining, Amis's essays offer serious assessments of Vladimir Nabokov and Saul Bellow alongside a tour of the porn industry, an exemplary prolife of John Travolta and a hilarious analysis of the hazards of being christened "Tim".

Claire Lowdon, Sunday Times, Book of the Year
They are also little masterpieces in themselves - almost every sentence in my copy is in underlined. Amis is a good novelist but he's a brilliant essayist.

Guardian
[Amis] knows how to make his words stick in your head. A real treat

William Leith, Evening Standard