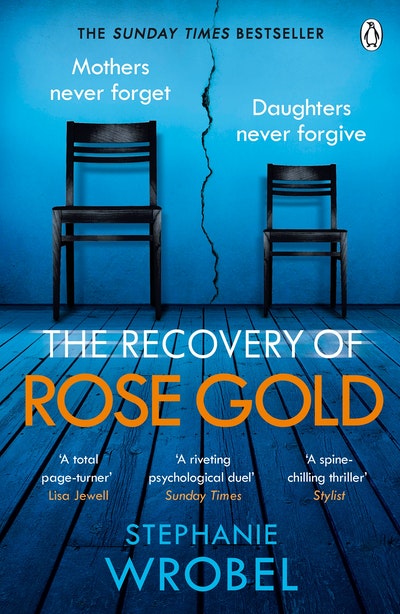 Published:

16 June 2021

ISBN:

9781405943536

Imprint:

Michael Joseph

Format:

Paperback

Pages:

416

RRP:

$22.99
The Recovery of Rose Gold
The gripping must-read Richard & Judy thriller and Sunday Times bestseller
---
---
---
A chilling exploration into obsession, reconciliation and revenge in 2021's must-read paperback
Rose Gold Watts believed she was sick for eighteen years.
Turned out her mother was a really good liar.
After five years in prison, Patty Watts is free.
Forgetting old grievances, she wants to reconcile with her daughter and care for her infant grandson.
When Rose Gold agrees to have Patty come home, their relationship seems genuinely on the mend.
But has Patty truly forgotten their past?
And is Rose Gold really able to forgive?
Published:

16 June 2021

ISBN:

9781405943536

Imprint:

Michael Joseph

Format:

Paperback

Pages:

416

RRP:

$22.99
Praise for The Recovery of Rose Gold
One of the most captivating and disturbing thrillers I've read this year. An astonishing debut

Samantha Downing, author of My Lovely Wife
Wrobel writes a fascinating and thrilling debut that looks deeply into the complicated reasons a mother and daughter can hurt each other. A psychological twister that had me completely captivated until the end

Diane Les Becquets, author of Breaking Wild
I love it. Fascinating, immersive, whip-smart, with a supremely clever ending that left me gasping (and slightly devastated in the best way)

Melanie Golding, author of Little Darlings
It's rare for something genuinely fresh to come along in this genre, but this book has it all - a killer premise, twisty plotting, crisp writing and compelling characters. Dazzling, dark and utterly delicious

J P Delaney, bestselling author of The Girl Before
Takes twisted mum and daughter relationships to a whole new level. Think Misery meets Sharp Objects

C. J. Tudor, bestselling author of The Chalk Man
I absolutely devoured it! It's right up my street and I couldn't get enough of Patti and Rose Gold, alternating my opinion of them at the same speed that I was turning the pages! A fabulous read!

Sandie Jones, author of The Other Woman
Sensationally good - two complex characters power the story like a nuclear reaction, and won't let you forget them. Wrobel is one to watch.

Lee Child
Superb! And seriously twisted. This book will play with your mind...then STAY on your mind. Compelling and very, very clever

Teresa Driscoll, bestselling author of I Will Make You Pay.
I inhaled this book. The Recovery of Rose Gold delves so deep into family dysfunction that we are left gasping as the last pages turn. Compelling, intriguing, beautifully written and paced like a roller coaster ride, cancel all your plans when you pick up this terrific book

Liz Nugent, bestselling author of Unraveling Oliver and Lying in Wait
Two extraordinary narrators drive the nail-biting action in this sensational, compulsively readable debut. A tour de force of captivating psychological suspense

Gilly Macmillan
An original, stunning debut! Masterful crafting of a split time-frame and utterly compelling characters will hook readers from the very first page until they finally learn the truth hiding within this chilling mother-daughter relationship. An intelligent, beguiling read that should be at the top of every reader's list

Wendy Walker
More than a page-turner-although it's undoubtably that - The Recovery of Rose Gold plumbs the depths of this poisoned mother-daughter relationship, asking probing questions about why we all hurt the ones we love. An explosive debut from a thrilling new voice

Kirsten Chen, author of Bury What We Cannot Take
A spine-chilling thriller injected with themes of obsession and revenge . . . Perfect for fans of Gillian Flynn's Gone Girl and Paula Hawkin's The Girl on the Train, The Recovery of Rose Gold is set to be next year's biggest thriller

Stylist
Wrobel has crafted two gloriously complex characters who will swing the reader between horrified disbelief and empathy in the turn of a single page. Wrobel uses witty writing and clever plotting to ensure the reader will fly through the pages in search of the truth. It takes profound skill to craft such a twisty and darkly entertaining read, and Wrobel does it in her debut as deftly as only the best thriller writers can do

Amy Stuart, #1 bestselling author of Still Mine and Still Water
An absolutely brilliant book; funny, dark, authentic and a total page turner. I loved it

Lisa Jewell, bestselling author of The Family Upstairs
Sinister and chilling . . . The writing flows beautifully and I felt like each character was confiding in me, trusting me with their secrets. I loved every bit of this thrilling story and the ending was brilliant and perfect. It's an amazing debut looking at the tangled web of a controlling mother/daughter relationship and a must read in my opinion

NB Magazine
Striking. Unsettling yet compelling reading

Oxford Times
Deliciously sinister. I defy any reader to work out exactly what these two spectacularly unreliable narrators are up to

Reader's Digest
Taut, twisted and with two terrifically toxic narrators, this thriller offers a wonderfully wicked perspective on complicated mother-daughter relationships. Gripping

Psychologies
It will make you laugh on one page, exhibiting the darkest of humour, and then make you shudder at the very next

Chat Special
A gritty story of truth and fantasy

Sainsbury's Magazine
A blackly comic and original novel with a fascinatingly complex heroine in Rose Gold - you will be both horrified by and rooting for her

Heat
A blackly comic and original novel with a fascinatingly complex heroine in Rose Gold - you will be both horrified by and rooting for her

Heat
Very rarely does a book like The Recovery of Rose Gold come along . . . this is a book that wastes no time in enticing in a reader and keeping them guessing until the very last page

Culturefly
You'll be hooked on this revenge tale

Crime Monthly
With a genuine menace seeping from every twist and turn, the two central characters inhabit every page with captivating ferocity, and the denouement is worthy of Patricia Highsmith at her finest: quite superb

Daily Mail
Intelligent. Highly disturbing

Literary Review
Must read

Hello
I haven't come across two more unbalanced characters in books than this mother and daughter

Prima
A dark, nerve-jangling read that kept us on the edge of our seats till the very end

Independent
A stunning exploration of love, revenge, and the devastating impact of childhood trauma. It's dark, disturbing and utterly gripping

CrimeSquad
A rivetingly nasty psychological duel

Sunday Times
Horribly riveting. At times I wanted to, but I could not put it down

Saga Magazine
Pacey and vivid, this is a delicate, merciless probing of a topicas unsettling as it is intriguing, with no pat answers

The Guardian
Wrobel's claustrophobic debut explores the sinister subject of parents who deliberately make their children ill . . . Find out who's manipulating who in this clever chiller

Sunday Express
Deliciously icy. Wrobel's cleverly constructed plot twists and turns, undermining any sense of integrity the minute you catch a glimpse of it

Irish News
Article