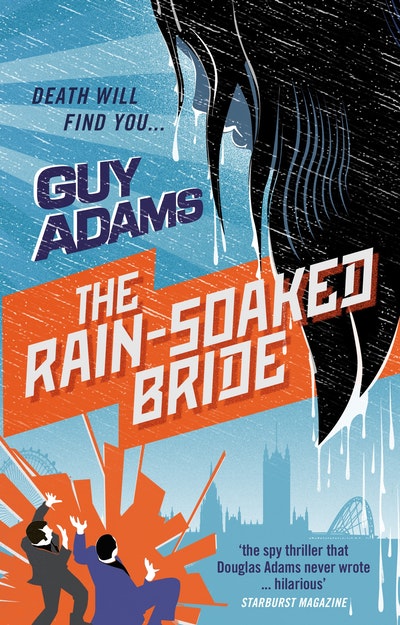 Published:

2 April 2020

ISBN:

9781473583887

Imprint:

Cornerstone Digital

Format:

EBook

Pages:

336
The Rain-Soaked Bride
---
---
---
Spooks meets The X-Files with a generous helping of Le Carré, and a dash of Stephen King.
HOW DO YOU STOP AN ASSASSIN THAT CAN'T BE KILLED?
Toby Greene is part of The Clown Service, a mostly forgotten branch of British Intelligence tasked with fighting paranormal threats.
However, the Rain-Soaked Bride is no ordinary assassin. Relentless, inexorable and part of a larger game, merely stopping this impossible killer may notbe enough to save the day.
'The Clown Service is fun and rips along like thefinest episode of the old Avengers series' The Independenton Sunday
Published:

2 April 2020

ISBN:

9781473583887

Imprint:

Cornerstone Digital

Format:

EBook

Pages:

336
Praise for The Rain-Soaked Bride
there is much in this novel to entice us to take our sleeping bag to the nearest bookshop doorstep and queue early for Book 3

The Bookbag
In a way, we wish Adams had started writing these thirty years ago so there would be a rich vein of stories for the new fan to discover. As it is, we must be content with two very well written and funny books. At least there's a third on the way, though it's a shame we have to wait for it.

Starburst magazine
Several writers are now mining a very British style of urban magic, some more convincingly than others. For me, The Rain-Soaked Bride confirms Guy Adams position as the market leader... a thoroughly entertaining sequel, and well worth adding to any urban fantasy collection.

SFSite.com
This is a great example of why you should stick with a series for at least two books. The first book always has to spend time setting everything up but the second book can really show you what an author is capable of (although it can go the other way, too, of course). I thoroughly enjoyed The Rain-Soaked Bride and hope there are many more books to come in this series.

Vinca Russell, SFcrowsnest