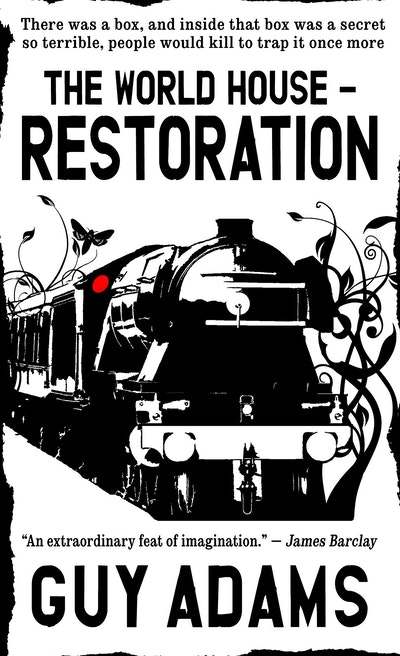 Published:

21 November 2018

ISBN:

9780857661180

Imprint:

Watkins

Format:

Paperback

Pages:

432

RRP:

$13.99
Restoration
The World House, Book 2
---
---
NONE WHO ENTER THE WORLD HOUSE LEAVE IT UNCHANGED. In some rooms, forests grow; animals roam and objects come to life. Great secrets and treasures await the brave or foolhardy. And at the very top of the house, the prisoner it was all built to contain sat behind a locked door waiting for the key to turn.
The day that happened, the world ended.
A sequel to the stunning "The World House".
File Under: Modern Fantasy [Worlds within Worlds | End of Days | A Prisoner Escapes | Dark Powers]
Published:

21 November 2018

ISBN:

9780857661180

Imprint:

Watkins

Format:

Paperback

Pages:

432

RRP:

$13.99
"A fearless grand adventure of escalating escapades and escapes so hair-raising that Adams' deranged imagination is barely able to contain them all. I knew we were in trouble as soon as the ostrich appeared. It's a fearless, hurtling hell of a debut." - Christopher Fowler "This is the kind of book that 'Best of Lists' were made for. Nine and Three Quarters out of Ten" - Graeme's Fantasy Book Review "Strange and wonderful The World House will take you on a long bizarre journey within four walls, carrying you into dark imaginative regions from room to room, basement to attic, and leave you with the feeling that a journey to the centre of the earth, or to the moon, would be no less exhilarating." - Garry Kilworth "Looking back at that first book, I could see how carefully Adams had planted the seeds for what would happen in Restoration, and I applaud him for an effort well done. ... I enjoyed how this novel was intricately woven into the fabric of the first book, giving greater depth to each and creating a richer whole. Restoration is a complicated and tightly knit story of destiny and perseverance, and it's definitely one of the more unusual tales you'll pick up." - www.owlcatmountain.com