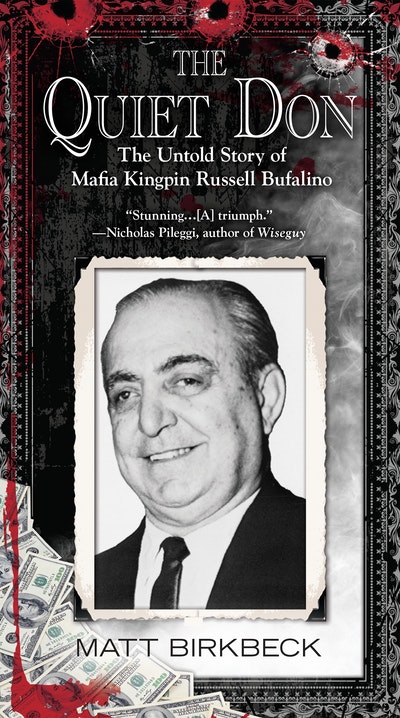 Published:

1 October 2013

ISBN:

9780425266854

Imprint:

Berkley

Format:

Paperback

Pages:

304

RRP:

$16.99
The Quiet Don
The Untold Story of Mafia Kingpin Russell Bufalino
---
---
To what extent was Rosario "Russell" Bufalino involved in the disappearance of Jimmy Hoffa in 1975? In the CIA's recruitment of gangsters to assassinate Fidel Castro? In organizing the historic meeting of crime chieftains in 1957? Even in the production of The Godfather movie?
A uniquely American saga that spans six decades, The Quiet Don follows Russell Bufalino's remarkably quiet ascent from Sicilian immigrant to mob soldier to a man described by a United States Senate subcommittee in 1964 as "one of the most ruthless and powerful leaders of the Mafia in the United States."
Secretive—even reclusive—Russell Bufalino quietly built his organized crime empire in the decades between Prohibition and the Carter presidency. His reach extended far beyond the coal country of Scranton, Pennsylvania, and quaint Amish farms near Lancaster. Bufalino had a hand in global, national, and local politics of the largest American cities, many of its major industries, and controlled the powerful Teamsters Union. His influence also reached the highest levels of Pennsylvania government and halls of Congress, and his legacy left a culture of corruption that continues to this day.
INCLUDES PHOTOS
Published:

1 October 2013

ISBN:

9780425266854

Imprint:

Berkley

Format:

Paperback

Pages:

304

RRP:

$16.99
"The Quiet Don is a triumph. Matt Birkbeck provides a stunning work of investigative journalism that is memorable and alive and unveils the incredible life and legacy of one of the mobs most important powerbrokers."—Nicholas Pileggi, author of Wiseguy and the screenplays for Goodfellas and Casino "This fast-paced, captivating probe into the life of Russell Bufalino fills a major gap in the annals of organized crime and shows us why his story continues to matter so much today. This is sophisticated investigative reporting, told with a novelist's storytelling flare." —Paul Moses, professor of journalism at Brooklyn College and author of The Saint and the Sultan "The Quiet Don is a must-read, an important addition to the history of organized crime." —G. Robert Blakey, a former Notre Dame law professor, a draftsmen of the RICO Act, chief counsel to the House Select Committee on Assassinations, and a prosecutor in the Organized Crime and Racketeering Section of the Department of Justice under Robert F. Kennedy. "The fascinating tale of Russell Buffalino, a brainy mobster who was in a Mafia league of his own." —Tom Robbins, professor at the CUNY school of journalism and former investigative reporter at the New York Daily News and Village Voice.