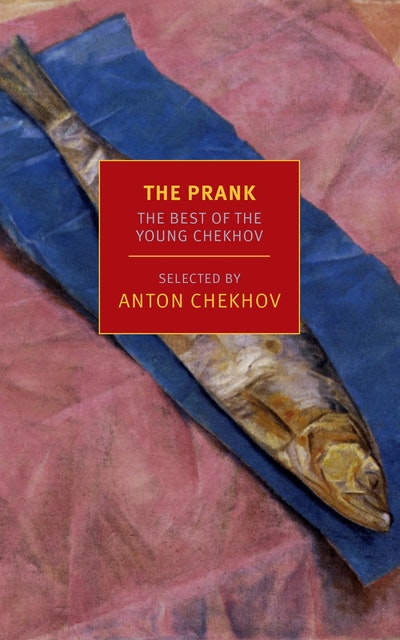 Published:

15 August 2015

ISBN:

9781590178362

Imprint:

NY Review Books

Format:

Trade Paperback

Pages:

168

RRP:

$26.99
The Prank
---
---
The Prank is a major international literary discovery: the young Anton Chekhov's own selection of the best of his early work, here appearing for the first time in any language as the single volume its author intended it to be, and featuring two stories that have not been translated into English before.
In 1880, while pursuing his medical studies, Chekhov took up his pen the better to support himself and his family. In the next two years, he published more than sixty stories under various pseudonyms, soon gaining a reputation as a brilliant young writer. In 1882, he decided it was time to establish his name and claim to fame properly, and so he picked and carefully put together the twelve stories he considered his best work, intending to publish them with illustrations by his brother Nikolay, a gifted artist himself. The Prank, as Chekhov entitled the book, was all set to go to the printer when a Tsarist censor suppressed the book. Why? Because, as Chekhov wrote to a friend, "my best stories uproot the foundations."
Satires, send-ups, tales of student life, artistic ambition, hunting parties, troubled families, love and betrayal, these twelve stories, accompanied by Nikolay's illustrations, display the zest, energy, humor, and unsparing insight that were Chekhov's from the start.
Published:

15 August 2015

ISBN:

9781590178362

Imprint:

NY Review Books

Format:

Trade Paperback

Pages:

168

RRP:

$26.99
"Chekhov's stories are as wonderful (and necessary) now as when they first appeared...It is not only the immense number of stories he wrote—for few, if any, writers have ever done more—it is the awesome frequency with which he produced masterpieces, stories that shrive us as well as delight and move us, that lay bare our emotions in ways only true art can accomplish." —Raymond Carver   "As readers of imaginative literature, we are always seeking clues, warnings...Where in life to search more assiduously; what not to overlook; what's the origin of this sort of human calamity, that sort of joy and pleasure: how can we live nearer to the latter, further off from the former? And to such seekers as we are, Chekhov is a guide, perhaps the guide." —Richard Ford   "[Chekhov's characters] are not lit by the hard light of common day but suffused in a mysterious grayness. They move in this as though they were disembodied spirits. It is their souls that you seem to see...You have the feeling of a vast, gray, lost throng wandering aimless in some dim underworld." —Somerset Maugham   "We have to cast about in order to discover where the emphasis in these strange stories rightly comes...The soul is ill; the soul is cured; the soul is not cured." —Virginia Woolf   "Read Chekhov, read the stories straight through." —Francine Prose   "Reading his stories keeps us honest, and humble, but somehow also lighthearted." —Sonya Chung   "What writers influenced me as a young man? Chekhov! As a dramatist? Chekhov! As a story writer? Chekhov!" —Tennessee Williams   "Reading Chekhov was just like the angels singing to me." —Eudora Welty