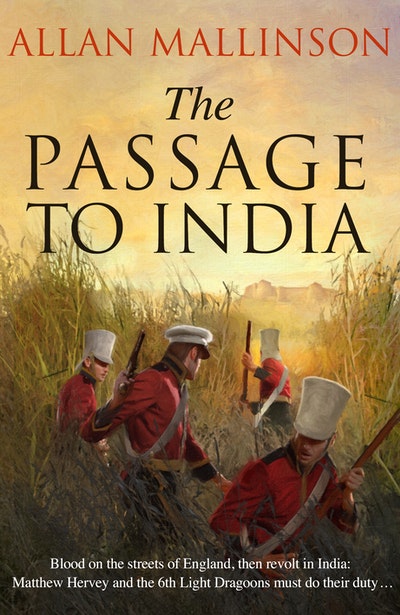 Published:

15 March 2018

ISBN:

9780593079133

Imprint:

Bantam Press

Format:

Hardback

Pages:

352

RRP:

$39.99
The Passage to India
(Matthew Hervey 13)
---
---
---
Marking Allan Mallinson's eagerly-awaited return to fiction, in the thirteenth thrilling adventure featuring Matthew Hervey of the 6th Light Dragoons, Hervey and his regiment are dispatched to India in order to suppress a bloody uprising...
It is 1831, riots and rebellions are widespread . . .
In England, the new government is facing protests against the attempts of the Tory-dominated House of Lords to thwart the passing of the Reform Bill. In India, relations are strained between the presidency of Madras and some of the neighbouring princely states.
Having taken command of the action in Bristol to restore order after one of the bloodiest and most destructive riots in the nation's history, Lieutenant-Colonel Matthew Hervey is out of favour with the new government. But then his old friend, Sir Eyre Somervile, offers him a lifeline. Somervile has persuaded the Court of Directors of the East India Company to approve an increase in the Madras military establishment. Hervey and the 6th Light Dragoons are sent to the princely state of Coorg. The Rajah is in revolt against the East India Company's terms and Hervey's regiment is called upon to crush the rebellion. With the stakes raised by an unexpected visitation from his past, for Hervey the question is whether he and his men will get out of this brutal war unscathed?
Published:

15 March 2018

ISBN:

9780593079133

Imprint:

Bantam Press

Format:

Hardback

Pages:

352

RRP:

$39.99
Praise for The Passage to India
Mallinson's series of early 19th-century military adventures are even better than Patrick O'Brian's naval equivalent. In the latest, The Passage to India we find our hero...called back to India. Faithful period detail. Rattling pace. Loveable characters.

A. N. WILSON, The Tablet 'Summer Reading'