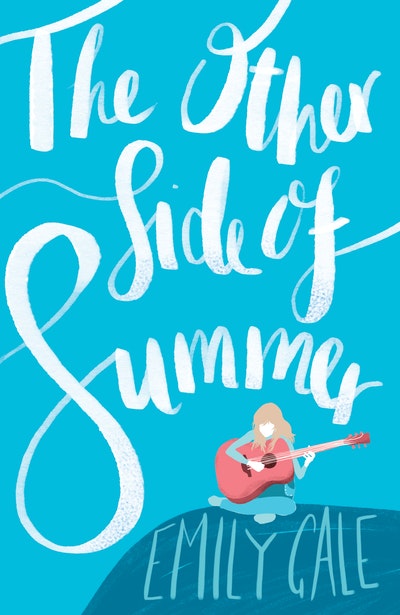 Published:

30 May 2016

ISBN:

9780143780113

Imprint:

Random House Australia Children's

Format:

Paperback

Pages:

336

RRP:

$17.99
The Other Side of Summer
---
---
---
This sweet and spellbinding story about family, friends and believing in yourself will warm your heart.
Summer is trying to recover from a tragedy, but it seems impossible when her family is falling apart around her. Having an extraordinary best friend like Mal helps a little, but Summer's secret source of happiness is a link to the past: one very special guitar.
Now her dad's plan to save them is turning Summer's life upside down again. The next thing she knows, they've moved to the other side of the world.
In Australia, Summer makes an unlikely friend, who seems to be magically connected to her guitar. Is this for real? Has a mysterious boy been sent to help Summer? Or could it be the other way around?
'Summer Jackman is prickly, sad, funny - and absolutely loveable. This pitch-perfect story is full of hope and magic. Exquisite and unforgettable.' Fiona Wood, award-winning author of Wildlife
Published:

30 May 2016

ISBN:

9780143780113

Imprint:

Random House Australia Children's

Format:

Paperback

Pages:

336

RRP:

$17.99
Praise for The Other Side of Summer
Summer Jackman is prickly, sad, funny - and absolutely loveable. This pitch-perfect story is full of hope and magic. Exquisite and unforgettable.

Fiona Wood, award-winning author of WILDLIFE
A beautifully rendered portrayal of grief, family and leaving things behind, The Other Side of Summer is a welcome addition to the shelves of Australian middle fiction. Emily Gale's book gives her audience the respect they deserve—recognising that younger teens need a place in literature where they too can explore the parts of their life that are challenging or sad. This perfectly pitched piece is a beauty.

Bec Kavanagh, Books + Publishing
The natural Australian bush setting allows the author's imagery to shine, particularly in contrast to the icy cold of London. Gale, a former Melbourne bookseller, is also skilled at evoking character and emotion in original, thoughtful images

Joy Lawn, The Australian
The characters are strong and real from feisty Gran to bohemian Mal, rebel Wren and mysterious Gabe. It's impossible not to care about them all. Death, grief and separation are handled with sensitivity, a gentle touch of magic realism and beautiful imagery perfectly and seamlessly pinned into place. Families reconnect, friendships grow and Summer heals. This is a story of hope, recovery and renewal. Highly recommended. For readers 11+.

Sunday Telegraph, Sydney
Highly recommended . . . This was a wonderful read that I finished in one sitting. Although it is aimed at middle school readers, the writing that flows with ease, the vivid descriptions and realistic characters will appeal to older readers as well.

Pat Pledger, ReadPlus
Sometimes a book strikes such a personal chord with you that you are almost mesmerised by it from the first ... This is a beautiful exploration of grief, intertwining lives and the deep darkness of depression which will intrigue readers from the start. I would highly recommend this for readers from around 12 upwards and will be promoting it in our Secondary Book Club at our next meeting.

Sue Warren, losongzopa.wordpress.com
Enchanting and wonderfully written, The Other Side of Summer was simply beautiful. A charming coming of age story that bridges the gap between middle grade and young adult and a poignant and hopeful story for the young and young at heart. I loved it immensely.

Kelly, divabooknerd.com
The sadness that is portrayed in this heart-wrenching novel floods off the pages, wrapping around readers and tugging at their heartstrings . . . this heartwarming and spellbinding novel preaches the importance of family and supporting one another through the tough times, and is one that can be appreciated by people of all ages. I'd give The Other Side of Summer by Emily Gale a score of 10 out of 10. I can't recommend this poignant, magical novel enough.

Sarah, writtenwordworlds.wordpress.com
It's a book about grief and tragedy, but also about change and finding that there's a better side to ourselves that we must not ignore. Gale nails the middle-grade tone and quality through her prose and through the characters. The Other Side of Summer is a beautiful little book for fans of Bridge to Terabithia or Rebecca Stead.

Braiden, bookbonding.com.au
This is exactly the kind of book I would have loved to have read as a kid. I hugged the book when I was done!

Dani Solomon, bookseller, readings.com.au
I was charmed by this story . . . The novel is brimming with important issues, such as grief, loss, the importance of family and friendships, growing up, finding oneself. Emily Gale manages to write unforgettable prose in a way that reads effortlessly and stays with the reader long after.

bsoulflowers.blogspot.com.au
Summer and Gabe's stories are interwoven . . . the introduction of Gabe provides a note of the supernatural which is intriguing . . . The writing is descriptive and evocative (and the title is a clever reflection of both story and locations).

Helen Purdie, Magpies
Aurealis Awards
Shortlisted • 2016 • Best Young Adult Novel
Indie Book Awards
Longlisted • 2017 • Young Adult
Victorian Premier's Literary Awards
Shortlisted • 2017 • Writing for Young Adults