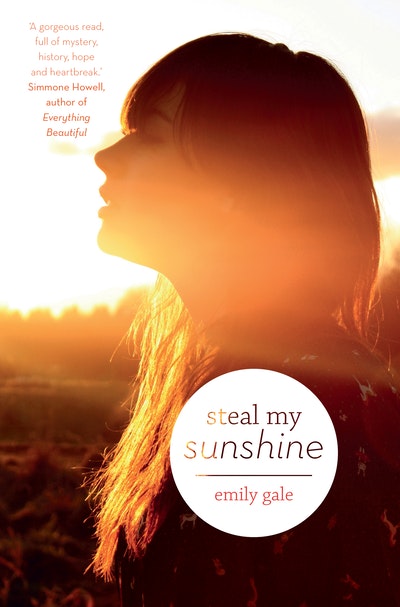 Published:

1 May 2013

ISBN:

9781742758503

Imprint:

Random House Australia

Format:

EBook

Pages:

352
Steal My Sunshine
---
---
---
'Steal my Sunshine is a gorgeous read, full of mystery, history, hope and heartbreak. I was gripped all the way to the bittersweet end.' - Simmone Howell, author of Everything Beautiful
'Steal my Sunshine is a gorgeous read, full of mystery, history, hope and heartbreak. I was gripped all the way to the bittersweet end.' - Simmone Howell, author of Everything Beautiful
During a Melbourne heatwave, Hannah's family life begins to distort beyond her deepest fears. It's going to take more than a cool change to fix it, but how can a girl who lives in the shadows take on the task alone?
Feeling powerless and invisible, Hannah seeks refuge in the two anarchists of her life: her wild best friend, Chloe, and her eccentric grandmother, Essie, who look like they know how life really works.
But Hannah's loyalty to both is tested, first by her attraction to Chloe's older brother, and then by Essie's devastating secret that sheds new light on how the family has lost its way.
Even if Hannah doesn't know what to believe in, she'd better start believing in herself.
Combined with Hannah's contemporary story, at the heart of Steal My Sunshine is the revelation of a shameful aspect of Australia's history and how it affected thousands of girls and women – the forced adoptions that saw 'wayward girls' and single mothers forced to give up their babies by churches and hospitals. The practice endured for decades, and only now are the numbers and the heart-wrenching stories coming to light.
'As Hannah tries to sort out the present - enigmatic best friend, dream boy, fractured family - it is a long-held secret of her grandmother's that will show the way forward. A tender, heart-wrenching story.' - Fiona Wood, author of Six Impossible Things
Published:

1 May 2013

ISBN:

9781742758503

Imprint:

Random House Australia

Format:

EBook

Pages:

352
Praise for Steal My Sunshine
As Hannah tries to sort out the present - enigmatic best friend, dream boy, fractured family - it is a long-held secret of her grandmother's that will show the way forward. A tender, heart-wrenching story.

Fiona Wood, author of SIX IMPOSSIBLE THINGS
Essie is a character I wish I'd written. This is a book for anyone who thinks bad things don't happen to good teenagers, and for those who know they do. I loved it.

Vikki Wakefield, author of ALL I EVER WANTED
This is an amazing book filled with secrets, relationships and hope. It's an addictive read . . . The story becomes a part of you, you understand the characters as if they were your own family.

Chloe, age 16, Random House Book Buddies
I found Steal My Sunshine to be a feel-good novel packed with sassy characters and unexpected twists. I loved it.

Anneka, age 16, Random House Book Buddies
Beautifully narrated and with a captivating tale, the sections from Essie's point of view were a highlight of the book . . . I would highly recommend this book to older teen readers with appreciation for character development and narrative nuance . . . Fans of Melina Marchetta will probably enjoy this novel.

Madeleine, age 17, Random House Book Buddies
Steal my Sunshine is a gorgeous read, full of mystery, history, hope and heartbreak. I was gripped all the way to the bittersweet end.

Simmone Howell, author of EVERYTHING BEAUTIFUL