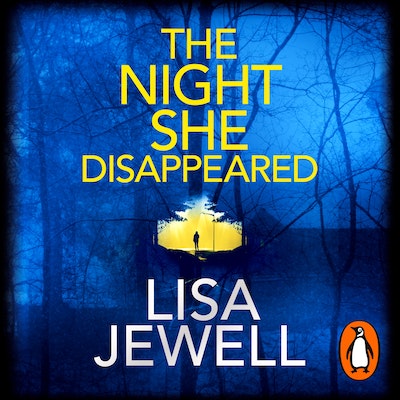 Published:

22 July 2021

ISBN:

9781473593183

Imprint:

Cornerstone Digital

Format:

Audio Download

RRP:

$27.99
The Night She Disappeared
---
---
---
From the global number one bestselling author of The Family Upstairs: a missing woman, an abandoned mansion, family trauma, and deep buried secrets. It can only be Lisa Jewell!
___________________________
NOW AVAILABLE TO PRE-ORDER: the brand new twisting page turner from Lisa Jewell, bestselling author of THE FAMILY UPSTAIRS and INVISIBLE GIRL
DON'T GO NEAR THE HOUSE IN THE WOODS...
It's late at night and Kim is waiting. Her daughter, Tallulah, is out on a date, and hasn't returned.
Desperate to find out where she might be, Kim contacts her friends, and discovers that Tallulah was last seen heading to a party at a house in the woods.
The locals call it Dark Place.
Two years on, the mystery of Tallulah's disappearance remains unsolved. But could a note discovered in the woods lead to the truth about what happened that night?
A note reading 'DIG HERE' . . .
___________________________
A cold case brought back to life. An abandoned mansion full of dark secrets. A terrible family trauma.
Lisa Jewell's latest novel could be her best yet.
Published:

22 July 2021

ISBN:

9781473593183

Imprint:

Cornerstone Digital

Format:

Audio Download

RRP:

$27.99
Praise for The Night She Disappeared
The only thing predictable about this ending is how unpredictable it is.

Eastern Daily Press
Video
The Night She Disappeared by Lisa Jewell | Book Trailer
The brand new twisting page turner from Lisa Jewell, bestselling author of The Family Upstairs and Invisible Girl is out now! "No one tells stories like this better than Lisa Jewell... she gets right into it, doesn't mess about... and then hits us with an ending we never saw coming. I love it." says Lee Child. Midsummer 2017: teenage mum Tallulah heads out on a date, leaving her baby son at home with her mother, Kim. At 11pm she sends her mum a text message. At 4.30am Kim awakens to discover that Tallulah has not come home. Tallulah never returns. 2018: walking in the woods behind the boarding school where her boyfriend has just started as a head-teacher, Sophie sees a sign nailed to a fence. A sign that says: DIG HERE . . . Find out more: https://bit.ly/3BJO9NA