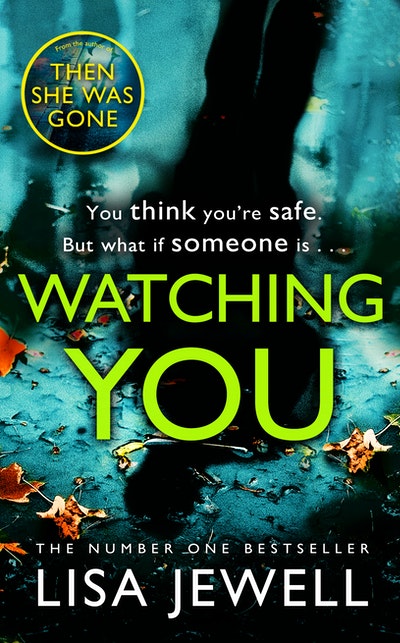 Published:

5 February 2019

ISBN:

9781784756277

Imprint:

Arrow

Format:

Paperback

Pages:

512

RRP:

$14.99
Watching You
From the number one bestselling author of The Family Upstairs
---
---
---
Gripping psychological suspense from the number one bestselling author of Then She Was Gone, as what begins as an innocent crush develops into a dangerous infatuation.
YOU'RE NOT THE ONLY ONE WATCHING
'Page one intrigued me. Page three hooked me. By page five, I was consumed. This compulsive, propulsive novel is both a seize-you-by-the-throat thriller and a genuinely moving family drama. Stellar.' - A.J. Finn, author of The Woman in the Window
_______________
You're back home after four years working abroad, new husband in tow.
You're keen to find a place of your own. But for now you're crashing in your big brother's spare room.
That's when you meet the man next door.
He's the head teacher at the local school. Twice your age. Extraordinarily attractive. You find yourself watching him.
All the time.
But you never dreamed that your innocent crush might become a deadly obsession.
Or that someone is watching you.
_______________
Family secrets, illicit passion and an unexplained murder? It can only be the gripping new novel from Lisa Jewell, #1 bestselling author of Then She Was Gone.
_______________
'I was totally gripped by this excellent psychological thriller. Set in Bristol, it opens with a dead body, then moves into the head of Joey, a newly-married 27-year-old who gets a sudden crush on one of her new neighbours, which quickly becomes obsessive. Hugely enjoyable.' - Marian Keyes, author of The Break
'If you only pick one summer read this year, make it Watching You. I inhaled it in one sitting. A gripping plot, characters you love but can't trust, and a thumping emotional heart, Lisa Jewell has done it again.' - Sarah Pinborough, author of Behind Her Eyes and 13 Minutes
'If you loved The Woman in The Window and The Girl on the Train then this is for you!' - the Hotlist, U Magazine
'Then She Was Gone was my favourite thriller last year and this is even better. Brilliantly plotted and impossible to put down, it kept me guessing until the very end.' - Alice Feeney, author of Sometimes I Lie
'She's done it again! Lisa Jewell has penned the page-turner of the summer. Emotionally-engrossing and utterly compelling, with a mystery that keeps you gripped until the last heart-wrenching page.' - Tammy Cohen, author of They All Fall Down
'Jewell writes wonderfully engaging characters who weave plausibly tangled webs and the whodunit was largely incidental until the closing pages. She masterfully draws all her threads together, throwing in some cunning twists for good measure.The countdown is on for the next Lisa Jewell novel.' - Daily Express'A finely drawn domestic thriller.' - India Knight
Published:

5 February 2019

ISBN:

9781784756277

Imprint:

Arrow

Format:

Paperback

Pages:

512

RRP:

$14.99
Then She Was Gone was my favourite thriller last year and this is even better. Brilliantly plotted and impossible to put down, it kept me guessing until the very end.

Alice Feeney, author of Sometimes I Lie
Page one intrigued me. Page three hooked me. By page five, I was consumed. This compulsive, propulsive novel is both a seize-you-by-the-throat thriller and a genuinely moving family drama. Stellar.

A J Finn
She's done it again! Lisa Jewell has penned the page-turner of the summer. Emotionally-engrossing and utterly compelling, with a mystery that keeps you gripped until the last heart-wrenching page.

Tammy Cohen
Watching You by the scarily talented Lisa Jewell is set to be one of THE reads of the summer. Expertly crafted with a cast of fabulous and intricately drawn characters, this story will keep you glued to your sun-bed and have you guessing until the final heartrending sentence. Superb.

Amanda Jennings, author of In Her Wake
I've always been jealous of her. I've always envied her ability to write a sentence. She's written a couple of psychological thrillers and her plotting is really great but her characterisation is great as well.

Marian Keyes
If you only pick one summer read this year, make it Watching You. I inhaled it in one sitting. A gripping plot, characters you love but can't trust, and a thumping emotional heart, Lisa Jewell has done it again.

Sarah Pinborough, author of Behind Her Eyes and 13 Minutes
Lisa Jewell always delivers suspense, and Watching You is no exception.

Red
After a very creepy start Jewell keeps you guessing until its equally creepy ending.

Daily Mail
Proving she deserves her place at the top of the psychological thriller-writers pack.

Heat
With deadly infatuation, voyeurism and obsession leading to murder, it's darkly addictive stuff.

Sunday Mirror
This intense domestic thriller marks a new high for one of our fave authors.

Sun
a fresh take on a familiar theme with some juicy twists thrown in.

Daily Mail
She keeps the reader in the palm of her hand with one surprise after another.

Good Housekeeping
The very definition of a terrific beach read.

Independent
This book is a huge wow for me. This is my first time reading a book by Lisa Jewell and what a book this is! I was so mesmerised right from the start. It's such a page-turner but I will admit that I did take my time to read this because I didn't want it to end.

Marina & The Books blog
This is a story of obsession and secrets, infatuation and deceit and if you are looking for something to keep you guessing throughout then Watching You is definitely a book you should read.

Compulsive Readers blog
With engaging characters and twists galore, the fast paced short chapters made for a page turning read that saw the novel read within two days. There is brilliant twist at the end, but heart-breaking at the same time.

Literature Love blog
plenty of suspense and tension

Bookworms Corner blog
Tightly plotted, believable characters you really care about, beautifully observed and written. Another massive winner

Marina O'Loughlin
If you have read any of Lisa's books then you will know how good they are and this is another brilliant read from her

Karen's World
Watching You is a mesmerizing, twist packed, gripping tale of secrets, obsessions, stalking, misconceptions, friendships and deception that hooks the reader in from the very first page right through to the jaw dropping final twist

Nicki's Life of Crime
In short I found this latest novel absolutely gripping. I wanted to know who had been murdered, who would want to murder but most of all I wanted to truly understand this eclectic bunch of people who became my neighbours for the duration of the book

Cleopatra Loves Books
Tightly plotted, believable characters you really care about, beautifully observed and written. Another massive winner.

Marina O'Loughlin
If you have read any of Lisa's books then you will know how good they are and this is another brilliant read from her.

Karen's World
Watching You is a mesmerizing, twist packed, gripping tale of secrets, obsessions, stalking, misconceptions, friendships and deception that hooks the reader in from the very first page right through to the jaw dropping final twist.

Nicki's Life of Crime
In short I found this latest novel absolutely gripping. I wanted to know who had been murdered, who would want to murder but most of all I wanted to truly understand this eclectic bunch of people who became my neighbours for the duration of the book.

Cleopatra Loves Books
If you loved The Woman in The Window and The Girl on the Train then this is for you!

U Magazine
A free-flowing beauty of a mystery thriller

Sunday Sport
Constantly plays with readers' perceptions

Metro
Jewell writes wonderfully engaging characters who weave plausibly tangled webs and the whodunit was largely incidental until the closing pages. She masterfully draws all her threads together throwing in some cunning twists for good measure.The countdown is on for the next Lisa Jewell novel.

Daily Express
A finely drawn domestic thriller

India Knight, Sunday Times
Lisa Jewell knows exactly how to write a thriller.

Food and Other Loves (Blog)