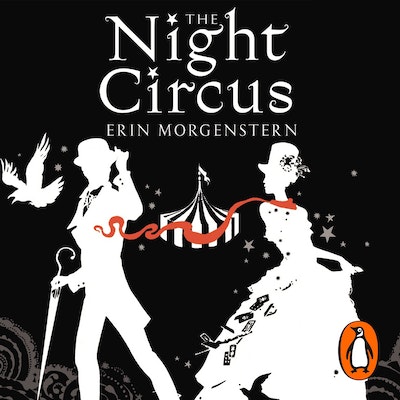 Published:

15 September 2011

ISBN:

9781446482841

Imprint:

RH AudioGo

Format:

Audio Download

Length:

13 hr 51 min

Narrator:

Jim Dale

RRP:

$24.99
The Night Circus
---
---
---
A novel of magic and love that is enchanting readers far and wide with the spectacular power of its imagination
In 1886, a mysterious travelling circus becomes an international sensation. Open only at night, constructed entirely in black and white, Le Cirque des Rêves delights all who wander its circular paths and warm themselves at its bonfire.
Although there are acrobats, fortune-tellers and contortionists, the Circus of Dreams is no conventional spectacle. Some tents contain clouds, some ice. The circus seems almost to cast a spell over its aficionados, who call themselves the rêveurs - the dreamers. At the heart of the story is the tangled relationship between two young magicians, Celia, the enchanter's daughter, and Marco, the sorcerer's apprentice. At the behest of their shadowy masters, they find themselves locked in a deadly contest, forced to test the very limits of the imagination, and of their love...
A fabulous, fin-de-siècle feast for the senses and a life-affirming love story, The Night Circus is a captivating novel that will make the real world seem fantastical and a fantasy world real.
The Starless Sea, the magical second novel from the author of the The Night Circus, is available for pre-order now
Published:

15 September 2011

ISBN:

9781446482841

Imprint:

RH AudioGo

Format:

Audio Download

Length:

13 hr 51 min

Narrator:

Jim Dale

RRP:

$24.99
Praise for The Night Circus
The Night Circus made me happy. Playful and intensely imaginative, Erin Morgenstern has created the circus I have always longed for. This is a marvelous book

Audrey Niffenegger, author of The Time Traveler's Wife
The Night Circus pulls you into a world as dark as it is dazzling, fully-realized but still something out of a dream. You will not want to leave it

Téa Obreht, author of The Tiger's Wife
Pure pleasure... Erin Morgenstern is a gifted, classic storyteller, a tale-teller, a spinner of the charmed and mesmerizing - I had many other things I was supposed to be doing, but the book kept drawing me back in and I tore through it. You can be certain this riveting debut will create a group of rêveurs all its own

Aimee Bender, author of The Particular Sadness of Lemon Cake
Every once in awhile you find a novel so magical that there is no escaping its spell. The Night Circus is one of these rarities - engrossing, beautifully written and utterly enchanting. If you choose to read just one novel this year, this is it

Danielle Trussoni, author of Angelology
'Dark as soot and bright as sparks,' The Night Circus still holds me willingly captive in a world of almost unbearable beauty. This is a love story on a grand scale: it creates, it destroys, it ultimately transcends. Take a bow, Erin Morgenstern. This is one of the best books I have ever read

Brunonia Barry, author of The Lace Reader
The Night Circus is a gorgeously imagined fable poised in the high latitudes of Hans Christian Anderson and Oscar Wilde, with a few degrees toward Hesse's Steppenwolf for dangerous spice. The tale is masterfully written and invites allegorical interpretations even as its leisurely but persistent suspense gives it compelling charm. An enchanting read

Katherine Dunn, author of Geek Love
This 19th-Century Anglo-American costume drama about two star-crossed lovers in a fantastical travelling circus is as dreamlike and magical as its setting

Guardian
I'm not often lost for words, but I'm struggling to find the words to describe just how good this book is and how it made me feel, so I'll just say this: if you are only able to read one book for the rest of your life, make sure it is The Night Circus. You won't regret it

The Book Bag
This must be one of the most beautiful novels of the year. Its die-cut cover, black-edged pages and intricate endpapers attest to the publisher's hopes that Erin Morgenstern's magically minded debut will secure the vast audience left bereft by the conclusion of the Harry Potter chronicles

Observer
Dark and dreamy; a captivating love story

Stylist Magazine
Dazzling

Marie Claire
Lushly imagined, extremely charming and very, very readable

Scotland on Sunday
Morgenstern displays a conjurer's dexterity as she develops her tale, and you'd need a heart of stone not to melt at the melodramatic denouement

Daily Mail
The narrative is deft and satisfying, and the author's talent is intriguing

Times Literary Supplement
Enchanting, and affecting... I was compelled by the world itself - by its saturated colours and textures, its unexpected smells and tastes. It is a surprisingly rare thing in fiction - a strikingly beautiful world, in spite of its darkness

Claire Messud, Guardian
Morgenstern's writing, when it comes to magical creations, is delectable, addictive stuff...[it] leaves a tang of smoky caramel in the air as it ends, and an undeniable urge to go to the circus

Sunday Times
The only response to this novel is simply: wow. It is a breathtaking feat of imagination, a flight of fancy that pulls you in and wraps you up in its spell

The Times
Charming, magical, mysterious, enthralling

Daily Mirror
Deliciously inventive... Don't imagine this is a light, frothy tale. For all her humorous touches, Morgernstern...has produced something darker than night

Mary Crockett, Scotsman
A beguiling, gripping read... Morgenstern has crafted a thrilling and transporting tale

The Economist
Lush, evocative, dreamlike...a magical, coming-of-age story

Sunday Times
Extraordinary, atmospheric, a mind-spinning story

Woman & Home
An extraordinary blend of dream and nightmare will take you on a magical journey

Viv Groskop, Red Magazine
This week's hot read...I loved this book and didn't want it to end... Totally absorbing and beautifully descriptive, it created a whole world I couldn't help but get lost in, especially the slow-burning love story between the two main characters, who are both sorcerers

Deborah Hughes, Woman Magazine
Enter the magical world of a mysterious travelling circus

Heat
The new One Day... Erin Morgenstern is the talk of the literary world and we hear The Night Circus will be the next big thing. Set in a mysterious, monochrome circus the book centres on two young magicians who begin to fall in love

Claire Williams, Essentials
Fantasy blends seamlessly with reality and I ended up having to use words like this: enchanting

Kate Saunders, Saga Magazine
Erin Morgenstern's astonishingly vivid imagination made the unbelievable believable...in other words I fell for it all... There is illusion and delusion, shape-shifting, manipulation and deceit, misdirection and more often than not all is definitely not what it seems as the story unfolds, and if you are as unforgiving as I am of entire books written in the present tense, in this case, as you read you will see why it is necessary. The present tense embraces shifting time whether past or future, it is actually always the present ..see I can hardly make sense of it myself, you need to read it to see how well it works. And yes, I was enchanted, and I did run away with the circus as young Bailey does, and as I closed the book of course I came back to reality gently wondering whether I was supposed to be thinking, how long before Bailey meets Mr Barnum

Dovegreyreader
An enchanting tale of forbidden love, set against the spectacular backdrop of the circus

Press Association
A recommendation by Audrey Niffenegger...should ensure this amazing debut novel gets the attention it deserves

Viv Groskop, Voyager
Fantasy lovers, here comes Harry Potter for grown-ups... The story is already en-route to Hollywoood so snap up the original tale first

Claire Rees
It is rich, evocative, compelling, enchanting, whimsical, breath-taking, playful, imaginative, marvellous, and quite simply beautiful in every single way. I love it

Emily Hirschmann, Pocketful of Rye
An epic fantasy novel, which will leave you craving a sequel. Morgenstern creates an entire world of mystery and wonder. With complex and intriguing characters, an interwoven and completely satisfying storyline, and unrivalled imagination bursting through the seams, The Night Circus ticks all the right boxes, and guarantees to keep you captivated and mesmerised from the first page to the last.

Lauren Molyneux, Live Magazines
A novel whose rapt chronicling of the adventures of a band of dreamers as they followed a magical travelling circus earned favourable comparisons to Susanna Clarke's Jonathan Strange & Mr Norrell, Ray Bradbury's Something Wicked This Way Comes, and JK Rowling's various accounts of the fortunes of Harry Potter

Sunday Times
A novel whose rapt chronicling of the adventures of a band of dreamers as they followed a magical travelling circus earned favourable comparisons to Susanna Clarke's Jonathan Strange & Mr Norrell, Ray Bradbury's Something Wicked This Way Comes, and JK Rowling's various accounts of the fortunes of Harry Potter

Sunday Times
Article
Witchy YA reads for your Halloween TBR
Halloween's almost here, and the witching hour is upon us! We're stacking our TBR pile high with spooky, scary reads to get us into the Halloween mood before the 31st.