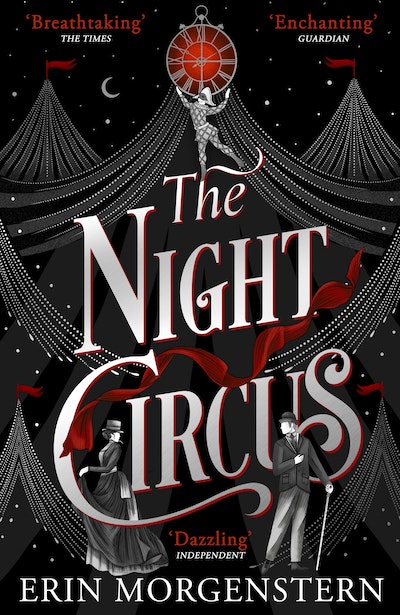 Published:

3 October 2011

ISBN:

9781446468265

Imprint:

Vintage Digital

Format:

EBook

Pages:

528
The Night Circus
---
---
---
A feast for the senses, a fantasia of magic, mischief and love, The Night Circus is an extraordinary blend of fantasy and reality that will dazzle readers young and old.
The circus arrives without warning. It is simply there, when yesterday it was not. Against the grey sky the towering tents are striped black and white. A sign hanging upon iron gates reads:Opens at Nightfall Closes at Dawn
As dusk shifts to twilight, tiny lights begin to flicker all over the tents, as though the whole circus is covered in fireflies. When the tents are aglow, sparkling against the night sky, the sign lights up:
Le Cirque des Rêves The Circus of Dreams
The gates shudder and unlock, seemingly by their own volition. They swing outward, inviting the crowd inside.
Now the circus is open. Now you may enter.
Discover this amazing fantasy read with a different kind of magic.The Starless Sea, the second novel from the author of the The Night Circus, is out now.'The only response to this novel is simply: wow. It is a breathtaking feat of imagination, a flight of fancy that pulls you in and wraps you up in its spell' The Times
Published:

3 October 2011

ISBN:

9781446468265

Imprint:

Vintage Digital

Format:

EBook

Pages:

528
Praise for The Night Circus
Pure pleasure...Erin Morgenstern is a gifted, classic storyteller, a tale-teller, a spinner of the charmed and mesmerizing - I had many other things I was supposed to be doing, but the book kept drawing me back in and I tore through it. You can be certain this riveting debut will create a group of rêveurs all its own.

Aimee Bender, author of The Particular Sadness of Lemon Cake
A riveting debut. The Night Circus pulls you into a world as dark as it is dazzling, fully-realized but still something out of a dream. You will not want to leave it.

Téa Obreht, author of The Tiger's Wife
Every once in awhile you find a novel so magical that there is no escaping its spell. The Night Circus is one of these rarities - engrossing, beautifully written and utterly enchanting. If you choose to read just one novel this year, this is it.

Danielle Trussoni, author of Angelology
'Dark as soot and bright as sparks,' The Night Circus still holds me willingly captive in a world of almost unbearable beauty. This is a love story on a grand scale: it creates, it destroys, it ultimately transcends. Take a bow, Erin Morgenstern. This is one of the best books I have ever read.

Brunonia Barry, author of The Lace Reader
The Night Circus is a gorgeously imagined fable poised in the high latitudes of Hans Christian Anderson and Oscar Wilde, with a few degrees toward Hesse's Steppenwolf for dangerous spice. The tale is masterfully written and invites allegorical interpretations even as its leisurely but persistent suspense gives it compelling charm. An enchanting read.

Katherine Dunn, author of Geek Love
This 19th-Century Anglo-American costume drama about two star-crossed lovers in a fantastical travelling circus is as dreamlike and magical as its setting

Guardian
I'm not often lost for words, but I'm struggling to find the words to describe just how good this book is and how it made me feel, so I'll just say this: if you are only able to read one book for the rest of your life, make sure it is 'The Night Circus'. You won't regret it

The Book Bag
The Night Circus made me happy. Playful and intensely imaginative, Erin Morgenstern has created the circus I have always longed for and she has populated it with dueling love-struck magicians, precocious kittens, hyper-elegant displays of beauty and complicated clocks. This is a marvelous book.

Audrey Niffenegger
Article
Witchy YA reads for your Halloween TBR
Halloween's almost here, and the witching hour is upon us! We're stacking our TBR pile high with spooky, scary reads to get us into the Halloween mood before the 31st.