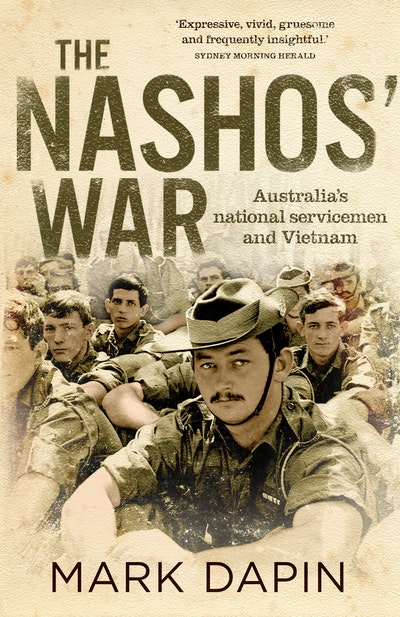 Published:

17 July 2017

ISBN:

9780670078622

Imprint:

Penguin

Format:

Paperback

Pages:

480

RRP:

$24.99
The Nashos' War: Australia's national servicemen and Vietnam
---
---
---
The untold story of the ordinary Australians conscripted to fight in our most controversial war, by one of our most celebrated journalists.
On 10 March 1965, the first nasho's birthdate was drawn from a lottery barrel at the Department of Labour and National Service in Melbourne. Over the next seven years, a total of 63740 young Australian men would be drafted into the army and face the prospect of being sent to war.
The nashos came from all walks of life: plumbers and dentists, footballers and musicians, Christians and Jews, willing and unwilling. Some spent their two years square-bashing in Singleton. Others went to Vietnam to fight – and die – in Australia's bloodiest battles, including the slaughter at Long Tan.
But our ideas of national service contain strange contradictions and inaccuracies: that the draft was unpopular but militarily necessary; that the nashos in Vietnam all volunteered to go to war; and that they were met by protesters and demonstrations on their return to Australia, rather than the huge welcome-home parades reported at the time.
Here, Mark Dapin dramatically deconstructs the folklore of Vietnam and national service. Drawing on the accounts of over one hundred and fifty former national servicemen, The Nashos' War tells a vastly more personal and nuanced story of national service and Australia's Vietnam War than that previously heard. Most powerfully, it records with extraordinary intensity what it was like to be a bank clerk one day, and fighting for your life in the jungles of Vietnam soon afterwards.
Published:

17 July 2017

ISBN:

9780670078622

Imprint:

Penguin

Format:

Paperback

Pages:

480

RRP:

$24.99
FAW Award
Highly commended • 2014 • Non-Fiction
Waverley Library Award for Literature
Winner • 2015 • People's Choice
CHASS Australia Prize
Longlisted • 2015 • Book Award
NSW Premier's Literary Awards
Shortlisted • 2016 • Douglas Stewart Prize for Non-Fiction