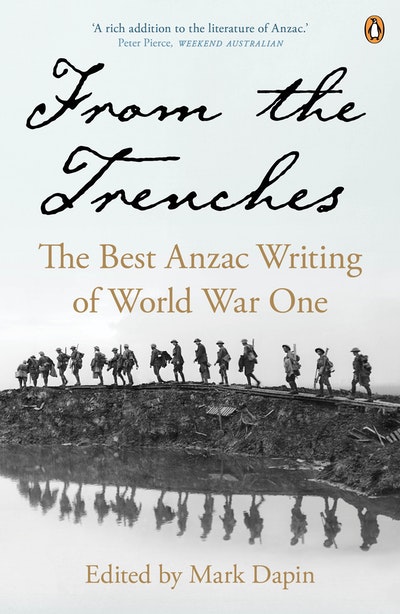 Published:

20 November 2013

ISBN:

9781743483121

Imprint:

Penguin eBooks

Format:

EBook

Pages:

230
From the Trenches
The Best Anzac Writing of World War One
---
---
From the Trenches is the definitive collection of World War One writing from Australia and New Zealand, a literary journey from the optimistic farewell parades of 1914 to the grim battlefields of Gallipoli, the Middle East and the Western Front.

Others have written the myth, but the Anzacs themselves wrote their stories.
Around the country, bronze soldiers in slouch hats stand silently at attention. It is the Anzacs' remarkable writing that reveals the lives behind the national legend. From the Trenches is a collection of gripping, awe-inspiring and sometimes terrifying accounts of life at the front, recorded by those who lived through the fighting.
Drawn from diaries, memoirs and letters, as well as poetry, reportage and prose, this collection reminds us that the Anzac legend is rooted in real and tragic circumstances on a heartbreakingly human scale. Belying the common perception of the laconic digger, these compelling voices convey the range of wartime experience, from the desolation and horror to the unbridled excitement and camaraderie. Through it all runs the bleak toll on young lives.
Author and journalist Mark Dapin has selected writing from those on the frontlines as well as behind the scenes, from officers and soldiers to nurses, engineers and reporters, to create a volume that will be regarded as the definitive record of the personal experiences that forged the emerging national identities of Australia and New Zealand.
'This is one of the finest collections of war writing assembled, astutely analysed and sensitively compiled.' Weekly Times

'Bloodlust, fury and despair ping off the pages, in poetry and prose.' Courier-Mail
'A fine, judicious and moving selection . . . a rich addition to the literature of Anzac.' Weekend Australian
'Mark Dapin's writing in this field is second to none.' Weekly Times Now
'A gem of a collection.' South Coast Register
'A book for those who want to feel, see and smell the war through the eyes of those who were there.' Brisbane News
'No history book can bring these tragic events to life as graphically or as honestly as these men's own accounts . . . a must-read for anyone who wants to delve more deeply into the Anzac legend.' Toowoomba Chronicle
Published:

20 November 2013

ISBN:

9781743483121

Imprint:

Penguin eBooks

Format:

EBook

Pages:

230