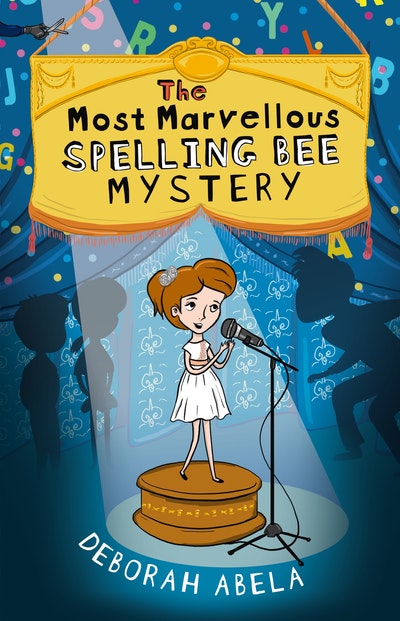 Published:

30 April 2018

ISBN:

9780143786696

Imprint:

Random House Australia

Format:

EBook

Pages:

288
The Most Marvellous Spelling Bee Mystery
---
---
---
India Wimple is off on another splendid spelling adventure!
India never wanted to enter the Stupendously Spectacular Spelling Bee, but with the encouragement of her town, her family and some newfound friends, she overcame her fears, made it all the way to the grand final at the Sydney Opera House and won!
Now that life is returning to normal, a special delivery arrives in Yungabilla, inviting India to the UK for the Stupendously Spectacular International Spelling Bee. But how can India go without her whole family by her side? The Yungabilla community might have a solution!
In London, India is reunited with her friend Rajish and a much more pleasant Summer. They meet new spellers, and are invited to Buckingham Palace to meet the Queen.
But there is skulduggery afoot, with some rather mysterious goings-on and a series of accidents that seem to be not so accidental after all. They get so dangerous, in fact, that there is talk of cancelling the competition altogether.
India and her friends are determined to find out who the culprit is and get the competition back on track. There are words to be spelled, nerves to be overcome, and a champion to be found!
Published:

30 April 2018

ISBN:

9780143786696

Imprint:

Random House Australia

Format:

EBook

Pages:

288
Praise for The Most Marvellous Spelling Bee Mystery
A story filled with words to spell, great friendships and of course a mystery to solve. You will be turning the pages to find who wants the competition cancelled, and whether India and her friends can save the day.

Vicki Thornton, Magpies
With incredible insight into the lives of children, Deborah Abela has crafted an engaging, unputdownable story that weaves the lives of India, Holly and Peter together as well as the familiar faces of Rajish and Summer as they compete while trying to get to the bottom of some mysterious mishaps ... Being able to put yourself in the shoes of the characters is the most important way to ensure the page is turned to see what happens to them and Abela has the ability to do this in spades.

Barbara Braxton, Teacher Librarian, thebottomshelf.edublogs.org
Themes of friendship, confidence and self-belief, encouragement and overcoming insecurities, are the building blocks of this excellent, well-crafted middle grade novel. The fantastic characters sparkle with individual characteristics that endear them to the reader. Subtle emphasis is given to the importance of learning language and knowing how to use it well, which is what Deborah Abela has done with finesse.

Anastasia Gonis, kids-bookreview.com
This is a story that's less about a spelling bee, and more about friendship, and standing up for one another, and most importantly standing up - and believing in - yourself.

Verushka Byrow, Reading Time
India is one of those great characters who wins your heart and stays with you . . . Kids who enjoy solving problems will relish this book. Kids who look for "something funny" will definitely find it here in Abela's spot-on descriptions of life in our society, and adore the often slap-stick humour. Above all this is a feel-good story with a universal appeal, and I believe it will fly off library shelves.

thebookchook.com