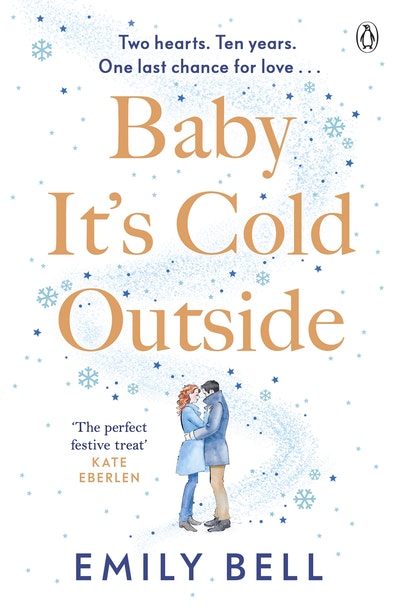 Published:

25 November 2021

ISBN:

9781405950305

Imprint:

Michael Joseph

Format:

Paperback

Pages:

352

RRP:

$22.99
Baby It's Cold Outside
The heartwarming and uplifting love story you need this Christmas
Extract
1. I've Got My Love to Keep Me Warm
Saturday, 14 December 2019
There aren't many rules of singlehood, but I have made a few for myself in the two (if anyone asks, but really it's four) years in which I've been single. One: make sure you have somewhere to go for Christmas at least two months in advance. Two: make an effort with your family, even if they drive you mad. Oh, and three: never dump your female friends for a better offer. Unfortunately, all these rules seem to be news to my mum, who dumps me for Christmas a week and a half before I'm due round hers.
It's five o'clock on a chilly, sleety day, looking almost as if it might snow, though, typically for London, it won't commit. I've braved the West End to do some last-minute shopping and I'm in Fortnum & Mason buying some of their special lemon biscuits for my mum. She'll complain about how overpriced they are, but I know she loves them really – which I think sums up our relationship. I'm wondering whether to add some Lady Grey tea when I hear my phone and see that it's her. I hate talking in shops so I'm tempted to ignore it, but I don't ever do that because you never know when it might be your last chance to speak to someone.
'Hi, Mum,' I say, edging to the least busy corner and lowering my voice. The place is packed with Christmas shoppers going nuts over the festive treats: boxes of Turkish delight, turquoise tins of biscuits and macaroons, and gleaming rows of champagne and sparkling wine. With its deep red carpets, swags of greenery hung on all the mantels and its central staircase sparkling with giant gold baubles, it's like a Victorian Christmas card come to life. Choral music is mingling with the hum of conversation, and there's a scent of tea and gingerbread from the café downstairs. I'm feeling pretty festive – or I am until I hear her next words.
'Hi, darling, can you talk? It's about Wednesday week.'
'Wednesday week. As in Christmas?'
'Yes. Christmas. Here's the thing . . .' There's a clatter in the background; I can picture her wiping down her kitchen counter and making a cup of tea while talking on her headphones, still in her tracksuit bottoms from a long muddy walk. My mum believes in keeping busy and rarely calls me without taking care of some other task at the same time. 'I was wondering if we could actually rethink our plans? Something's come up. I know it's a pity, but we could always do something the week after?'
'You mean the week after Christmas? Really? What's come up?' I teach music at a secondary school, and I'm crawling towards the end of term next Friday.
'Well, I know you're going to think it's ridiculous. But you know that incredible woman whose book I read, who travelled around South America and had the visions . . .'
'And did all the drugs?'
'Not drugs, just ayahuasca, which is very different. It's more of a spiritual experience. Anyway, you'll never believe it, but she's here in the UK, and she's running a Yule retreat – a four-day self-healing immersion experience! In Herefordshire, fully catered.'
'With drugs?'
'There will be ayahuasca, but it's much more than that. Darling, I am really sorry to renege on our plans. But I feel this is exactly what I need – after this year.'
With those words, I know she's got me. I can't object to anything she does after this year. She got made redundant from her job as a PA in a travel company, aged fifty-nine: replaced by a twenty-two-year-old intern who can also explain the difference between Instagram reels and stories, for half the wages. She was understandably very cut up. So I want to be supportive. But I really, really wish she could have decided this sooner and given me and my brother time to form a plan B. Unless he already has one, of course.
'What about Miles?' I ask.
'Oh, he's going to his girlfriend's. It was no problem, so you don't have to worry about him. I called him just now.'
'That's a relief,' I say, sarcastically.
'You don't have to be like that, darling – I had to call him first; he is the youngest. You know, a trip like this could be just the thing you need, too.'
Now I'm confused; is she offering for me to come with her? It sounds all kinds of awful but maybe it could be a bonding experience of some sort. 'Do you mean you'd like me to come too? What's the accommodation like?' I ask, wondering if there's any conceivable way I could come with her and hide in my room with a book.
'I'm afraid not, darling. I got the absolute last space – it was a freebie from the lady herself, and I feel I can't turn it down.'
'OK.' Well, at least I don't have to weigh up the pros and cons of taking ayahuasca. I take a minute instead to absorb the fact that my mum would rather spend Christmas with a bunch of strangers than with me. Is it me? Is it something I've done – have I not called her enough, or been around to visit as often as I should? And then the worst thought of all: this wouldn't be so bad if only my dad were still around. I can remember Christmas time with him and how special it was, even when we weren't together on Christmas Day itself after my parents split. He decided early on that, rather than a second sad turkey dinner with me and Miles, the best approach was for our Christmas celebration with him to feel grown-up and sophisticated. A stroll along the South Bank and a hot chocolate at the BFI café before watching a matinee showing of It's a Wonderful Life. Or dim sum in Chinatown, followed by an afternoon browsing in Foyles bookshop, and going home with a stack of new paperbacks. I hope he knew how much I loved those non-Christmas Christmases. He died six years ago when I was twenty-six, and my parents split up when I was twenty, so there weren't very many of them: three, to be precise.
'Well, I hope you have a nice time, if this is what you want to do,' I say to Mum. 'I'll stay at home. I'll be fine,'
I add, in case she wondered.
'Darling . . . thank you for understanding. I do feel awful about it, though. So here's what I'd like to do. I'm going to share my air miles with you, for your Christmas present – you can fly anywhere in the world that you like. My treat.'
What a heartwarming gift from mother to daughter: you can go anywhere in the world you like – except my house. But I can't be too angry with her. She's not really a textbook narcissist, as my friend Kiran once claimed after too many red wines: she's just busy with her own life. And it's made me resilient. This is disappointing, but I will cope. I'm thirty-two, not twelve: I can spend a Christmas alone.
'That's nice of you, Mum, but I don't need to get on a plane. I'll hang out here.'
'What about . . .' Mum's voice pauses as we skip over the missing option, the one we never mention: Dad.
'What about your friends? I bet you can do something with them. What's Caroline doing? You've always wanted to do Christmas with friends, haven't you – it
could be really great fun!'
Now I'm annoyed. I can accept her changing the plans. But I'm not prepared to be told that she's doing me a favour by cancelling our Christmas.
'It's fine. Look, I'm next in the queue. I'll call you later.' I hang up and put the biscuits back – I won't be able to get to the post office in time to send them – and start walking towards the door. Ella Fitzgerald is playing now, singing that she has her love to keep her warm. There's a German couple in front of me, wearing matching parkas, having a debate over different boxes of macaroons. A young mum with a baby in a sling is standing in front of the hamper selection, gazing at different options while she rests her chin on the baby's head. I push my way outside towards the exit and start walking towards the tube.
And then it happens; a wash of sadness descending over me from nowhere. Like in the early scenes of The Wizard of Oz, the angel lights and festive colours of Piccadilly drain away, and everything is grey and cold. The ground seems to be slipping away from under my feet. Christmas is the least of my worries, really. I could stay home and watch Doctor Who, or volunteer somewhere, or maybe go to Javier and Paul's. But I can't help thinking; when will it be my time? When will I be at the centre of my own life instead of on the fringes of everyone else's? A lump grows in my throat, and I'm terrified that I'm going to cry. I hate crying and never, ever let myself do it. I'm about to go down the steps of the tube, when I realize what I've been listening to – what the busker beside the entrance has been singing for the past few minutes.
It's 'River' by Joni Mitchell. I haven't heard this song or thought about it in years. I stopped listening to it because it made me think of him: the only person I knew who loved it as much as I did. The busker's voice sounds Irish, and for a mad second I wonder: could it be him? I push through the crowd on the edge of Regent Street to see – but of course it's not him. This guy is blond and tanned, not dark-haired and pale. I don't know where in the world he is now, but wherever he is I am pretty sure he's no longer busking. And anyway, he never sang. He played the guitar, while I sang.
I stand, listening to the music with the crowds passing around me, until I can't listen any more. I throw a few pound coins in the busker's hat, without meeting his eye, and start walking again. I don't feel like going home to my empty flat yet; I'm sad and restless and troubled by old memories that should be long forgotten. So I turn away from the tube and I find myself drifting along Rupert Street and through Soho, looking at all the strangers laughing and chatting through the steamy windows, stepping over the puddles, lit up by neon lights and filament bulbs. A Big Issue seller offers me a copy of the Christmas edition. I buy it, looking at the date. December 2019. I remember sitting opposite him at that café in Italy, when he said: If you come to Dublin, in ten years' time, I'll be there to meet you . . . I'll see you at six o'clock outside Bewley's Café on Grafton Street, on Christmas Eve.
That was ten years ago, hard though it is to believe. The year 2019 seemed so far off, almost futuristic, when he first suggested it a decade ago, but the years flew by, and now it's here. Not that I'd expect him to remember. I had almost forgotten myself, until I realized, back in January, that it had finally rolled around. But I had other things on my mind, and my days were all full – until now.
I take out my phone, wondering who I could talk to for a boost. I am lucky: I know I can call Caroline or Kiran at any time. We've been friends since we were fifteen. If I had a body to hide, I know that Kiran would be there with a shovel. And Caroline would supply a blanket, a flask of tea and probably a podcast that would validate my feelings about it. But I don't want to talk about the memories that the song's brought flooding back. Or about my mum's decision to cancel on me. I don't want them to think that I'm inviting myself to spend Christmas with either of them – both of them
have plans already, made with their husband and boyfriend, respectively. And I know they wouldn't like me to feel alone, but I'd rather talk to someone who understands what it's like to make all your own decisions all the time, and be responsible for yourself and no one else.
It's starting to rain again – a cold, thick rain, almost sleet. I've ended up in Bloomsbury Square, near the bowling alley. Coming out of my reverie, I see that I've walked all the way to my friend Joe's place, following a familiar path like a car on a GPS route. This route – from Soho to his flat – is one I must have taken several hundred times, either just with Joe or more often with our group of friends. No wonder I wandered here without thinking. His light is on; thank God. He's the person I most want to talk to right now, and how much nicer to see him in person than have to call or text. I take out my phone and dial his number.
---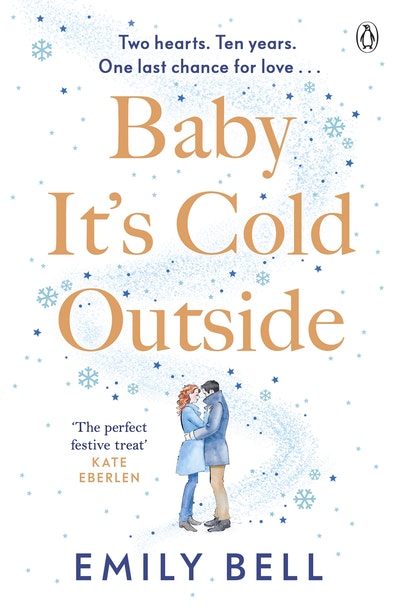 Ten years ago Norah and Andrew promised to meet on Christmas Eve if they're still single. Now the time has come, but will Andrew be waiting there for her?
Buy now
Buy now
---