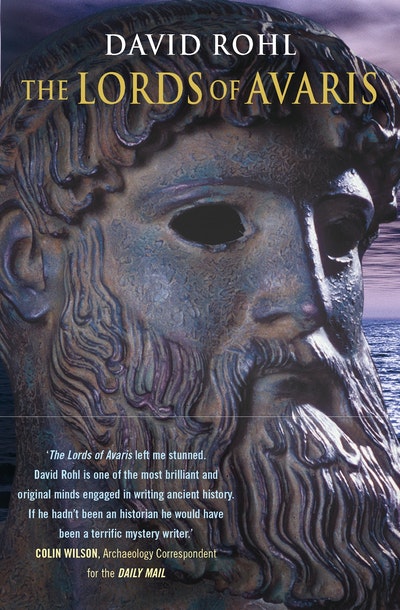 Published:

1 February 2011

ISBN:

9781407010922

Imprint:

Cornerstone Digital

Format:

EBook

Pages:

720
The Lords Of Avaris
---
---
---
The Lords of Avaris will transport you into the real world of Greece's legendary Heroic Age
The Lords of Avaris is one man's journey in search of the legendary origins of the Western World.
Our story begins in a small rock-cut tomb below the desolate ruin-mound of Jericho in the Jordan Valley. This is the start of an epic journey of discovery, in the Homeric mould, which ranges across the ancient lands and archaeological sites of the Mediterranean. From Joshua's Jericho to Romulus' Rome, the true chronicle of our pre-Christian past is uncovered revealing an extraordinary historical picture, previously unimagined by scholars.
The epic legends of the West, which permeate the writings of Greece and Rome, appear to have been based on the exploits of genuine historical figures and actual events. There really was an 'Heroic Age' of brazen-clad warriors, the last of which fought before the walls of Troy, just as described in Homer's Iliad.
At the beginning of the Middle Bronze Age - two thousand years before the assassination of Julius Caesar in the Roman Senate - a new people appeared on the stage of history to join the great civilisations of Mesopotamia and Egypt. These 'Indo-European'-speaking tribes were chariot-riding warriors from the northern mountains and plains. They became the Hittites, the Aryan kings of Mitanni, the Vedic heroes of the Indus, and the founders of the later empires of Greece, Persia and Rome. They had many legendary names - the Divine Pelasgians of Greece, the Luwians of Troy and western Anatolia, the Rephaim and Anakim of the Bible, and the Hyksos rulers of Avaris who suppressed Egypt for generations. Their heroes and heroines are legionary: Inachus, mythical king of Argos in the Peloponnese; his daughter the beautiful Princess Io who married an Egyptian pharaoh; Danaus, the Hyksos ruler who, fleeing from Egypt to Greece, founded the Mycenaean dynasty which culminated in Agamemnon's ill-fated Trojan War; Cadmus, the bringer of writing to the West; Minos, the Cretan high-king of Knossos who built the infamous Labyrinth; Mopsus, warrior and sage who led a vast Greek, Philistine and Anatolian army into the Levant in a daring attempt to seize Egypt in the time of Ramesses III. All these, and more, are the stuff of legend - but The Lords of Avaris reveals these Classical heroes as flesh-and-blood characters from our ancestral past.
Published:

1 February 2011

ISBN:

9781407010922

Imprint:

Cornerstone Digital

Format:

EBook

Pages:

720
Praise for The Lords Of Avaris
It is refreshing to find an approach that genuinely seeks to see the 'big picture'. The book is extremely well-produced. It is an intriguing thesis'

Ancient Egypt
A scholarly and persuasive account.

The Good Book Guide