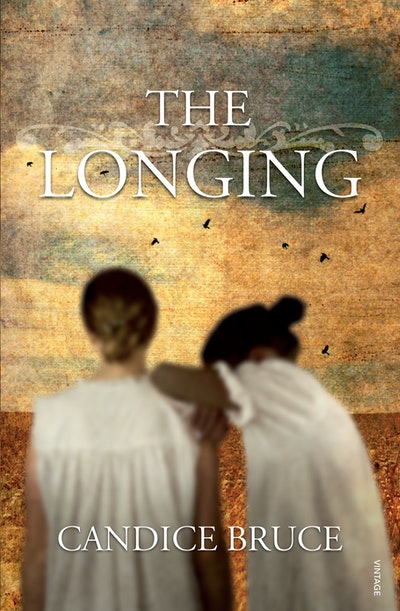 Published:

1 February 2012

ISBN:

9781864712704

Imprint:

Vintage Australia

Format:

Trade Paperback

Pages:

368

RRP:

$32.99
The Longing
---
---
---
One of the most extraordinary novels to come out of Australia in recent years. Norman Swan, Late Night Live
In Australia in the 1840s, the lives of two very different women intersect. Ellis MacRorie is shipped to Victoria from her Scottish homeland by her bankrupt father; Leerpeen Weelan, her Aboriginal servant known as Louisa, has lost her tribe in a bloody act of violence.
'That my country, belong to me. Over there. This not my country,' says Louisa.Ellis feels the ache in the words, the longing, and she looks into the distance. She feels something stir within herself too. Memories of the land she has left, of the people.
Forced to marry a man she does not love, and isolated from all society, Ellis is resigned to a solitary life on the remote Western District homestead of Strathcarron. After the tragic death of two babies, she is ready is give up altogether. Although Louisa has endured dispossession and the loss of her own family, she becomes a steadfast source of guidance, friendship and strength for Ellis. When the American Romantic landscape painter, sketcher and collector Sanford P. Hart comes to stay at Strathcarron, the two women are transformed forever - in both enriching and devastating measures. One hundred and fifty years later, ambitious assistant curator Cornelia, researching an exhibition on S. P. Hart for the National Gallery of Victoria, makes a remarkable discovery that has the potential to rewrite history. However, it is not Hart's paintings that offer a glimpse into the untold events of nineteenth-century rural Australia, but rather something very rare . . .
The Longing is a novel about loss, finding home and the significance of history - what is recorded and what is left unknown.
Published:

1 February 2012

ISBN:

9781864712704

Imprint:

Vintage Australia

Format:

Trade Paperback

Pages:

368

RRP:

$32.99
One of the most extraordinary novels to come out of Australia in recent years

Norman Swan, Late Night Live
As a first novel, The Longing is an impressive foray into literary fiction. Bruce deftly weaves concurrent narratives crossing time, culture and history around the central theme of loss. If you're an aficionado of Australian art history or a keen gallery goer, or just simply on the lookout for a decent read with good writing and plot, then this is the book for you. I'm sure we'll be reading more by Candice Bruce in the near future.

Julia Jackson, Readings Monthly
It's the characters who tell her story and they are revealed for all their vulnerability, resilience and emotion. Probing courage, loss and friendship, The Longing is a powerful and persuasive examination of the importance of history with regard to what is told, what is known, what is contrived and unknown.

Michael Jacobson, Weekend Gold Coast Bulletin
Australian art historian Bruce's debut novel is a compelling read. In 1855, the enigmatic landscape painter Sanford P Hart walks into the isolated rural homestead of Mrs Ellis MacRorie, a young woman yearning for a different life and whose only friend is her Aboriginal maid, the formidable Louisa. More than 150 years later, while cataloguing Hart's paintings Cornelia Bremer unearths works that astound the art world.

Four Stars, Who Weekly
A remarkably good first novel which is fascinating to read.

Lisa Hill, ANZ LitLovers
I absolutely loved the story and the writing. And it wasn't just my keen interest in art that had me taken in. I really enjoyed the development of the characters and the building excitement of the discovery of the new works, and of the identity of the Portland painter. It is perfect for reading groups.

Stef Hoy
Brilliantly written by art historian and curator Candice Bruce who uses her vast knowledge to build this evocative story.

Glen Williams, Woman's Day
It's a compelling read, and the accuracy reflects the author's 30-year research into this era of Australia art history.

Claudia Hyles, Canberra Times