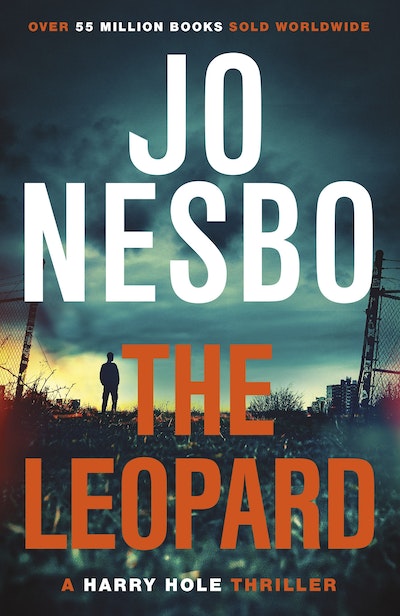 Published:

1 March 2011

ISBN:

9781407086071

Imprint:

Vintage Digital

Format:

EBook

Pages:

752
The Leopard
The twist-filled eighth Harry Hole novel from the No.1 Sunday Times bestseller
---
---
---
A heart-stopping thriller from the international crime fiction star

Love twist-filled crime? The Leopard is your next perfect read.
'A cracking good thriller...that will keep you gripped to the last page' Guardian
In the depths of winter a killer stalks the city streets. Two women are found drowned in their own blood. A third woman is hanged from a diving board.
You have allowed this killing to go on.
The crime scenes offer no clues, the media is reaching fever pitch, and the police are running out of options.
It's time this was stopped.
There is only one man who can help them catch the killer. But Inspector Harry Hole doesn't want to be found.
...Because I have appointed the next victim.
*JO NESBO HAS SOLD 50 MILLION BOOKS WORLDWIDE*
*Watch out for The Kingdom, the new Jo Nesbo thriller, out now*
Published:

1 March 2011

ISBN:

9781407086071

Imprint:

Vintage Digital

Format:

EBook

Pages:

752
Other books in the series
Comparisons with Stieg Larsson have been made, but Nesbo's plots move quickly, carry more punch, and really do keep you guessing to the final page

Daily Mirror
A cracking good thriller...that will keep you gripped to the last page

Guardian
Outstanding... Probably the best big crime novel you could lay your hands on this year

BBC Radio 4
Nesbo's novels keep going when you think there can't be any more twists to follow. Scenes switch from the avalanche-threatened ravines and mountain cabins of back-country Norway, close to oil-rich Stavanger and metropolitan Oslo, to an active volcano in Africa

Times Literary Supplement
Original Norwegian noir...absorbing

Tom Huddleston, Time Out
So is The Leopard as good as The Snowman? In my opinion it's better. More layered with more suspicious characters, red-herrings and locations than ever before

Eurocrime blog
Will keep you guessing until last page

Best
The Leopard once again proves his undoubted talents for crime fiction with a Scandinavian setting

Press Association
If you like detective fiction, you'll love this

Irish Independent
Nesbo is such a terrific action writer

Daily Telegraph
Jo Nesbo is the latest buzz word in crime writing

Stylist
A meaty and ambitious novel that fully justifies the cover's claim that Nesbo is the most credible contender to inherit the mantle of 'the next Stieg Larsson'

Irish Independent
A nice fat page-turning thriller

Nicholas Bagnall, Telegraph
Gruesome and compelling

Evening Standard
Norwegian star Jo Nesbo has obliterated most of his Scandinavian rivals in the bestseller stakes, with The Leopard published in paperback this week... The uncrowned king of Norwegian crime fiction is Jo Nesbo. Books such as The Redbreast (2000) and his imposing novel The Snowman have propelled Nesbo to the heights. Apart from its narrative finesse, his work also provides a coolly objective guide to fluctuations in Norwegian society. There is also a universal feeling that his work is more strikingly individual than that of most of his Scandinavian colleagues... Harry is a lone wolf, a chronic alcoholic separated from his wife and child but in touch with the zeitgeist of his country. And Nesbo gives us a sharp picture of Norwegian society in flux, crammed with relevant detail - as you might expect from an ex-freelance journalist, particularly where the role of the media is described

Barry Forshaw, Independent
Nesbo has a skill for dispatching his victims with increasing inventiveness, and he barely lets you draw breath before delivering a virtuoso torture and death scene in the opening chapter

Shortlist
The plot is intriguing, and Nesbo's writing is as taught as ever

Sunday Times
It's fascinating to discover, from the incident details, what it is like to live for much of the time in a world under snow... Nesbo writes beautifully

Jessica Mann, Literary Review
There are passages [which are] so anatomically gruesome...that they can only be properly read through the gaps between protecting fingers

Prospect
Nesbo's novels keep going when you think there can't be any more twists to follow. Scenes switch from the avalanche-threatened ravines and mountain cabins of back-country Norway, close to oil-rich Stavanger and metropolitan Oslo, to an active volcano in Africa

Times Literary Supplement
There are passages [which are] so anatomically gruesome... that they can only be properly read through the gaps between protecting fingers

Prospect
A cracking good thriller

Guardian
Original Norwegian noir...absorbing

Tom Huddleston, Time Out
Will keep you guessing until last page.

Best
The Leopard once again proves his undoubted talents for crime fiction with a Scandinavian setting

Press Association
If you like detective fiction, you'll love this

Irish Independent
So is THE LEOPARD as good as THE SNOWMAN? In my opinion it's better. More layered with more suspicious characters, red-herrings and locations than ever before

Eurocrime blog
Nesbo is such a terrific action writer

Daily Telegraph
Jo Nesbo is the latest buzz word in crime writing

Stylist
A meaty and ambitious novel that fully justifies the cover's claim that Nesbo is the most credible contender to inherit the mantle of 'the next Stieg Larsson

Irish Independent
A nice fat page-turning thriller

Nicholas Bagnall, Telegraph
Gruesome and compelling'

Evening Standard
Norwegian star Jo Nesbo has obliterated most of his Scandinavian rivals in the bestseller stakes, with The Leopard published in paperback this week...The uncrowned king of Norwegian crime fiction is Jo Nesbo. Books such as The Redbreast (2000) and his imposing novel The Snowman have propelled Nesbo to the heights. Apart from its narrative finesse, his work also provides a coolly objective guide to fluctuations in Norwegian society. There is also a universal feeling that his work is more strikingly individual than that of most of his Scandinavian colleagues...Harry is a lone wolf, a chronic alcoholic separated from his wife and child but in touch with the zeitgeist of his country. And Nesbo gives us a sharp picture of Norwegian society in flux, crammed with relevant detail - as you might expect from an ex - freelance journalist, particularly where the role of the media is described'

Barry Forshaw, Independent
Nesbo has a skill for dispatching his victims with increasing inventiveness, and he barely lets you draw breath before delivering a virtuoso torture and death scene in the opening chapter'

Shortlist
The plot is intriguing, and Nesbo's writing is as taught as ever..."

Sunday Times
gruesome and compelling'

The Scotsman
It's fascinating to discover, from the incident details, what it is like to live for much of the time in a world under snow.... Nesbo writes beautifully

Jessica Mann, Literary Review