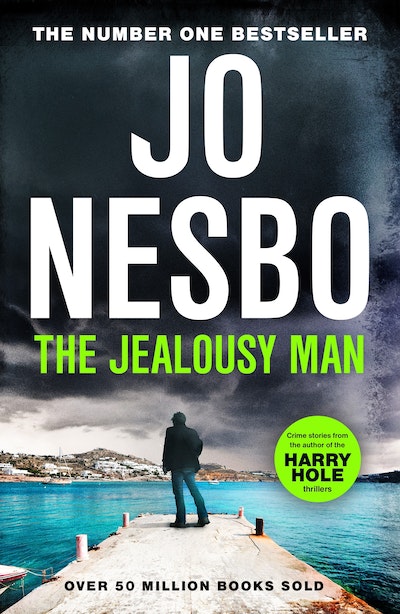 Published:

2 August 2022

ISBN:

9781529115376

Imprint:

Vintage

Format:

Paperback

Pages:

528

RRP:

$22.99
The Jealousy Man
Stories from the Sunday Times no.1 bestselling author of the Harry Hole thrillers
---
---
---
A page-turning collection of dark and twisted crime stories from the international bestselling author of the Harry Hole series.
**THE NO.1 SUNDAY TIMES BESTSELLING AUTHOR**
**Shortlisted for the Crime Writers' Association Dagger Awards 2022**
____________________________________
Murder. Assassination. Revenge.
Discover the first short story collection from the King of Scandi Crime.
Meet a detective on the trail of a man suspected of murdering his twin; a hired assassin facing his greatest adversary; and two passengers meeting by chance on a plane, spelling romance or something far more sinister.
In his first ever collection of short stories, this master of crime delivers a gripping, edge-of-your seat read that you won't be able to put down.
*JO NESBO HAS SOLD OVER 50 MILLION BOOKS WORLDWIDE*
PRAISE FOR JO NESBO:
'A storyteller with few equals' Daily Express
'The king of Scandicrime' Financial Times
'Deliciously dark' Heat
'Nightmare-inducing and terrific' The Times
READERS LOVE JO NESBO:
***** 'Intriguing, mysterious, full of suspense' Netgalley reader
***** 'To say I couldn't put it down is an understatement...' Netgalley reader
***** 'A great read with plenty of twists and surprises' Netgalley read
Published:

2 August 2022

ISBN:

9781529115376

Imprint:

Vintage

Format:

Paperback

Pages:

528

RRP:

$22.99
Praise for The Jealousy Man
The 12 tales in this impressive collection from bestseller Nesbø blend taut suspense with sharply limned characters. /.../ Frederick Forsyth fans will be enthralled.

Publishers Weekly *Starred Review*, US
The 12 tales in this impressive collection from bestseller Nesbø blend taut suspense with sharply limned characters. /.../ Frederick Forsyth fans will be enthralled.

Publishers Weekly *Starred Review*, US
A veritable crime lover's delight from a true master of mystery and suspense. Experience the #1 New York Times bestselling author as never before in this dark and thrilling short story collection that takes us on a journey of twisted minds and vengeful hearts. Jo Nesbø is known the world over as a consummate mystery/thriller writer. Famed for his deft characterization, hair-raising suspense and shocking twists, Nesbø's dexterity with the dark corners of the human heart is on full display in these inventive and enthralling stories. /.../ With Nesbø's characteristic gift for outstanding atmosphere and gut-wrenching revelations, The Jealousy Man confirms that he is at the peak of his abilities.

Bookreporter, US
A veritable crime lover's delight from a true master of mystery and suspense. Experience the #1 New York Times bestselling author as never before in this dark and thrilling short story collection that takes us on a journey of twisted minds and vengeful hearts. Jo Nesbø is known the world over as a consummate mystery/thriller writer. Famed for his deft characterization, hair-raising suspense and shocking twists, Nesbø's dexterity with the dark corners of the human heart is on full display in these inventive and enthralling stories. /.../ With Nesbø's characteristic gift for outstanding atmosphere and gut-wrenching revelations, The Jealousy Man confirms that he is at the peak of his abilities.

Bookreporter, US
Nesbø delivers stories ranging from dystopian visions to time-honored tales of duplicity and revenge. /.../ Nesbø is at his best in the long, wonderfully atmospheric title story, which shows off his gift for pulling one story out of another.

Kirkus Reviews, US
Nesbø delivers stories ranging from dystopian visions to time-honored tales of duplicity and revenge. /.../ Nesbø is at his best in the long, wonderfully atmospheric title story, which shows off his gift for pulling one story out of another.

Kirkus Reviews, US
Nesbø's characteristic gift for outstanding atmosphere and gut-wrenching revelations, The Jealousy Man confirms that he is at the peak of his abilities.

Bookreporter, US