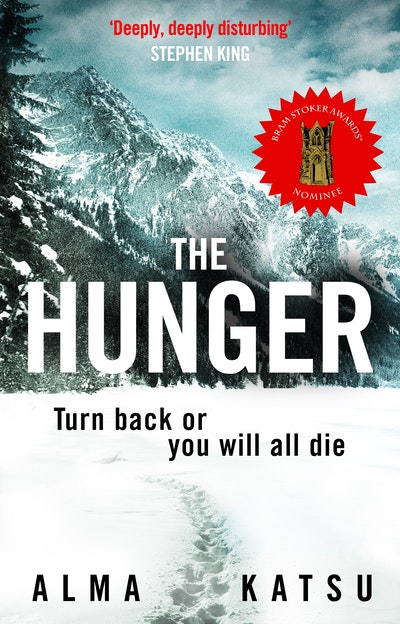 Published:

6 March 2018

ISBN:

9781473542419

Imprint:

Transworld Digital

Format:

EBook

Pages:

496
The Hunger
"Deeply disturbing, hard to put down" - Stephen King
---
---
---
What began as a brave and bold adventure has become a nightmare. They are trapped and must confront each other . . . and a threat that reaches beyond the fury of the elements, something far more primal and deadly.
Shortlisted for the Bram Stoker Award for Best Horror Novel
'Deeply, deeply disturbing . . . not recommended reading after dark' STEPHEN KING
'Like The Revenant but with an insistent supernatural whisper . . . utterly chilling' SARAH PINBOROUGH
Having journeyed west for weeks, they have reached a crossroads. Two diverging paths lead to the same destination. Desperate to cross the mountains before the weather turns, George Donner's decision will affect the lives of everyone travelling with him. Minor disagreements turn into violent confrontations as the ill-fated group struggles to survive.
And then the children begin to disappear . . .
And some begin to realize that the threat they face is something far more deadly - and more primal - than the fury of the elements . . .
Based on the true story of one of the most infamous events in American history, The Hunger is an eerie, shiver-inducing exploration of human nature pushed to its breaking point.

Published:

6 March 2018

ISBN:

9781473542419

Imprint:

Transworld Digital

Format:

EBook

Pages:

496
In an audacious twist, Alma Katsu has made something new and suspenseful from the legendary story of the Donner Party. The Hunger is filled with terror, pity, and grue.

KEITH DONOHUE, author of The Boy Who Drew Monsters
A terrific historical novel with a thrilling, bloody twist. Alma Katsu's brilliant reimagining of the Donner Party's fate is rich with character, laden with imminent doom, and propelled by chilling mystery. A novel that book clubs and dark fiction fans should devour with equal relish.

CHRISTOPHER GOLDEN, author of Ararat
Alma Katsu has taken one of the darkest and most chilling episodes in our history, and made the story even darker, even more terrifying. I swear I'm still shuddering. A fantastic read!

R. L. STINE, author of Goosebumps and Fear Street
Beautiful, lyrical, utterly grounded in the land, and the people, this is the best - and scariest - story I've read this year.

MANDA SCOTT, author of Boudica and Into the Fire
The Hunger is a bold and brilliant novel, heavy with foreboding and dread, and with a rich vein of humanity at its core. I challenge you to read it without experiencing your own hunger pangs.

TIM LEBBON, author of The Silence
If you think the story of the Donner Party can't get more horrific, think again. In this gripping, atmospheric reimagining of that dark tale, Katsu has created a deeply unsettling and truly terrifying masterpiece.

JENNIFER McMAHON, author of The Winter People and Burntown
Uneasy, nauseous, slow-burning tale that marries historical fiction with a hint of the supernatural. Great detailing; colourful characterization; some supremely ominous stuff, but always reined in at the final moment to rack up the tension even more. Loved it!

JOANNE HARRIS, author of Chocolat
Like The Revenant but with an insistent supernatural whisper. The setting and the story are utterly chilling. And the telling of it is so well done.

SARAH PINBOROUGH, author of Behind Her Eyes
A riveting drama of power struggles and shifting alliances . . . the tensions [Katsu] creates are thrilling.

KIRKUS REVIEWS
Katsu injects the supernatural into this brilliant retelling of the ill-fated Donner Party . . . fans of Dan Simmons's The Terror will find familiar and welcome chills.

PUBLISHERS WEEKLY (starred review)
Deeply, deeply disturbing.

STEPHEN KING
An absorbing thriller that had me digging into the history behind this tale as soon as I'd read the last page . . . Her descriptions of the land are movingly beautiful, but there is danger even here.

Alison Flood, OBSERVER 'Thrillers of the Month'
Katsu adds a rich vein of horror to her imaginative retelling . . . astonishingly atmospheric, with a strong sense of claustrophobia, despite the vast prairies and mountains . . . this is an enthralling and chilling read.

Laura Wilson, GUARDIAN
The Revenant by way of The Walking Dead and it works.

Paul Connolly, METRO
The story she writes of human failings and despair is so powerful and so well written . . . Her account of the pioneers' dawning realisation that pressing on, staying still and turning back all mean death is hauntingly good.

Antonia Senior, THE TIMES
Alma Katsu's accomplished, engrossing novel weaves a cocoon of supernatural horror around historical tragedy . . . it is a beautifully intense read.

James Lovegrove, FINANCIAL TIMES
This . . . is supernatural suspense at its finest. It is strangely ethereal, yet gritty, with one eye on the distant skyline and the other on the bloody journey. If historical novels are your thing, The Hunger delivers a believable, fully realized 19th-century America. But the best thing about The Hunger is that it will scare the pants off you.

Danielle Trussoni, NEW YORK TIMES