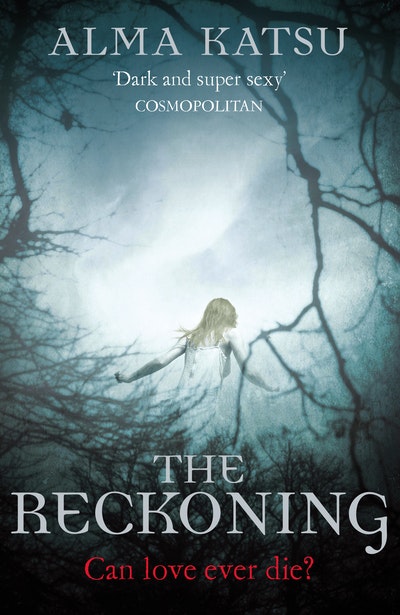 Published:

21 June 2012

ISBN:

9781446439050

Imprint:

Cornerstone Digital

Format:

EBook

Pages:

464
The Reckoning
(Book 2 of The Immortal Trilogy)
---
---
---
The thrilling new sequel in Alma Katsu's unforgettable TAKER trilogy
THERE IS A FINE LINE BETWEEN LOVE AND HATE
For two centuries an evil has been waiting, now it is free.
Only months have passed since Lanny lost Jonathan, the love of her life. Together they had grown up in another world and another time: a tiny town called St Andrew during the mid nineteenth century. She loved him then, a naive sixteen-year-old desperate for his attention. And she loves him still. Hers is a passion that transcends the barriers of time and age, her love was immortal, as is she. For centuries, since that simple life, she has wandered the earth, indulging in every pleasure imaginable, living a thousand lives. For the first time she must do it all without Jonathan.
But there is no time to grieve, for Lanny is in mortal danger. In years gone by she was a courtesan to the mysterious Adair, a cruel and demonic alchemist and the creator of her immortality. She served at his side and responded to his every whim, but when Lanny uncovered Adair's plan to destroy Jonathan she had to fight her master to protect her love.
Trapped in a tomb for two hundred years by his beloved Lanny, Adair has lain in wait, contemplating the pain he will inflict on his captor. And now he is loose...
Spanning centuries and far flung lands this exceptional novel explores the dark mysteries of obsession and desire. This is THE RECKONING, the fantastic new instalment in Alma Katsu's breathtaking TAKER trilogy.
Published:

21 June 2012

ISBN:

9781446439050

Imprint:

Cornerstone Digital

Format:

EBook

Pages:

464
Katsu's brilliant series second will utterly enchant you. The story is told in such a distinctive voice, you won't be able to stop thinking about it. The characters will delight you, horrify you and instil hope ... It's one of this reviewer's favourites so far this year.

Romance Times
Having fallen for Alma's writing in her first release The Taker I really couldn't wait to spend more time with her as her immortal existence was revealed a chapter at a time. Add to this Alma's identifiable writing style, a great ability to bring the reader to the heart of the tale and backed up with a solid supporting cast made this tale a real joy to spend time around. Great stuff.

Falcata Times
The more I read this series the more I love Alma Katsu's writing. She is a mystery/paranormal/historical fiction mastermind. She's got three genres going on here and doesn't drop the ball once… if you haven't picked up this series yet, go out and find a copy of book one, The Taker, immediately. If you've already read (and loved) The Taker you will not be disappointed by The Reckoning. It is a sequel that is every bit as good as the first.

hookedonbooks.com
I loved the multi-tapestried feel of these novels – it's an utterly readable blend of supernatural-powered fantasy, historical fiction, and existential horror… remarkable. Romance, fantasy and mainstream fiction fans alike will be swept away by this brutal tale of (immortal) love gone wrong. Highly recommended for readers who enjoy novels like A Discovery of Witches by Deborah Harkness, Diana Gabaldon's Dragonfly in Amber

Barnes & Noble
Enticing, sensual beyond any other novel read in years within this genre, and thrilling…The Taker is recommended for any reader who wishes to lose him/herself in a strong historical horror tale that transcends the genre with ease.

Horror World
Top Pick! A tragic otherworldly tale of lovers, Katsu's brilliant series second will utterly enchant you. The story is told in such a distinctive voice, you won't be able to stop thinking about it. The characters will delight you, horrify you and instill hope, but all are created with many layers of humanity as they grown and change through the ages. It's one of this reviewer's favorites so far this year

Terri Dukes, Romance Times
Katsu's seductive second book in her supernatural thriller trilogy picks up where her well-received debut, The Taker, left off... At times melodramatic and constrained by the limitations of a middle volume, this installment stays true to its author's initial vision.

Publishers Weekly
This sequel to The Taker continues the time-traveling tale of two immortals whose destinies are bound together by love, longing, misery, and fate ... Katsu's beautiful, mesmerizing narrative will not lesson the effect of her very adult and often brutal dark fairy tale ... leaves readers anxiously awaiting Katsu's final volume.

Library Journal
Adair's complexity will be explored and expanded, Lanny's adventures will thrill you, new characters will steal and break your heart (oh, Savva), old characters will boil your blood, and dark magic will snake up the bones of the story like the vines of a rogue bush. But my favourite part of this story, as always, is Alma Katsu's haunting prose. I have never been so affected by the elegance and terror that fills her every word.

Chels & A Book
Alma Katsu has an incredible talent of storytelling. She put together a hauntingly beautiful tale of evil and romance. I can't stop thinking about this book. It is so wonderfully written and the story so captivating that I want to read it over and over again….The Reckoning is without a doubt one of the top books on my list of favorite reads of 2012. I don't know how the author did it but this second installment is even more breathtaking and mesmerizing.

melaniesrandomthoughts.com
The story's secondary characters are as rich and vicious in personality as the main ones are and with engaging traits such as greed, pure evil, and traitorous. But the true hook in this story is the antagonist, Adair. Corrupt, evil, murderous, and as immortal as the heroine herself. Absolutely fascinating…Underlying themes explored in this novel of immortality are change, love, obsession, vengeance, power, life and death, and Alma Katsu weaves it all together in a fascinating paranormal yarn that grips you from start to finish…The drama is fascinating and thrilling. Definitely a unique, enduring story of the paranormal!

Historical Novel Review
This series amazes me. It is haunting, evil, lovely and very romantic all at the same time. I seriously cannot stop thinking about these books.

readingteen.com
What I liked about The Reckoning: Pretty much everything. Katsu's writing falls nicely somewhere in between fancy literary writing and popular fiction.

marashapiro.com
5 out of 5 stars: I can't wait to see how the series will end.

vampsweresandcassay.com
I was really grabbed by the narrative voice and I was fasincated by the story ... what a story!

Charlaine Harris, author of the True Blood series