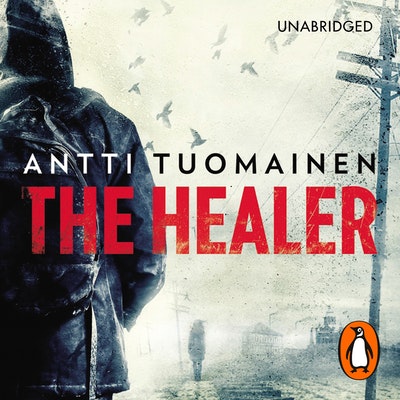 Published:

7 February 2013

ISBN:

9781448178490

Imprint:

RH AudioGo

Format:

Audio Download

Length:

5 hr 39 min

Narrator:

Simon Shepherd

RRP:

$17.99
The Healer
---
---
---
On the rain-soaked streets of Helsinki a man searches for his missing wife and finds himself on the trail of a serial killer.
It's two days before Christmas and Helsinki is battling ruthless climate catastrophe: subway tunnels are flooded; abandoned vehicles are burning in the streets. People are fleeing to the far north where conditions are still tolerable. Social order is crumbling and private security firms have undermined the police force. Tapani Lehtinen, a struggling poet, is among the few still willing to live in the city.
When Tapani's wife Johanna, a journalist, goes missing, he embarks on a frantic hunt for her. Johanna's disappearance seems to be connected to a story she was researching about a serial killer known as 'The Healer'. Determined to find Johanna, Tapani's search leads him to uncover secrets from her past: secrets that connect her to the very murders she was investigating...
Atmospheric and moving, The Healer is a story of survival, loyalty and determination. Even when the world is coming to an end, love and hope endure.
Published:

7 February 2013

ISBN:

9781448178490

Imprint:

RH AudioGo

Format:

Audio Download

Length:

5 hr 39 min

Narrator:

Simon Shepherd

RRP:

$17.99
Thrillingly atmospheric

Liz Jensen
I implore you to read one more Scandinavian thriller. Antti Tuomainen's The Healer is a mix between Stieg Larsson and an introduction to Cormac McCarthy's The Road

Patrick Neale, Booksellers' Choice
The ability to use all the tricks of crime fiction and all the tools of poetry makes Tuomainen's work unique, and that combination makes the reader fall in love with his style. You cannot but value things around you more after reading The Healer

Sofi Oksanen, author of Purge
Breathtakingly tense, with the taste of blood on every page. It is impossible to stop reading until you reach the end...

Turun Sanomat (Finland)
Tuomainen truly succeeds in conveying the glistening streets and the neon-lit, rain-saturated, decaying urban environment

Helsingin Sanomat (Finland)
Tuomainen's sparse and precise style and rapid dialogue place him in the best noir tradition. The intensity of both the plot and narration enhances the harsh realism of his language

The Clue Award for 'Best Finnish Crime Novel 2011'
The Healer is a very original crime novel, quite different from typical Scandinavian crime fiction novels. With enormous efficacy, Antti Tuomainen depicts the extinction of a metropolis

La Stampa (Italy)
Antti Tuomainen's dystopian climate thriller The Healer was selected Best Finnish Crime Novel of 2011 and is now nominated for The Glass Key. That makes perfect sense. Arctic crime, climate disaster, political murder and love story is combined with a sure hand in the Nordic darkness

Weekendavisen (Denmark)
A mix between Stieg Larson and an introduction to Cormac McCarthy's The Road

Patrick Neale, Bookseller