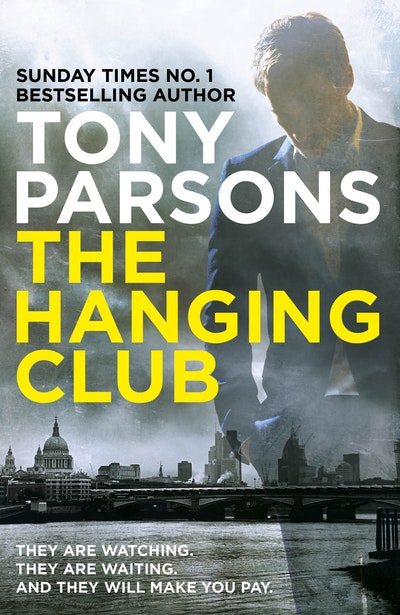 Published:

3 April 2017

ISBN:

9780099591078

Imprint:

Arrow

Format:

Paperback

Pages:

384

RRP:

$22.99
The Hanging Club
(DC Max Wolfe)
---
---
---
From the Sunday Times no.1 bestselling author, a brilliant page-turning new thriller that will keep you gripped and guessing until the very last page.
"Tony Parsons puts you right there in every scene he writes. I love that kind of storytelling and I'm a D.C. Max Wolfe fan." - James Patterson

A band of vigilante executioners roam London's hot summer nights, abducting evil men and hanging them by the neck until dead.
As the bodies pile up and riots explode across the sweltering city, DC Max Wolfe hunts a gang of killers who many believe to be heroes.
And discovers that the lust for revenge starts very close to home ...
Praise for The Hanging Club
"This is Parson's best crime novel so far and underlines his exceptional talent" (Daily Mail)
"I've long been a fan of Tony Parson's writing.This is brilliant stuff" (Peter James)
"Spectacular! Tense and human, fast and authentic" (Lee Child)
'Has all the ingredients and more: great plotting, great characters and at least two eye-widening twists I didn't see coming.' (Sophie Hannah)
"If you haven't already become a fan, the third outing for Max Wolfe is the perfect introduction to the London underworld that Tony Parsons has so vividly created.Wolfe's cases couldn't feel more of-the-minute" (GQ)
"A gripping page-turning book that will demand your full attention" (Irish Examiner)
"Fast paced and gripping" (Best Special Series)
"Parsons had me gripped from the first chapter to the last sentence" (Irish independent)
"A cleverly plotted page-turner, with touches of Cracker and Nordic Noir, all soaked in the atmosphere of London's murky back-streets" (CSMA Club Life magazine)

Praise for Tony Parsons.
"It's all as addictive as your favourite boxset.it contains more twists than a contortionist caught in a tornado" (The Shortlist)
"Told with clarity and insight ... Confirms Parsons has earned a place at the very pinnacle of British crime writing" (Daily Mail)
"Tense.with a dose of dry wit" (The Daily Express)
"A taut always engaging thriller" (The Sun)
"I put my life on hold while I was reading because I couldn't tear myself away from the gripping story... It's complicated, brutal but Tony Parsons has managed to weave the brutality into a truly brilliant story" (Bestselling Crime Thrillers)
"It's a brilliant crime novel, a thrilling procedural. Max Wolfe is a wonderfully endearing character, smart and tough and vulnerable, and with Scout (and Stan too) Tony has created so much warmth and tenderness, in a world, a genre, so often devoid of it. His research is wide, deep, impeccable - from forensics to the psychology, procedure to protocol. And boy does he know how to create suspense, and convincing plot lines, which snake and weave, and surprise right until the very end. This is a complex, shocking, very contemporary story, told with utter conviction and authority. I was hooked from page one. Crime writing has a brilliant new star" (Henry Sutton)
"Sometimes, rarely, you know from the first chapter or so of a novel that you're in the hands of a master story teller. In the case of Tony Parsons.we know this within the first few pages. A relentless plot, evocative prose and compelling (and wrenching) portraits of the characters, good and evil, conspire to make this a must-read" (Jeffery Deaver)
"Superbly crafted crime drama that grips from start to finish" (The Sunday Post)
"Fast paced and gripping" (The Scotsman)
'[Tony Parsons'] writing pedigree is first class. It shows in this terrific thriller, and Max Wolfe is a class act, a brilliant character that has to feature again ... Absolutely stunning!' (Books Monthly)
Published:

3 April 2017

ISBN:

9780099591078

Imprint:

Arrow

Format:

Paperback

Pages:

384

RRP:

$22.99
Praise for The Hanging Club
I've long been a fan of Tony Parson's writing and I'm really enjoying his genre move into crime fiction. This is brilliant stuff.

Peter James
Told with clarity and insight ... Confirms Parsons has earned a place at the very pinnacle of British crime writing.

Daily Mail
Spectacular! Tense and human, fast and authentic.

Lee Child
A relentless plot, evocative prose and compelling portraits of the characters, good and evil, conspire to make this a must read.

Jeffery Deaver
Had me gripped from the first chapter to the last sentence.

Irish Independent
A cleverly plotted page-turner, with touches of Cracker and Nordic Noir, all soaked in the atmosphere of London's murky back-streets

CSMA Club Life magazine
If you haven't already become a fan, the third outing for Max Wolfe is the perfect introduction to the London underworld that Tony Parsons has so vividly created. While expertly playing with the classic tropes of the detective genre, Parsons folds in live-streamed vigilante justice and a social media campaign to bring back the death penalty - meaning Wolfe's cases couldn't feel more of-the-minute

GQ
This is Parson's best crime novel so far and underlines his exceptional talent for sensing the zeitgeist.

Daily Mail
Fast paced and gripping

Best Special Series
A gripping page-turning book that will demand your full attention

Irish Examiner
From the Sunday Times no.1 bestselling author, a brilliant page-turning new thriller that will keep you gripped and guessing until the very last page. "Tony Parsons puts you right there in every scene he writes. I love that kind of storytelling and I'm a D.C. Max Wolfe fan." - James Patterson A band of vigilante executioners roam London's hot summer nights, abducting evil men and hanging them by the neck until dead. As the bodies pile up and riots explode across the sweltering city, DC Max Wolfe hunts a gang of killers who many believe to be heroes. And discovers that the lust for revenge starts very close to home ... Praise for The Hanging Club "This is Parson's best crime novel so far and underlines his exceptional talent" (Daily Mail) "I've long been a fan of Tony Parson's writing.This is brilliant stuff" (Peter James) "Spectacular! Tense and human, fast and authentic" (Lee Child) 'Has all the ingredients and more: great plotting, great characters and at least two eye-widening twists I didn't see coming.' (Sophie Hannah) "If you haven't already become a fan, the third outing for Max Wolfe is the perfect introduction to the London underworld that Tony Parsons has so vividly created.Wolfe's cases couldn't feel more of-the-minute" (GQ) "A gripping page-turning book that will demand your full attention" (Irish Examiner) "Fast paced and gripping" (Best Special Series) "Parsons had me gripped from the first chapter to the last sentence" (Irish independent) "A cleverly plotted page-turner, with touches of Cracker and Nordic Noir, all soaked in the atmosphere of London's murky back-streets" (CSMA Club Life magazine) Praise for Tony Parsons. "It's all as addictive as your favourite boxset.it contains more twists than a contortionist caught in a tornado" (The Shortlist) "Told with clarity and insight ... Confirms Parsons has earned a place at the very pinnacle of British crime writing" (Daily Mail) "Tense.with a dose of dry wit" (The Daily Express) "A taut always engaging thriller" (The Sun) "I put my life on hold while I was reading because I couldn't tear myself away from the gripping story... It's complicated, brutal but Tony Parsons has managed to weave the brutality into a truly brilliant story" (Bestselling Crime Thrillers) "It's a brilliant crime novel, a thrilling procedural. Max Wolfe is a wonderfully endearing character, smart and tough and vulnerable, and with Scout (and Stan too) Tony has created so much warmth and tenderness, in a world, a genre, so often devoid of it. His research is wide, deep, impeccable - from forensics to the psychology, procedure to protocol. And boy does he know how to create suspense, and convincing plot lines, which snake and weave, and surprise right until the very end. This is a complex, shocking, very contemporary story, told with utter conviction and authority. I was hooked from page one. Crime writing has a brilliant new star" (Henry Sutton) "Sometimes, rarely, you know from the first chapter or so of a novel that you're in the hands of a master story teller. In the case of Tony Parsons.we know this within the first few pages. A relentless plot, evocative prose and compelling (and wrenching) portraits of the characters, good and evil, conspire to make this a must-read" (Jeffery Deaver) "Superbly crafted crime drama that grips from start to finish" (The Sunday Post) "Fast paced and gripping" (The Scotsman) '[Tony Parsons'] writing pedigree is first class. It shows in this terrific thriller, and Max Wolfe is a class act, a brilliant character that has to feature again ... Absolutely stunning!' (Books Monthly)

Publisher's description