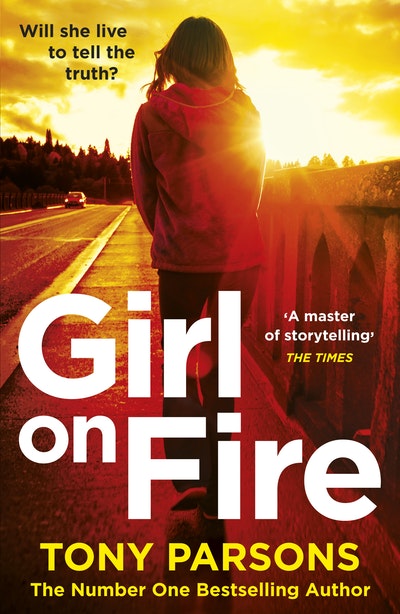 Published:

5 March 2019

ISBN:

9781784755348

Imprint:

Arrow

Format:

Paperback

Pages:

432

RRP:

$22.99
Girl On Fire
(DC Max Wolfe)
---
---
From the Sunday Times no.1 bestselling author, a brilliant page-turning new Max Wolfe thriller that will keep you gripped and guessing until the very last page.
ALMOST HOME. BUT NOWHERE TO HIDE. From the number one bestselling crime-writer comes a brilliant, page-turning new DC Max Wolfe thriller.
'Remarkably moving' The Times
When terrorists use a drone to bring down a plane on one of London's busiest shopping centres, it ignites a chain of events that will draw in the innocent and guilty alike.
DC Max Wolfe finds himself caught in the crossfire in a city that seems increasingly dangerous and hostile.
But does the danger come from the murderous criminals that Max is tracking down? Or the people he's trying to protect?
Or does the real threat to Max lie closer to home?
'Tony Parsons puts you right there in every scene he writes. I love that kind of storytelling and I'm a D.C. Max Wolfe fan.' James Patterson
'A relentless plot, evocative prose and compelling characters conspire to make this a must-read.' Jeffery Deaver
'I've long been a fan of Tony Parsons' writing, and this is brilliant stuff.' Peter James
'Spectacular! Tense and human, fast and authentic' Lee Child
'Great plotting, great characters and at least two eye-widening twists I didn't see coming' Sophie Hannah
'Simply superb plot and characters' Peterborough Evening Telegraph

Published:

5 March 2019

ISBN:

9781784755348

Imprint:

Arrow

Format:

Paperback

Pages:

432

RRP:

$22.99
The action bowls along exhilaratingly, with plenty of twists and hair-raisingly topical material. The upshot is the kind of big foot-to-the-floor read

Reader's Digest
Parson weaves a yarn that stands up to the best in the Crime Thriller genre

The Humpo Show blog
Parson's latest novel is a master class on building a world, developing a plot and how to write a sequel.. An incredibly well written book...

The Bookbag Blog
If there were any doubts before, then this powerful novel will confirm that Tony Parsons sits in his rightful position among the top echelon of contemporary British writers.

Fully Booked
A phenomenal read that I will happily shout about from the rooftops for the foreseeable future.

BookieWookieWeb Blog
Girl On Fire is a hard-hitting story that. create[s] a realistic and suspenseful work of fiction.

The Humpo Show Blog
A thrilling roller-coaster ride full of tension and suspense, jam packed with the very best of gritty crime action.

Books Beyond the Story Blog
What impresses about Girl on Fire is Tony Parsons's almost old-fashioned mastery of storytelling. Moreover, he raises real issues of today and accompanies them with intelligent debate ... remarkably moving

Marcel Berlins, The Times
Brilliant... visceral

Nick Ahad
A page turning new thriller from the Max Wolfe series will keep you grappled and guessing until the end

The Ship Supplier
His way of writing is so visceral and dynamic

Louise Minchin