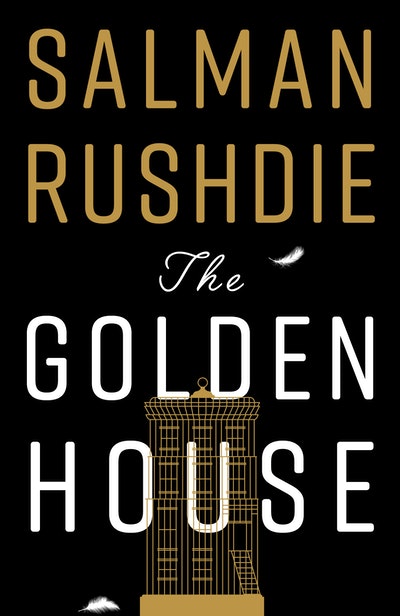 Published:

2 July 2018

ISBN:

9781784707095

Imprint:

Vintage

Format:

Paperback

Pages:

384

RRP:

$22.99
The Golden House
---
---
---
**New York Times bestseller**
A Guardian / Observer Book of the Year
One of the truly great writers of the century at the top of his game in this uncannily timely knockout of a novel.
**New York Times bestseller**
A Guardian / Observer Book of the Year
When powerful real-estate tycoon Nero Golden immigrates to the States under mysterious circumstances, he and his three adult children assume new identities, taking 'Roman' names, and move into a grand mansion in downtown Manhattan. Arriving shortly after the inauguration of Barack Obama, he and his sons, each extraordinary in his own right, quickly establish themselves at the apex of New York society.
The story of the Golden family is told from the point of view of their Manhattanite neighbour and confidant, René, an aspiring filmmaker who finds in the Goldens the perfect subject. René chronicles the undoing of the house of Golden: the high life of money, of art and fashion, a sibling quarrel, an unexpected metamorphosis, the arrival of a beautiful woman, betrayal and murder, and far away, in their abandoned homeland, some decent intelligence work.
Invoking literature, pop culture, and the cinema, Rushdie spins the story of the American zeitgeist over the last eight years, hitting every beat: the rise of the birther movement, the Tea Party, Gamergate and identity politics; the backlash against political correctness; the ascendency of the superhero movie, and, of course, the insurgence of a ruthlessly ambitious, narcissistic, media-savvy villain wearing make-up and with coloured hair.
In a new world order of alternative truths, Salman Rushdie has written the ultimate novel about identity, truth, terror and lies. A brilliant, heartbreaking realist novel that is not only uncannily prescient but shows one of the world's greatest storytellers working at the height of his powers.
Published:

2 July 2018

ISBN:

9781784707095

Imprint:

Vintage

Format:

Paperback

Pages:

384

RRP:

$22.99
Praise for The Golden House
A ravishingly well-told, deeply knowledgeable, magnificently insightful, and righteously outraged epic which pos­es timeless questions about the human condition... As Rushdie's blazing tale surges toward its crescendo, life, as it always has, rises stubbornly from the ashes, as does love.

Booklist
Where Tom Wolfe's Bonfire of the Vanities sent up the go-go, me-me Reagan/Bush era, Rushdie's latest novel captures the existential uncertainties of the anxious Obama years... A sort of Great Gatsby for our time: everyone is implicated, no one is innocent, and no one comes out unscathed.

Kirkus Reviews (starred review)
Rushdie's fable is a sprightly portrait of American life from Obama's election to the rise of Trump.

Anthony Gardner, Mail on Sunday
[A] complex and witty fable … Rushdie has always been an impish myth-manipulator, refusing to accept, as in this novel, that the lives of the emperors can't be blended with film noir, popular culture and crime caper. On the evidence of The Golden House, he is quite right.

Alex Clark, Observer
Intelligent and darkly funny...with a raw political edge.

Robert Douglas-Fairhurst, The Times
Rushdie writes with a Dickensian exuberance, always full of humour as well as striking scornful, tragic notes. Often he plays the role of satirist. His caricatures and outsize figures are full of life, wickedness and human energy: again, as in Dickens, grounded in a precise social and political scene.

Jereme Boyd Maunsell, Evening Standard
Salman Rushdie is a writer of illimitable imagination and verbal ingenuity. He grips us with wild storylines, takes us on flights of fancy, brings us back down again, enthralled and dazed… The terrorist attacks by Islamicists, the unplanned developments, the bribery and corruption and multiple tragedies are gritty, real and moving. Extreme scenes are written so beautifully I don't think I will ever forget them… The Golden House is an extraordinary book, a brooding meditation on the personal and political, on ethics, egotism, freedom and interdependence.

Yasmin Alibhai-Brown
This is a compelling thriller with a pinch of fantasy, populated by larger-than-life characters… This powerfully cinematic novel, enriched by references to literature, popular culture and film, is dense, detailed and rewarding, displaying one of our leading novelists at the top of his game.

Vanessa Berridge, Sunday Express
His prose is just as often a pleasure, bursting with colour and texture… The result stands as Rushdie's most vital book in years, and perhaps the first protest novel of the Trump era.

Stephen Phelan, Herald
A typically bold and all-encompassing saga.

Hilary A White, Irish Independent
Rushdie is, as ever, excellent in conveying bitter, personal anger.

DJ Taylor, Literary Review
Two decades after Rushdie transplanted himself to the US, one of the major pleasures of this novel is the way in which he considers the mores of the one per cent of the one per cent. Rushdie writes about the Goldens' glittering, private world with innumerable perfect details, down to the art hanging on the walls… It will be a long four years, but fictional protests are unlikely to be as electric as this.

Olivia Cole
Hugely entertaining… Told against a backdrop of American politics and culture between Obama's inauguration and the 2016 presidential election, it's an extraordinarily powerful tale of our times.

Sue Price, Saga Magazine
[The Golden House] is a recognizably Rushdie novel in its playfulness, its verbal jousting, its audacious bravado, its unapologetic erudition, and its sheer, dazzling brilliance.

Boston Globe
Rushdie's prose is beyond much reprieve—there are few contemporary artists who come to mind that possess his ability to craft sentences. In this regard, The Golden House, his latest novel, is no exception... The Golden House is a joy to read… It's hard to not have fun reading writing at Rushdie's level of craftsmanship. It's clever, intimidating, jocund, and electrifying.

Chicago Review of Books
The Golden House is not Brideshead or Gatsby – it is too rich and too riotous. Rather it is a modern Bonfire of the Vanities, New York seen from the inside and the outside, as only a writer of multiple selves such as Rushdie – Indian, British, now a New Yorker – could do.

Aminatta Forna, Guardian
Rushdie's story is a morality tale which unfolds with great verve and erudition, missing no opportunity to pillory Donald Trump with its withering contempt.

Richard Hopton, Country & Town House
The Golden House is a searing examination of modern America and the world around it since 2008… Through the density of his intermingling literary references, puzzles and (deliberately) fanciful plot, comes Rushdie's true success: His great ability to capture the devilish mood of post-crash greed, political upheaval, and the rejection of the cosmopolitan, liberal west.

Peter Carey, Belfast Telegraph Morning
Unruly but exuberant… Much of the success of The Golden House, in fact, lies in its humour and in the vigour of its storytelling… There is a glowing energy to the prose that makes this Rushdie's most enjoyable, mischievous and American of novels.

Arifa Akbar, Financial Times
No-one spins a yarn like Rushdie, and The Golden House's tale of bastard sons, mysterious men and submerged pasts is hugely enjoyable… To say The Golden House is 'only' hugely enjoyable is a little like writing 'only' on a cheque for £1 million.

Ross McIndoe, Skinny
Salman Rushdie has garaged the magic carpets and dived deep into 21st-century America, with its concerns about identity, guns, the 1 percent and even superheroes.

Jane Henderson, Miami Herald
For all of The Golden House's folkloric architecture and twinkling prose, for all its impish cartoonery and exuberant storytelling, the novel is at its heart an unsettling portrait of the state of humanity in the United States of 2017. It celebrates our meager glories and exposes our flaws, particularly our inability to see outside of our own little cocoons, whether they be constructed of silk or some coarser material.

Nathaniel Rich, New York Review of Books
It's one of the most vivid and convincing portraits of contemporary America I've read.

Alex Preston, Observer, Book of the Year