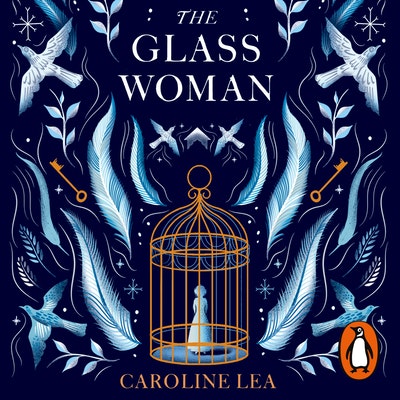 Published:

7 February 2019

ISBN:

9781405941334

Imprint:

Penguin Audio

Format:

Audio Download

RRP:

$22.99
The Glass Woman
---
---
---
Rich in character and description, The Glass Woman is an atmospheric debut about superstitions and everything they conceal
Penguin presents the audiobook edition of The Glass Woman by Caroline Lea, read by Heiða Reed (Poldark, BBC) and Smari Gunn.
Iceland, 1686. The brutal, lava-scarred landscape can swallow a man without so much as a volcanic gasp.
Jón Eiríksson has just married his second wife in a year. But Rósa's new home in the windswept village of Stykkishólmur is terrifyingly isolated - the villagers are suspicious of strangers and fearful of something which they will not name.
What is Rósa's new husband secret, and why does the spectre of his first wife Anna haunt them so?
Set against the backdrop of the seventeenth-century Icelandic witch trials, in a land governed by religion and fear, THE GLASS WOMAN is addictive, breathtaking, and perfect for readers of BURIAL RITES and THE SILENT COMPANIONS.
Published:

7 February 2019

ISBN:

9781405941334

Imprint:

Penguin Audio

Format:

Audio Download

RRP:

$22.99
Praise for The Glass Woman
Tells the tale of the Icelandic witch trials

Red
Memorable and compelling. A novel about what haunts us - and what should

Sarah Moss, author of The Times Book of the Year 'Ghost Wall'
A perfect, gripping winter read. I loved it

Sophie Mackintosh, Man Booker longlisted author of 'The Water Cure'
Utterly unputdownable. Rich in superstition and mystery, it pulled me in. An incredible novel

Ali Land, author of Sunday Times Bestselling 'Good Me Bad Me'
Haunting, evocative and utterly compelling. The beautifully drawn narrative transports the reader to a time and place steeped in mystery and superstition, where nothing is ever quite as it seems. Stunning

Tracy Borman, author of 'The King's Witch'
Like a ghost story told around a winter fire, The Glass Woman is taut, haunting, and broodingly tense. Playing out against the harsh backdrop of the Icelandic winter, it kept me hooked all the way to the end

Tim Leach, author of The Times Book of the Year 'Smile of the Wolf'
Tremendous. Atmospheric and beautifully wrought, The Glass Woman is both chilling and beguiling

Elizabeth Fremantle
Suspenseful, gripping and beautifully drawn

Cecilia Ekbäck, author of 'Wolf Winter'
A chilling tale

Good Housekeeping
Intensely written and atmospheric, with an unusual setting, this is a stark evocation of a community where fear of the outsider is rife and unsettling

Daily Mail
A fantastic, atmospheric debut

The Times
The eerie opening brilliantly sets the scene for a suspenseful read. A tremor cracks open an ice floe and an arm appears, plunging the reader into a harsh landscape and a world of suspicions and secrets

Sunday Express
Is this some Icelandic version of Jane Eyre in which a madwoman lurks in the attic? Or do ghosts haunt the household? In a sense they do, although the truth Rosa eventually uncovers in this compelling, atmospheric novel are more material and more disturbing than her imaginings

Sunday Times
A tense, Iceland-set thriller

Sunday Post
Lea draws upon Jane Eyre, Rebecca and Bluebeard to create an eerie, unsettling atmosphere ... Full of promise, and I look forward to reading more from Lea

Daily Telegraph
This evocative debut is compelling with a brilliant twist

Daily Express
A gorgeous book about the power of stories that makes the landscape of Iceland as powerful a character as any of the humans

Sarah Shaffi, PHOENIX
An enthralling tale of the Icelandic witch trials

Stacey Halls, bestselling author of THE FAMILIARS
Crackles with tension. Moving and atmospheric, I couldn't put it down

Laura Purcell, author of THE SILENT COMPANIONS and THE CORSET
A gothic novel for a cold climate. Mesmerising

Elly Griffiths, author of THE STRANGER DIARIES
Gripped me in a cold fist. Beautiful

Sara Collins, author of THE CONFESSIONS OF FRANNIE LANGTON
A haunting novel that delivers chills. THE GLASS WOMAN is charged with the dark energy of the Icelandic Sagas

Kirkus Reviews
Mystery and potential danger linger throughout, and with its dreamy prose THE GLASS WOMAN satisfies readers with the ways of an old world

Publisher's Weekly
A chilling and enthralling telling of the Icelandic witch trials. Not only beautifully drawn but poignant, evocative and fascinating. A haunting gothic tale'

Historia
A rare look at male witch trials, set in Iceland

Guardian
Compelling, atmospheric

The Times
Eerie and atmospheric

Daily Telegraph