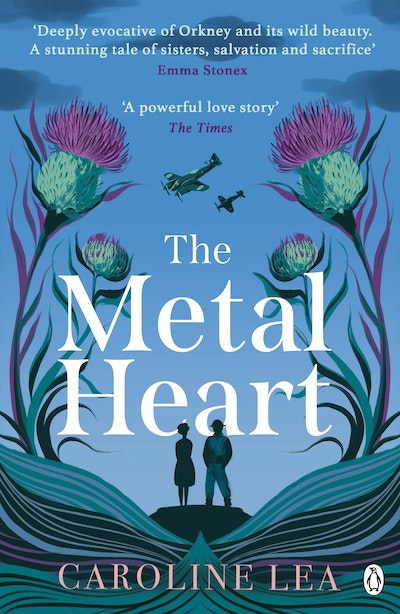 Published:

29 April 2021

ISBN:

9781405944366

Imprint:

Penguin eBooks

Format:

EBook

Pages:

400
The Metal Heart
The beautiful and atmospheric story of freedom and love that will grip your heart
---
---
---
A sweeping Second World War novel about two sisters and the prisoner-of-war whose life will entwine with theirs, inspired by a true story
Orkney, 1940. On a remote island, a prisoner-of-war camp is constructed to house five hundred Italian soldiers, where a freezing winter and divided community await them.
Orphaned sisters Dorothy and Constance volunteer to nurse the men. Dot is drawn to Cesare, a young man fighting on the wrong side, broken by war and destruction.
The soldiers spend their days building a secret barricade between the islands. By night, however, they construct a reminder of their native land - an exquisite chapel.
As tensions between the islanders and outsiders grow, the sisters' loyalty is tested. Will Dot choose love, or family?
Published:

29 April 2021

ISBN:

9781405944366

Imprint:

Penguin eBooks

Format:

EBook

Pages:

400
Praise for The Metal Heart
Praise for THE GLASS WOMAN

-
A fantastic, atmospheric debut

The Times
Memorable and compelling. A novel about what haunts us - and what should

Sarah Moss, author of The Times Book of the Year 'Ghost Wall'
Intensely written and atmospheric, with an unusual setting, this is a stark evocation of a community where fear of the outsider is rife and unsettling

Daily Mail
A perfect, gripping winter read. I loved it

Sophie Mackintosh, Man Booker longlisted author of 'The Water Cure'
Utterly unputdownable. Rich in superstition and mystery, it pulled me in. An incredible novel

Ali Land, author of Sunday Times Bestselling 'Good Me Bad Me'
A chilling tale

Good Housekeeping
An enthralling tale

Stacey Halls, bestselling author of The Familiars
A tense, passionate and deeply atmospheric novel about a community in wartime - and two defiant hearts. Orkney was so perfectly realised, too, that I almost felt windblown. I loved it all the more so for having read it during lockdown: Caroline's beautiful transported me entirely to another time and land

Susan Fletcher
A story of innocents caught up in the machinery of war. Exquisitely researched, beautifully told, this tiny corner of Scotland came alive

Mary Beth Keane
A beautiful, heart-breaking tale of grief, love and the bond between sisters. I read it in a day, desperate to know what would happen

Louise Hare
Atmospheric, heart-wrenching, evocative - this is a gorgeously written story about the scars we carry with us, and how they can be overcome

Gytha Lodge
Draws you into a wild landscape through an exquisitely told love story

Elodie Harper
Uses the true story of the building of the chapel on Orkney by Italian prisoners during the Second World War to fashion a fast-moving and very touching story of sisterly devotion and passionate love

Adèle Geras
The remoteness of the Orkney islands intensifies the hopes and fears of war. The Metal Heart is a story of passion and separation in which the isolation of twin sisters within a tight-knit community threatens tragedy. A deeply atmospheric novel of hope and redemption.

Isabelle Grey
A powerful Second World War love story. As tensions grow between the Italian PoWs and the Orkney men, the scene is set for a dramatic reckoning. Lea writes beautifully of island life and love, and the sacrifices that both demand

The Times
Lea deftly taps into an age-old theme: suspicion and mistrust of outsiders. Woven throughout The Metal Heart is the potent reminder that there are always innocents caught up in the cruel, unforgiving machinery of war

Herald
Confirms Lea as a highly original and inventive writer

Sunday Times
Myth, legend, fear and superstition all play a part in this intensely atmospheric novel

Choice Magazine
Superbly plotted . . . a story that comes together convincingly, complete with a wonderful double-twist in its final pages

The Orcadian
A mesmerising and atmospheric read

Culturefly
A stunning World War Two novel, unlike any other

Sun
Uses the true story of the building of the chapel on Orkney to fashion a touching story of sisterly devotion and passionate love

Hope Adams, author of <i>Dangerous Women</i>
A stunning novel . . . impeccably researched, gorgeously written, and deeply evocative of Orkney and its wild beauty. I loved this tale of sisters, salvation and sacrifice from the first page

Emma Stonex, bestselling author of <i>The Lamplighters</i>