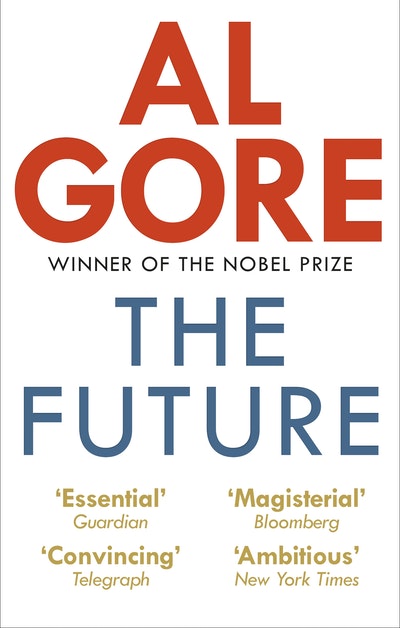 Published:

31 January 2013

ISBN:

9780753547991

Imprint:

Virgin Digital

Format:

EBook

Pages:

592
The Future
---
---
---
The Nobel Prize-winning and bestselling author of An Inconvenient Truth and The Assault on Reason, returns with a new book
In The Future, former US Vice President Al Gore, explores the political, social and economic forces that are shaping what America and the world will become in ensuing decades. From demographics to democracy, Gore explores what he calls the 'Drivers of Global Change', framing the international conversation about the future in fresh and provocative ways.
With this new work, Gore hopes to help start a conversation about the large-scale drivers of change that are defining and shaping our future - from the rapid development and integration of radically new technologies to the planet-changing impact of the climate crisis, to poverty, globalization, and the democratisation of knowledge accompanying the emergence of a ubiquitous internet linking ever more intelligent devices.
Published:

31 January 2013

ISBN:

9780753547991

Imprint:

Virgin Digital

Format:

EBook

Pages:

592
If you are concerned about the massive changes the world is just heading into, then you should read this book. If you aren't, then you must read it.

Tim Berners-Lee, inventor of the World Wide Web
This is a great book. From political policy and economics to science and the most thorny ethical issues, Al Gore has stated the human condition forthrightly, fearlessly, and in easily understood language. And said what must be done. I asked myself halfway through who else could have written a book of this magnitude. The only answer I could imagine was Jefferson.

E.O. Wilson, Harvard University, two-time winner of the Pulitzer Prize
I'm a pro-growth supply-side economist, so my admiration for Al Gore may seem like an oxymoron. It's not. This book is amazingly rich in wisdom, practicality, and insight. Al Gore has a portfolio that warrants credibility and is an accomplished polymath who transcends ideology while turning our attention to big issues, big ideas, and big solutions. The Future frames the discussion whether you're conservative, agnostic, or liberal. It's a fascinating deep read.

Arthur B. Laffer, Ph.D.
Applying a formidable mix of history, science and common experience, Gore has produced a luminously intelligent analysis that is packed with arresting ideas and facts. … Summarising this rich and ambitious book in any detail is impossible. You simply have no alternative to reading it.

The Guardian
Even these devotees of the long view will have much to learn from Gore's book, a tour de force that no government can afford to ignore.

The Guardian
Magisterial . . . The passion is unmistakable. So is the knowledge. Practically every page offers an illumination.

Bloomberg
With an inquisitive and forensic mind, Al Gore addresses a fundamental truth, that the balance of power - in economics, in politics, and in our society - will experience extraordinary change in the coming decades, both in his country, and across the rest of the world. It is a book that looks beyond the immediate to the important forces that will shape our lives in the decades ahead.

Rt Hon Douglas Alexander MP, Shadow Foreign Secretary